It's not every day that thousands of kids descend on the Royal Albert Hall, but that's exactly what will be happening next week when the Music For Youth (MFY) Proms take over the venue for three nights of performances.
Kicking off on Monday (5 November), young musicians from across the country will take to the stage, showcasing 'full-scale orchestral pieces, explosive jazz arrangements, innovative chamber
works
, electrifying rock and show-stopping choir performances'.
Founded in 1970, MFY is a national youth music charity that provides free music opportunities to over 60,000 young people aged 21 and under every year, through a series of festivals, concerts and tailored projects.
This year's proms champion youngsters with special educational needs and disabilities (SEND), with members of the National Open Youth Orchestra project - the world's first disabled-led national youth orchestra - taking part in one of the largest and most varied Massed Ensembles ever.
Ahead of the proms, MFY have put together this ace playlist for us, showcasing pieces that feature in the
repertoire
of proms performers including the Greater Gwent Youth Wind Orchestra and Ealing Percussion Academy, as well as original tracks from the likes of Age-otori, Rosie Sullivan and Millie.
Scroll to the bottom to tune in, and for more info and tickets, visit
www.mfy.org.uk/events/mfy-proms
.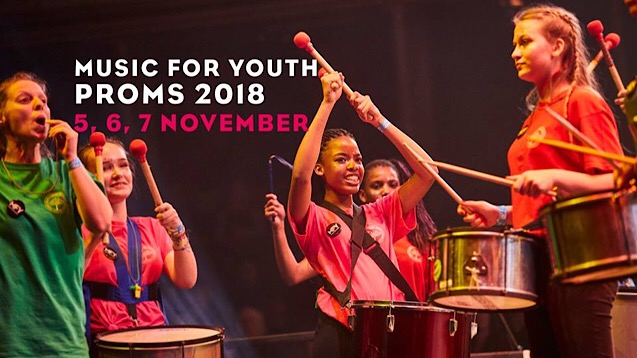 Elephant Trees - Uncomfortable
The latest release by Manchester-based alt-rock band Elephant Trees. A refreshingly female-fronted group who have performed at O2 Academy Leeds, 2000 Trees Festival, toured Europe and will return to the Royal Albert Hall on 5th November.

RASiDA - My Protest Song
This is the debut Spotify release from young singer-songwriter RASiDA. She has had an incredibly successful summer, having opened the main stage at All Points East Festival in May.

Frank Ticheli - Blue Shades
This fast-paced, devilishly challenging jazz piece was performed by the Greater Gwent Youth Wind Orchestra in St David's Hall, Cardiff, in June. The orchestra are due to perform at the Music for Youth Proms on 5 November.

Vivaldi - The Four Seasons (3rd movement from 'Summer')
Vivaldi's quartet of violin concertos which make up his suite The Four Seasons are part of the Penzance Youth String Orchestra's latest repertoire. They also played the Summer concerto at the Music for Youth proms seven years ago, fronted by Ross Pike on electric guitar.

Bob Mintzer - New Rochelle
This piece was performed by the York Music Forum (YMF) Youth Jazz Orchestra at recent MFY events in February and in July 2018.

Sister Rosetta Tharpe - This Train
This Train (is Bound for Glory) was performed at the 2016 MFY Proms by Boston Youth Jazz Orchestra. It is a traditional American gospel song that has been covered by countless artists, including Jools Holland and Louis Armstrong. This version is performed by badass guitarist Sister Rosetta Tharpe, who shot to fame with this track in the 1930s.

Age-otori, Rosie Sullivan and Millie - Deathful Peace
Glaswegian singer-songwriter Age-otori teams up with friends Rosie Sullivan and Millie on this latest release. The trio will take to the stage at the MFY Proms on 7 November.

Rylands Heath - You Make Me
You Make Me is the latest release on Spotify from London-based indie-pop duo Jack and James, who together make up Rylands Heath. The pair have been close friends since childhood and have received great critical acclaim over recent years, including radio appearances, award ceremonies and features on Spotify's own curated playlists.

Sibelius - Finlandia
A throwback here for Northamptonshire County Youth Orchestra, who performed this ode to Finland at the Music for Youth Proms back in 2010.

Khachaturian - Sabre Dance
Ealing Percussion Academy performed a great percussion arrangement of this piece last year, onstage at Disneyland Paris. Ealing Percussion Academy Juniors return to the stage this month on 6 November at the MFY Proms.