Sometimes when the political system doesn't give enough voice to people, it's important to find an artistic voice through which one can be heard. You can never underestimate the value of that.'
Nitin Sawhney
, experimental composer, multi-instrumentalist and Ivor Novello Award winner, is praising the power of the protest song, a creative force he believes has fuelled some of music's most memorable moments.
It's hard to disagree. From the hazy Woodstock days to Bob Dylan, John Lennon, the squalls of punk, the nineties' urban fire of Public Enemy, the agit-folk of
Billy Bragg
and the feminist poetics of PJ Harvey and Russia's Pussy Riot, musicians have a long history of leveraging the song as an axe to wield against oppression of all kinds - whether it be to do with gender discrimination, politics or social injustice.
Our times are a-changing
Together politics and music have always been a potent force but one which this current selfie-obsessed generation have been wary of touching. However, as the world spins over myriad political convulsions, there are newer artists looking beyond their phones and using their music to speak out. Hip-hop poet
Kate Tempest
, DIY punks
Sleaford Mods
and US rappers such as Kendrick Lamar are among those currently offering listeners something real to wrap their ears around.
2015 has seen plenty for socially switched on music makers to rail against. It's been a turbulent year of political rumblings both at home and in Europe while the Middle East has become increasingly unstable via ongoing civil wars and a burgeoning refugee crisis. The plight of the refugees came to a head over a summer of increasingly heart-wrenching images acting as a magnifying glass through which the rest of the world could only gawp.
Nitin Sawhney is the son of immigrant parents who had moved from the Punjab a year before he was born and, for him, these struggles touched a raw nerve. He sees music and politics as so deeply intertwined, they enjoy a symbiotic relationship.
'Even when not an advertently political statement, if you make a song - for example like Massive Attack working with [Pakistani singer] Nusrat Fateh Ali Khan, it's a strong statement of saying we believe in the idea of integration, of embracing different cultures and ways of looking at things,' he explains.
Nitin's new album
Dystopian Dreams
is possibly his darkest and most political yet. It's a diverse musical melting pot of genres taking in everything from flamenco to funk, yet is fuelled by sadness at injustices overseas, the treatment of immigrants and the devastation he felt at his father's death. He feels that the anger breathed by musicians has not only created some of the best popular music, but points to fresh perspectives and alternative ways of thinking.
'It's not just about simply protesting but also about projecting different ways of looking at possibilities'
'
Imagine
by John Lennon,
Glad to be Gay
by
Tom Robinson
, which was very powerful, or NWA with
Fuck The Police
- they're not only great songs but show we as artists and people are not going to be bludgeoned into parochial ways of looking at things, ways that the media tries to convince us are correct.'
Stop the War
The Stop the War Coalition was founded in September 2001 in the weeks following 9/11, when the then US president George W Bush launched the 'war on terror'. As such, the group's very DNA is rooted in the spirit of protest. They believe music is particularly powerful because it's one place where you 'can find uncensored political expression'. Now a combination of music, social media and ease of access to communications technology is helping spread these unfiltered messages further than ever.
'Traditionally, political thought has come in various modes of storytelling,' a spokesperson for the group explains. 'In oral traditions, stories are carried through song because it's easier to commit to memory things like rhythm, harmonies, rhyme and melodies. This is how stories have been passed down over centuries. Of course communication has changed with modern technology, and that means protest music has a much wider reach.'
Sweet Liberties
Storytelling has always been at the heart of folk music, a well-established channel through which musicians can comment on social change. The era of civil and religious wars in 17th century Britain gave rise to the radical Levellers and Diggers' movements and their associated broadside ballads and hymns. A second renaissance for folk music took place in the fifties with folk artists Ewan MacColl and A.L. Lloyd speaking out while in the US Woody Guthrie and Lead Belly also used their music to protest.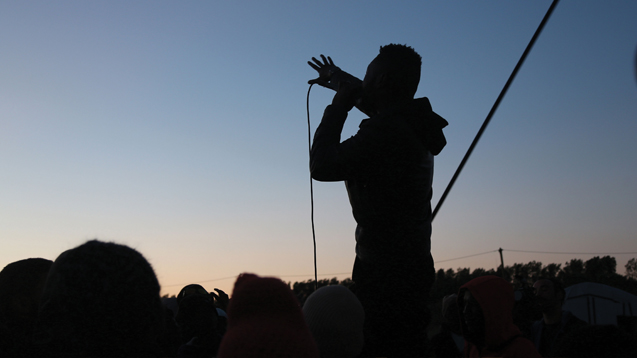 Sweet Liberties
is a new commission by the English Folk Dance and Song Society marking 800 years since the signing of Magna Carta. The project offered a platform for some of the UK's leading folk artists to write music in response to moments over the centuries when key pieces of legislation were passed.
Nancy Kerr
, BBC Radio 2 Folk Musician of the Year, is one of the participants. To her, being a folk singer in itself is a political act.
'Oppressive regimes often hide the stories that they don't want told. My view of traditional song is that it is a political act in itself just by telling these untold stories,' she says.
'I think we're getting into a more tactile time, where people want music that's real'
Sweet Liberties
launched at an event in the State Rooms of Speaker's House in the Palace of Westminster in November, physically placing music right in the heart of government. Subjects covered by the musicians include the Tolpuddle Martyrs and signing of the Magna Carta treaty. However, rather than being a history lesson, Nancy says the timing of the commission couldn't be any more pertinent.
'You can hear young artists writing about how they feel right now. The environment, the increasing commercialisation of things, the commodification of the arts,' she explains.
'I think we're getting into a more tactile time, where people want music that's real. In the same way with Labour leader Jeremy Corbyn, they want a new politics that's about real feelings and lives. Music has to reflect that.'
Border Business
Whether it's Charlotte Church marching against the austerity cuts or Sleaford Mods using their words almost as weapons, many new musicians are attuned to the upset of our current times.
One such artist is
Afro-grime MC Afrikan Boy
. This London-based musician mixes up UK bass culture with the rhythms and beats of his Nigerian homeland. He recently performed a gig in The Jungle migrant camp in Calais to entertain refugees, as well as releasing the single
Border Business
to highlight the ongoing problems surrounding immigration.
'Music has a positive impact when we're getting ideas out there that challenge a certain ideology or stereotypes'
Journeying to France meant he had first-hand experiences of the issues he's raised awareness of in his music, something he calls a 'deeply humbling experience'.
'It showed me the power of music to uplift you from your current situation,' he says. 'When performing, it became "we" as opposed to "you". I was with the African boys talking about crossing the border, these are my people. That was very empowering, to see my music take me to this place where my lyrics were the reality.'
The MC describes the camp as Africa but with 'European air' and was taken aback by the positive reaction to his performance, describing how the whole place was 'shocking out'. But then, he feels this is one of the important reasons behind the trip.
'Music has a positive impact when we're getting ideas out there that challenge a certain ideology or stereotypes, to push questions and make the public think and ask themselves what is going on.'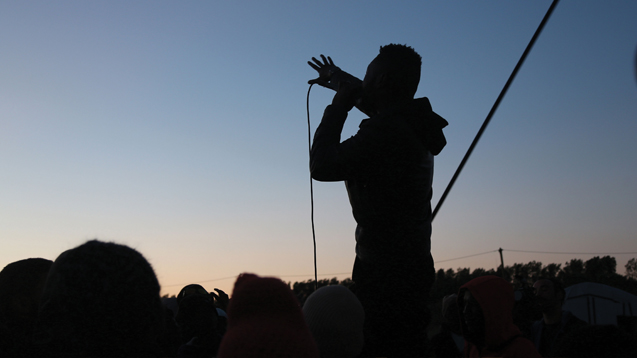 So where does this leave us? While there are no Bob Marleys or Lennons there is a new wave of musicians holding up a mirror to the world and disliking what they see. But can pop music actually make a difference, instigating political shifts and, dare we say it, change the world?
Nitin Sawhney is sceptical, saying there will never be another musical movement as powerful and as galvanising as punk. 'There is a lot more divide and rule than before,' he says. 'People aren't part of strong movements. I don't know if there is any one person who can rally people in the same way that those bands did back then. It's people with charisma who can do that and come out and say what they say.'
While the song's ability to overhaul change is debatable, what isn't is how the protest song itself is very much a living genre. Nancy Kerr believes that the more music we have, the louder and more united we are.
'Music can be incredibly galvanising for a movement. I might write a song - it might not set the world on fire but it might prick up the ears of people elsewhere who are really thirsty to hear something framed or put in a certain way.'
This is where protest music can have its greatest impact, acting as the touch paper to help spread messages and create powerful bonds. As Nancy says, together music and politics can reach parts that one on its own just can't reach.
'The music is important as an emotion that brings us closer together,' says Nancy. 'I don't think we need the one song to rule us all - we need as many songs as we can that talk about where we're at so we can understand each other better.'
Read our previous interviews with
Nitin
,
Nancy Kerr
and
Afrikan Boy
.