Anita Awbi checks in with prolific composer, saxophonist and bandleader Shabaka Hutchings to learn how he's redefining British jazz.

'Don't think, play!' says British-Barbadian wunderkind Shabaka Hutchings. He's paraphrasing Marshall Allen, the 94-year-old bandleader who helms the mighty Sun Ra Arkestra. Shabaka guests with the jazz cosmonauts whenever they hit the UK, and their 'chaotic melting pot' forces him to find his limits and push right through.

'Marshall said I think too much. If you keep thinking about what is appropriate to play, you hesitate, and you create a blockage to the higher intuition that's trying to guide you,' he says. 'That's probably been my biggest learning curve so far.'

Now in his mid-thirties, Shabaka is becoming mentor to a whole new generation of sonic explorers himself. Earlier this year, he compiled the We Out Here album for Gilles Peterson's Brownswood label, selecting an army of bright-burning talent including Moses Boyd, Ezra Collective and Nubya Garcia. He's known them all since they were kids, and they look to Shabaka for their cues.

Just as well, then, that the saxophonist and bandleader is redrawing the genre through several guises, reaching for soca, calypso, hip-hop, roots reggae and Afrobeat to help form a new psychedelic sound.

Through the spiritually-minded South African outfit Shabaka and the Ancestors, his electronic-jazz trio The Comet is Coming and the low-slung bop of Sons of Kemet, he's showing young musicians – and the world – that jazz isn't just surviving, it's thriving.

In recognition, Shabaka received a second Mercury Prize nomination this year for the Kemet's acerbic anti-establishment album, Your Queen is a Reptile. It joins a previous nomination for Channel the Spirits by The Comet Is Coming back in 2016, plus a MOBO Award win for Kemet in 2013 – putting a cherry on top of what has already been a stellar career.


Barbadian beginnings

'I've always really loved performing in public; I physically like the sensation of playing an instrument,' says Shabaka, remembering his first brushes with music as a kid in Barbados. Back then, he was devoted to the classical clarinet, and played regularly in church and at school. But all that was about to change when Shabaka returned to the UK aged 16. It was the mid-nineties and his head was full of New York hip-hop and Jamaican reggae. A week later, Shabaka ran into Soweto Kinch at a Courtney Pine gig and his love affair with jazz – and the saxophone – began.

'It was the first time I'd seen someone young, cool and into hip-hop relate to the jazz tradition as though it was fluid, not something stuck in a particular time,' he says of Soweto. 'I learned from him that making jazz is about trying to reclaim the coolness and relevance of the music in the eyes of the general public.'

By day, Shabaka was still studying classical music, but at night he was digging deep into London's nascent jazz scene, cutting his teeth on sax alongside Soweto in sweaty nightspots. He'd also perform at Soweto's The Live Box jam sessions in Birmingham, turning up week-in, week-out for two years.

'Afterwards, he'd invite me to his house so I could listen to records and practice,' Shabaka remembers. 'It wasn't formalised in any way but, really, it was a type of hands-on training and I got to see what it is to be a jazz musician.'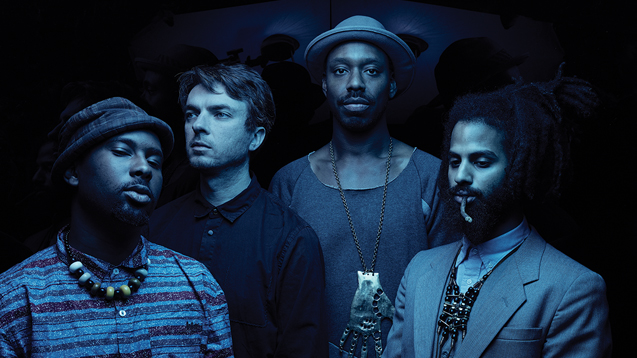 Distinct origins

It's through this apprenticeship that Shabaka began to explore the UK jazz family tree and trace how it branched off from its American roots. He talks about discovering Brotherhood of Breath, John Surman, Evan Parker and Steve Williamson, and finding 'a very specific UK lineage that goes really far back.'

He explains: 'I think, apart from the specific people and styles, it's a lineage of trying to position ourselves in relation to the American tradition. To ask, "What is going to differentiate us" and, actually, "What is our tradition?"'

Shabaka believes that, within jazz, the audience inspires the music. When you perform in a club, you're riffing off the energy in the room and your music forms around the needs of the crowd. 'After many years that music starts to take on a different form, outside the abstract consideration of what the audience needs. And that's how British jazz evolves,' he explains.

Personality clash

Look for the beating heart of 21st century British jazz and you'll find Shabaka front and centre, a kinetic reedsman whose music pollinates a hothouse of creative talent across the UK and beyond.

But, although he's a compulsive collaborator, Shabaka often writes alone, imagining gaps for others, and building in space for them to breathe. As bandleader, his ideas mingle with those of the other group members, leaving room for soloists to improvise as they choose.

With everything so fluid, does Shabaka feel a tension between composition and improvisation? 'Not really,' he offers. 'Even in a composition there is improvisation in how you treat the melodic material on a day-to-day basis, what you choose to include and ignore. That's one of the defining features of all the bands that I'm in; there's a feeling that anyone can actually be whatever they want within a certain framework.'

Across each band – Sons of Kemet, The Comet is Coming, and Shabaka and the Ancestors – he takes on a different personality, depending on the other characters he's playing with, and their musical and social backgrounds.

'It's something that I've only just started to appreciate,' he says. 'There's a level whereby your persona relaxes or tenses in relation to who you're around. Sometimes, a tension is what's great, it's what's interesting,' he says.


Finding the flow

Shabaka learned through his experiences with the Sun Ra Arkestra to act first and think later, and it's this quality that makes him such an in-demand musician today. Over recent years – outside his main bands – he's performed improv with Steve Beresford, penned chamber music for the Ligeti Quartet, reinterpreted Caribbean folk tunes for kora and toured with Ethiopian jazz great Mulatu Astatke as a member of Heliocentrics.

Throw in his collaborations with nocturnal beatmaker Floating Points and live shows with post-punk-jazz-fusion concoction Melt Yourself Down, and you'll find his DNA all over this decade's most innovative sounds.

It's an enviable position for any musician to be in, never mind one operating in the jazz scene, which is crossing over in ways unimaginable just a few years ago. And it's something Shabaka is forever grateful for, as it's this rubbing up against diverse characters that fuels his creative flow. 'I don't think I'd be able to continue like I've been doing if it wasn't for playing in all the different groups,' he admits.

'I'll play for a certain number of months in one band consistently and then I go away and do and it with another set of musicians. That changes my attitude, it changes my outlook on music. Then, when I come back to the band that I was touring with, something has shifted. I start to see the music in a different way.

'After years of having that happen, it feels like my centre, in terms of who I am, has been in some way shaken. So, I approach every situation trying to search for what my role is, as opposed to going, "I am Shabaka Hutchings. I obviously do the Shabaka thing."'


Wise counsel
So what advice can Shabaka share with young composers and musicians who are just beginning to master their craft?
'In terms of composing or finding a way to express your ideas, it's just a matter of trying not to see music as a sacred artform. You've just got to let go and see what happens if you go in a certain direction,' he says. 'One of the biggest traps young musicians or composers can find themselves in is to self-identify too much.'
Instead, Shabaka urges the next generation to take themselves out of that mindset and learn to experiment, with different styles, new ways of writing and novel types of notation.
'Some people get self-conscious if they don't read or write music, but writing conventional notation is just a tool for other musicians to translate your ideas. There are loads of other interesting ways you can convey your ideas outside of those rules,' he says.
And for jazz musicians and composers in particular? 'There's a special kind of relief you get with jazz,' he smiles. 'You can dig yourself into it and see how far you can go emotionally. There is something about the freedom you have when you don't stick to a set chorus and verse formula; when you are improvising you are literally seeing how far your mind can travel.'
This cover feature appears in the current issue of M magazine.