A new report from the BPI has found that nearly two-thirds of the past year's most successful albums were by domestic artists who grew up or formed bands in the nations and regions outside of London. The North West saw the greatest representation, with 29 albums by artists from the region appearing in the top 300. Together, artists from Liverpool and Manchester accounted for 17 of these. Glasgow, Birmingham and Brighton also featured as major music locations in the BPI survey, with Bristol, Sheffield, Leeds, Nottingham and Wigan rounding out the Top 10.
According to the Official Charts Company data used in the report, artists from domestic areas outside of London made up 62 percent of the chart overall. The results highlight the extent to which diverse new talent, with record label backing, is emerging and succeeding across all parts of the UK, including the North and North East. Nearly four-fifths of the rock albums on the chart were by artists not from London, clocking in at 79 percent.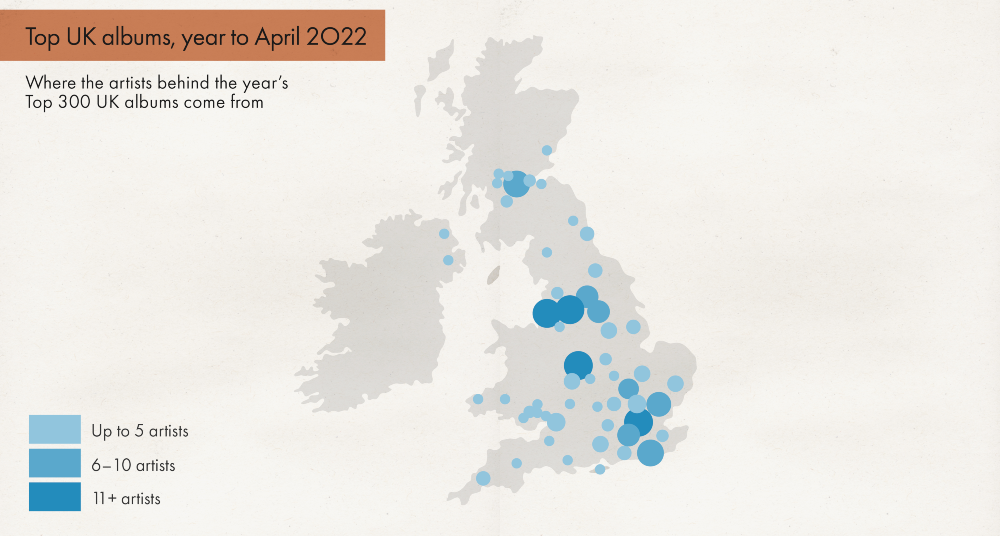 Within London, Lambeth's booming hip-hop and rap scene makes it the capital's leading music borough. In second place, Haringey also boasts a number of recent hip-hop successes, as does Hackney in third place.
Geoff Taylor, chief executive BPI, BRIT Awards & Mercury Prize, says, 'The UK has long been recognised as one of the world's leading music cultures, with a track record of producing globally successful superstars. This new BPI analysis highlights that artistic talent continues to be nurtured and developed across all parts of the UK, and it's this rich diversity both musically and geographically, supported by record labels, that is the key to our global music status and should be protected and enhanced.'
The UK's top 10 music locations outside London are:
1. Liverpool
2. Glasgow
3. Manchester
4. Birmingham
5. Brighton
6. Bristol
7. Sheffield
8. Leeds
9. Nottingham
10. Wigan
London's leading 10 boroughs for music are:
1. Lambeth
2. Haringey
3. Hackney
4. Hammersmith & Fulham
5. Kensington & Chelsea
6. Lewisham
7. Camden
8. Newham
9. Westminster
10. Islington