Early in March this year, some of the UK's top songwriters gathered courtesy of YouTube Songwriters, YouTube Black Voices Fund and Foundry. Held at Young Studios in London, the camp featured three days of writing sessions across nine rooms, with 15 songwriters, producers and artists taking part.
Music creators who participated in the camp included multi-platinum songwriter and award winner Jin Jin, pioneering producer Juls, acclaimed indie-pop star Connie Constance, plus Midas the Jagaban, Tamera, Talay Riley, Mafro and Tev'n. They were joined by NISSI, TMXO, Cadenza, Kali Claire, Jason Julian, T1 and DA, rounding out the full three-day roster.
The focus of the camp was to create a warm and welcoming space for songwriters, producers, and artists to speak candidly about their work. They covered topics like the craft of songwriting and producing, how to deal with writer's block, the art of collaboration, and more.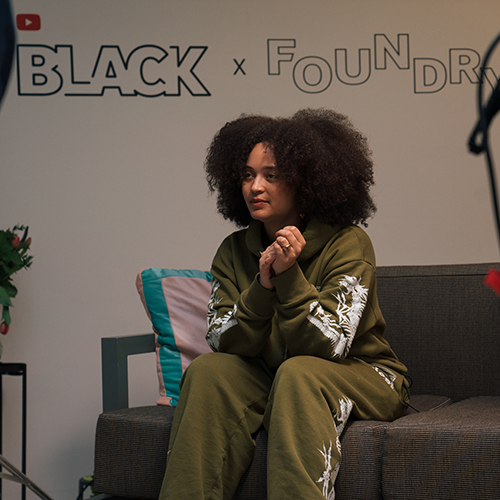 For participants, the camp was proof positive of the power of community and collaboration. 'A week of writing lyrics and creating sound from nothing is a dream alone but being able to collaborate freely with other young Black talent is so inspiring,' says Connie Constance. 'There was a Black female engineer in each room; this camp really presented a reality of how we can lift each-other up in the music industry within our own community.'
This was most evident on the final day of the camp, which culminated in a group listening session. The participating songwriters, producers and artists spoke about what they had gained from the sessions during the week, and shared snippets of the demos they'd created together.
Looking back on the camp, Jin Jin says, 'My experience as a member of the YouTube Black Voices Fund class of 2023 was exceptional. Both the overall program - and the writing camp - was an incredible opportunity for me as a black female songwriter to have my voice and artistry celebrated on a global scale.'
'The support that I received from both YouTube and the Black Voices Fund team was truly heartwarming, and their dedication and commitment to showcasing and uplifting Black voices – especially songwriters in the music industry is inspiring,' she continues.
The YouTube Black Voice Fund was launched in 2020 to amplify Black perspectives and experiences and directly support Black music creators. In 2023, the fund's cohort includes UK-based artists Carla Marie, Honey Dijon, Jin Jin, Julys, Kali Claire, Nova Twins and Unknown T.