Six-piece guitar band Sports Team are chaos incarnate. With a penchant for packing out shows and taking the piss, the band made light work of filling London's landmark venues long before their first album was even completed. Their sweeping statements, unapologetic ambition and ability to turn a song about a motorway into an anthem has earnt them a cult following. A cult following who recently travelled from towns and cities across the country in their droves to join in with the band's anarchic album launch with less than 24 hours' notice.
As part of our International Women's Day celebrations, we asked Sports Team drummer Al Greenwood to make us a playlist.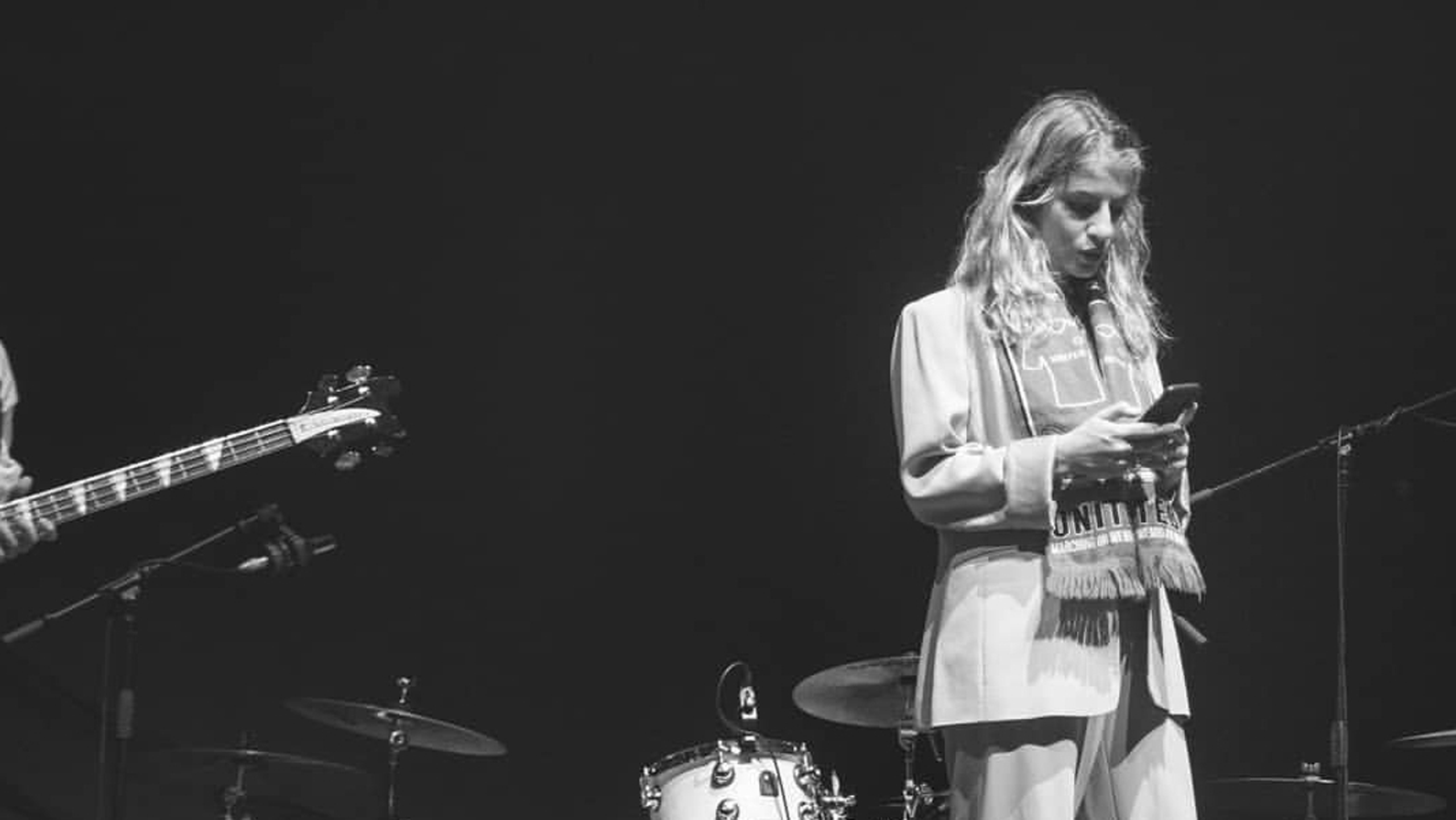 Leeds-born Al is not only the one member of Sports Team to have scored "top bins" during their Soccer AM debut, she's also the only member to have played the remainder of a set bleeding heavily from the face following a head-on collision with an instrument.
To quote a teenager overheard in the smoking area shortly after said performance came to an end: 'Al is so metal'.
Tune in down below, and follow M on Spotify.
Sorry – Snakes
I've been a massive fan of Sorry since I heard Lies. They're one of the most unique-sounding bands around at the moment, and have a hugely compelling front-woman.
Orielles - Bobbi's Second World
This track comes from their new album and is such a bop. I love their ability to traverse genre and pull together dancey, catchy riffs with frankly brilliant percussion. We've spent a lot of time with the band, and sisters Sid and Esme are such strong characters on and off stage - precisely what the industry needs more of.
Kirsty MacColl – Treachery
Kirsty MacColl is such a nostalgic artist for me, reminiscent of road trips with my mum chanting out anything from her album Tropical Brainstorm. The whole work is brilliant but this song in particular encapsulates her witty, ironic use of lyric and powerful female perspective.
Marika Hackman - All Night
Marika Hackman's unflinching ability to write about female sexuality in a frank and personal way is so important and this song is a perfect example of that.
Noname - Casket Pretty
My favourite American rapper. I am obsessed by Noname's ability to draw upon small cultural symbols and pull them into her songs, to force deep reflection. I was completely obsessed with this album when it came out and return to it constantly, finding new meanings.
Sharon Von Etten – Seventeen
This song was on repeat in the tour van and always reminds me of late night drives across British motorways, but still has the ability to give me goosebumps. Her vocals and lyrics are so powerful and drag me straight back to late nights lurking around with friends in Leeds drinking tinnies and thinking we were legends. At the time we hated the local area, and yet now I have the greatest sense of loss for all those relationships, and opportunities and, inevitably the irrevocable changes to the physical space and loss of local landmarks.
Joan Armatrading - Me Myself I
Seeing Joan Armatrading live at the age of around 13 was a massive moment for me. I was so reluctant, refusing to acknowledge music existed beyond Los Campesinos! But the whole performance was incredible. Her guitar-playing is absolutely staggering, alongside anthemic lyrics; 'It's not that I love myself, I just don't want company'.
Sinead O Brien - A Thing You Call Joy
The way Sinead O Brien fits her lyrics rhythmically around constantly evolving instrumentation is forever captivating.
The Slits - Typical Girls
This is my go-to song when I'm pissed off at the boys in the van. I crank my headphones, chuck this on and somehow by the final lines, the jangly guitars and spiky vocals bring me back down to equilibrium. Despite being released in the late 70s, I think it's a song for angsty teenage girls forever.
Margo Guryan - Sunday Morning
This song came on in a bar once where me, Ollie and Rob were drinking after a day of writing and working through new tracks. After 12 hours in a rehearsal room you often loose any ability to hear new sounds or objectively listen to any music, however when this song came on we all stopped. It is now my go-to kitchen song.