Formed in 2016 whilst studying at Cambridge, indie sextet Sports Team have spent the last four years relentlessly exceeding expectations.
With a fantastically impassioned fanbase, the band have sold out ambitiously large venue after ambitiously large venue, battled Lady Gaga for number one spot in the UK album charts with their debut Deep Down Happy and found themselves nominated for a Mercury Prize with the same record.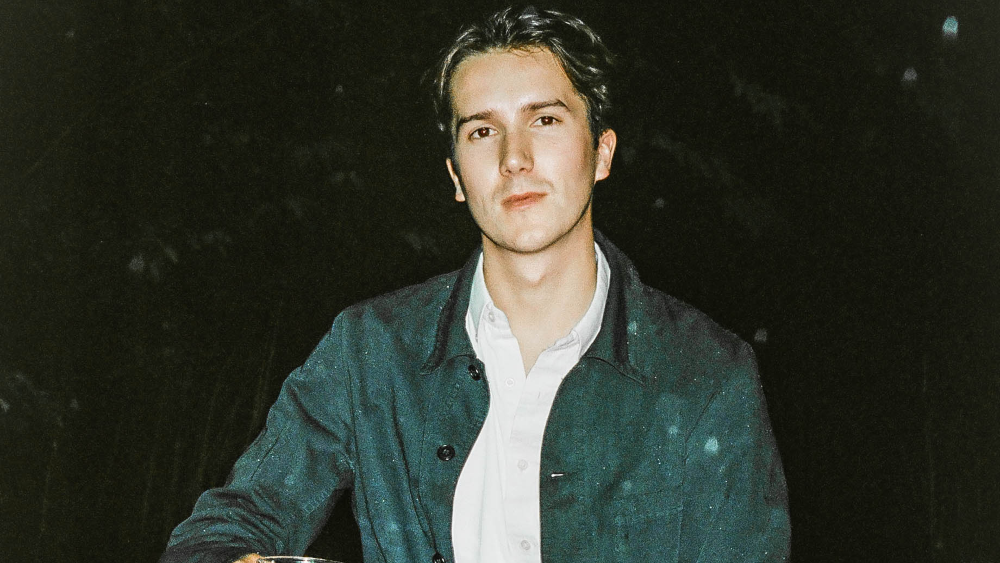 Henry Young is the band's talented lead guitarist; however, with one quick Google you'll find that he's also famous for attempting, and failing, a 4,000-calorie full English breakfast eating contest for which Pete Doherty currently holds the title. 'In hindsight probably didn't need the Yazoo', Henry wrote as he admitted defeat, despite having goaded Doherty on Twitter just 15 minutes beforehand.
Following a new release on Sports Team's Holm Front label, we asked Henry to make us playlist. Tune in below and find more Holm Front releases here.
Personal Trainer - Muscle Memory
We joke that seeing Personal Trainer play live for the first time was our Alan McGee-Oasis moment: 'We have to sign these guys.' Far from a conventional band, Personal Trainer's live show sees them take to the stage with anything between three and twelve members. Their ever-shifting line-up draws from Dutch counterparts such as Canshaker Pi, Pip Blom, Steve French and The Klittens, as well as English bands Home Counties and Bull. Muscle Memory, out today, is the second single from their upcoming 10-inch EP Gazebo – out 5 February on our own label, Holm Front.
The Cool Greenhouse - Alexa!
A smart and snarky two-chord love song for our time. Had to throw away my little brother's Alexa this Christmas because it kept purchasing ten tickets to all the Cool Greenhouse's shows and turning the heating all the way up.
Martha Skye Murphy - Yours Truly
It was the final week in the studio recording album two - Rob agonizing over lyrics, Rice in the booth, guitars done. Remember keeping out of the way with my headphones on, Oli watching yet another episode of Homes Under the Hammer, listening to this song on repeat.
Holiday Ghosts - Booksmart
Growing up in Cornwall there wasn't much of a music scene to speak of, just crusty Boomtown knockoffs and the occasional touring band that deigned to come that far south … or so I thought. The 'Falmouth Scene,' centered around bands like The Black Tambourines, The Golden Dregs, Holiday Ghosts and The Red Cords, gave me the first chance to be the sad indie kid I was always destined to become.
Maxband - Unsaid
Maxband first came to my attention last year when they played with us in New York at Baby's Alright. As I remember it, we'd just been to a dodgy fish restaurant and weren't on stage til something like 1am. Maxband then went on to completely show us up. As long-time fans of Parquet Courts, we're gassed to be putting out their record on Holm Front. Unsaid, featuring Max Savage on vocal duties, sounds straight off Light Up Gold.
Richard Hell & the Voidoids - Love Comes In Spurts
Apparently, Richard Hell got booed off the stage when the Voidoids toured the UK in support of The Clash in the '70s. Thankfully debut LP Blank Generation is now rightly considered an all-time punk classic. Huge fan of guitarist Robert Quine's spiky contributions on lead across the record. He also shows up on Lou Reed's Blue Mask.
Harry Nilsson - Jump into the Fire
Not enough songs have three-minute drum solos these days. Also, very into bassist Herbie Flowers audibly detuning midway through the tune - a trick we rip off on a song called Cool it Kids from our upcoming second record.
ESG - Dance
A go-to for good times from the South Bronx sisters, whether it's in the van after playing a show with no major fuckups or at the climax of one of Oli's feted DJ sets.
Mitski - Nobody
After listening to this for the first time, I was compelled to make a Spotify playlist called 'key changes that make you go ooh.' For the better part of a year, it was the only song in it - though that's been rectified since remembering Whitney Houston exists, coupled with the recent release of Bull's Disco Living.
Th' Dudes - Bliss
Seminal cult '70s pub rock from New Zealand. Big drinkers. We used to cover this song for the big finale of early Sports Team sets at the Cambridge Sports and Social Club because our mate's dad was in the band, usually ending up in a pile on the floor.