The behemoth of the festival world, Glastonbury, returns this year but in its fallow year, smaller, alternative events attracted music lovers in their droves. Jim Ottewill dons his wellies and pitches up his tent to learn how the world of indie festivals is booming…

'It was a complete war zone. You'd be confronted by burger vans, crap lager, then on Monday morning the toilets would be on fire with helicopters flying above. Festivals used to be grim, man.'

Glittering Scottish songsmith Pictish Trail is reflecting wryly on the evolution of the music festival. The US's infamous Fyre Festival aside, the majority of British events have risen from the primordial soup of pot noodles, warm lager and faeces-filled chaos they were once notorious for. Back in the noughties, the smell of frazzled portaloos coupled with the sight of riot police bashing heads would be common at some of the UK summer's livelier live music events. But everything is now a little less grizzled and slightly more civilised.

'It's all about the experience these days,' nods Pictish who hosts his own Howlin' Fling knees up on the Isle of Eigg, the remote Scottish outpost he calls home.

'Big stages, crap food and corporate branding just don't cut it for everyone. People want to be removed from their normal lives and transported to a whole new world.'


Howlin' Fling
The ever-evolving landscape of music festivals will shift again this year as it welcomes back Glastonbury. But, while Pilton's Worthy Farm will see almost 200,000 starry-eyed revellers descend in June, across the length and breadth of the land, the UK summer reverberates with unorthodox sonic anarchy. From Gottwood, a cosy electronic party on the Welsh enclave of Anglesey, to Lancashire's eclectic boutique Cloudspotting event via Boardmasters on the south coast, Ava Festival in Belfast and countless others, some of our most idyllic spots are now annually transformed into kaleidoscopic weekends of musical (mis)adventures.
Pictish Trail, aka Johnny Lynch, resides on the otherworldly Isle of Eigg. As far removed from reality as can be, this artist and Lost Map label owner's Howlin' Fling weekend is at the smaller end of the festival spectrum. But, as Eigg's population is only 105, it triples the amount of island dwellers and can't physically get any bigger. A combination of intimacy and location tempts an eclectic mix of guitars and electronics toting artists such as James Holden and British Sea Power to make the gargantuan trek to perform and party.
'Eigg has a magical quality of being like nowhere else, it feels almost like it shouldn't exist,' says Johnny.
'So travelling to the island and removing yourself from the everyday plays a big part,' he continues. 'The island's community are also all behind it. The size pushes the definition of "festival" but that's partly why people who make the effort to attend love it as much as we do.'
'Music is less tribal now and audiences generally want more eclectic playlist-style experiences. How they discover music is reflected in how they want to experience it live.
Playlist experiences
Eigg's event embodies an entrepreneurial, independent spirit eagerly shared by tuned in festival organisers. As a greater variety of experimental, genre-flipping music becomes accessible via
streaming
, the ears of music fans are wider than ever. It means they're becoming more judicious when choosing where to set up camp.
Paul Reed, Association of Independent Festivals (AIF) Chief Executive Officer, agrees that trends surrounding music
consumption
are pulling live music in exciting new directions.
He says: 'Music is less tribal now and audiences generally want more eclectic playlist-style experiences. How they discover music is reflected in how they want to experience it live.'
The trade body represents events ranging from 500-66,000 capacity, offering a support network and collective voice for the world of indie festivals. And the sector it represents is mushrooming. The AIF's 2018 report revealed its members contributed an estimated £1bn to the UK economy between 2014 and 2017. What does he think has powered this growth?
'Smaller scale traditional music festivals are thriving because they have become trusted gatekeepers to their audiences,' explains Paul.
'In a world where you can access all music at any time, a carefully curated festival line-up can cut through the noise.'
Enjoy sonic anarchy
While the moniker of 'indie festival' paints a picture of glum-looking guys and guitars, the summer's musical calendar runs amok through style and genre. Every conceivable aural flavour from Americana to jazz, folk, acid rave and beyond is now catered for.
The Cheltenham Jazz Festival has been flying the flag since the late nineties, hosting killer performances from the likes of Van Morrison, Eartha Kitt, Laura Mvula and Kamsai Washington down the years. Emily Jones, the festival's Head of Programming, cites digital as holding sway over its evolving audience.
'Streaming and social media have enabled music fans to find their niches and make new discoveries. At the same time, they also allow us as promoters to target audiences more effectively when it comes to marketing,' she states.
These events are important for artists in giving them a platform from which they can
broadcast
their musical wares. Not only does it let them get themselves heard, but it offers a wealth of networking opportunities and the chance to build a devoted fanbase.
'Musicians often talk about the great 'hang' in Cheltenham so it's really exciting hearing about all the collaborations which happen between artists here – it's like a big musical incubator,' says Emily. 'Talent development is a big part of what we do, and I love watching the growth of artists we've supported.'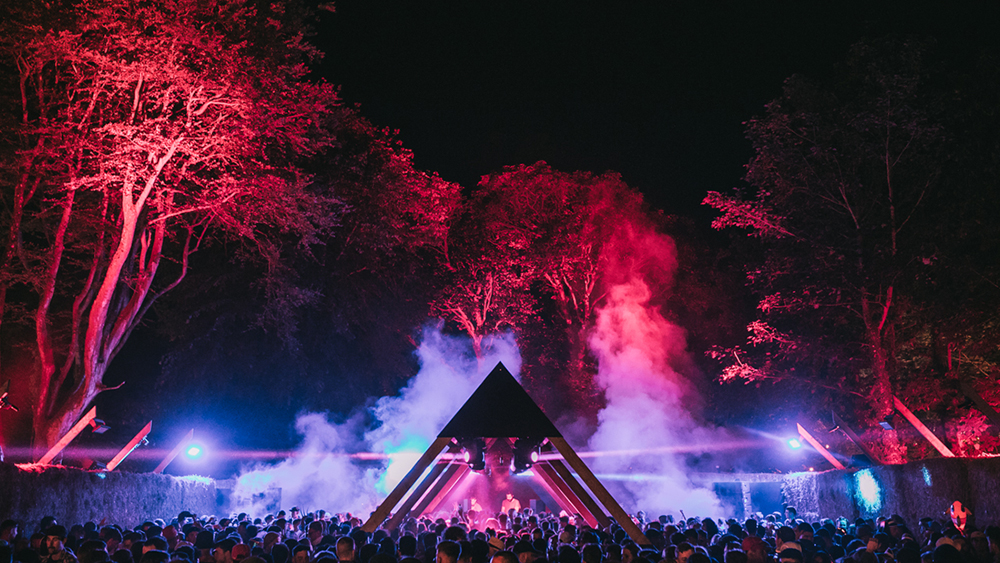 Live branding
Originally trailblazed by Jane Addiction's Lollapalooza in the US, an increasingly popular trend is the artist-led event. Now everyone from The xx (with their global Night+Day event) and grime star Stormzy (and his Merky Festival) alongside the likes of Pictish Trail are compiling and curating their own bashes.
'It's no longer about just being a fan of an artist's music but about the world they've created around them; the other artists they support, the clothing brands they wear, their artistic references,' explains Jason Edwards, Head of Music at ticketing app Dice.
The app is doing its best to transform going out by bringing fans closer to events via its Discover recommendation tool. He believes stepping into promotion is key for artists wanting to deepen their connections with fans.
He continues: 'When an artist hosts their own festival or event it brings their fans into that world. It can create a stronger sense of community and identity than perhaps other event brands can.'
New challenges
Despite ostensible growth, the indie festival scene has seen the occasional wobble with some battling to keep their heads above water. Bestival and its sister events, Camp Bestival and Common People, have been beleaguered by financial difficulties.
Martin Maguire,
PRS for Music
's Membership Development Manager (Live), says a certain ebb and flow within the market is not uncommon.
'It's important to realise that the public only ever has a certain amount of disposable income to spend on entertainment. So while the festival market seems to be expanding, what you typically find is that new events come at the expense of older ones.'
PRS for Music
has strived to improve relations with the festival community when it comes to licensing and the collection of performance data. A recent consultation on the live tariff (Tariff LP) led to a reduction in the royalty rate after 'the festival sector made a compelling argument to be treated differently to concerts due to their unique infrastructure', says Martin.
The collecting society has also launched its
online
reporting tool, a new system to enable music creators to report on their festival set lists, and started trialling Music Recognition Technology at large dance events. It points to a concerted effort to sustain this indie festival community.
'Our challenge is to ensure our members get paid correctly from the performance of their
works
at festivals,' explains Martin.
'We want to enhance the accuracy of reporting while ultimately trying to reduce the administrative burden on the event promoters themselves.'
Highs and the lows
'I had to shovel human poo out of three blocked toilets on the ninth day on site once,' winces Marina Blake, Creative Director of the sensory assault on the senses that is Brainchild Festival. She's reflecting on some of the highs and the lows of running the DIY event, which has twice claimed the Association of Independent Music's Award for Best Independent Festival while receiving backing from the PRS Foundation. Although creative control and the satisfaction of running your own successful party mean a lot, logistics can be tricky.
'We got locked out of our production office twice in 2015 and the office had all the other keys in it, so we had to find locksmiths at 6.30am on a Sunday morning in the middle of Lewes,' she says. As the festival has grown, more memorable moments have thankfully come from artists on stage. What have been the highlights?
'Having Sons of Kemet play last year was a dream come true. Watching hundreds of happy sweaty people vogue with Jay Jay Revlon also brought me to tears. The people at Brainchild always impress me and make me emotional,' she reveals.
'Big stages, crap food and corporate branding just don't cut it for everyone. People want to be removed from their normal lives and transported to a whole new world.'
Free your mind and your movements
Administration and portaloos aside, there are a few other murky waters for indie festivals to navigate. Sustainability and reducing the use of plastic has been an initiative for AIF while PRS Foundation's Keychange campaign aims to achieve a 50:50 gender balance by 2022. Brexit and its uncertainty surrounding UK borders is another possible headache.
'We have built in some contingency for the potential currency fluctuation we'll see around the end of March due to Brexit, which is only a month before the festival,' says Emma. Freedom of movement for musicians could also be hindered if the UK does break with the rest of the EU after March.
'I'm finding that fewer artists and agents I deal with abroad are willing to agree artist fees in sterling. Looking ahead to 2020, any change in visa and work permit regulations for EU musicians will probably bring some extra paperwork our way too.'
While the political landscape could throw up some hurdles, the outlook for the festival circuit is one mainly full of blue skies. Increasingly, events are offering novel and exciting experiences both on and off stage. Pictish Trail is hyped about the return of Glastonbury to the fold, believing it will complement the wealth of other events already locked and loaded for 2019.
'Small is good but I love Glastonbury and Green Man is my favourite event,' he says. So size doesn't matter?
'As long as a festival can offer something different, then it doesn't. What does is thoughtful planning and catering to a switched-on audience in a way which works for them.'
Amen to that: see you in the summer fields…