The recording industry is not an easy thing to break into. For upcoming talent from a care background though, it becomes that much more difficult.
This year, recording engineer Matt Taylor became the first careleaver to ever be recognised at the Music Producers Guild Awards. Accepting the Rising Star award almost ten years to the day since he left the care system, Matt expressed hope that his success would 'begin to shift the tides so more people like me can survive and thrive in recording.'
Winners of Music Producers Guild Awards are not notified ahead of time, and sitting in the audience at the ceremony Matt assumed he hadn't won. Considering a person can only be nominated for the Rising Star Award once, he figured that was that. It was nice to be nominated.
'I was up against two unbelievably talented engineers from two big studios. On the night, as the nominations package went off, I was number three,' Matt says. 'The first nominee went up and there was a lot of applause, a few whoops. The second one went up and the whole room erupted. And mine went up and the whole room went quiet, because nobody knew who I was.'
He laughs about it now. 'I was like "Ooh, this is awkward." A little applause finally happened towards the end. Then my name got read out, which was weird. Everyone was like, "who's this guy? Why's he won?"'
None of this makes the win any less of an achievement, of course.
'No one is a harsher critic than another engineer or producer. This is thing that makes it really cool, is that it means only the work can speak for itself.'
'It was a really, really nice thing to win,' says Matt. 'The MPGs are like a British version of the Grammy's, except it's judged by a group of talented engineers and producers who currently work in the industry. No one is a harsher critic than another engineer or producer. This is thing that makes it really cool, is that it means only the work can speak for itself.'
'After winning, I was left with a great sense of validation that the best in my industry think I'm good enough.'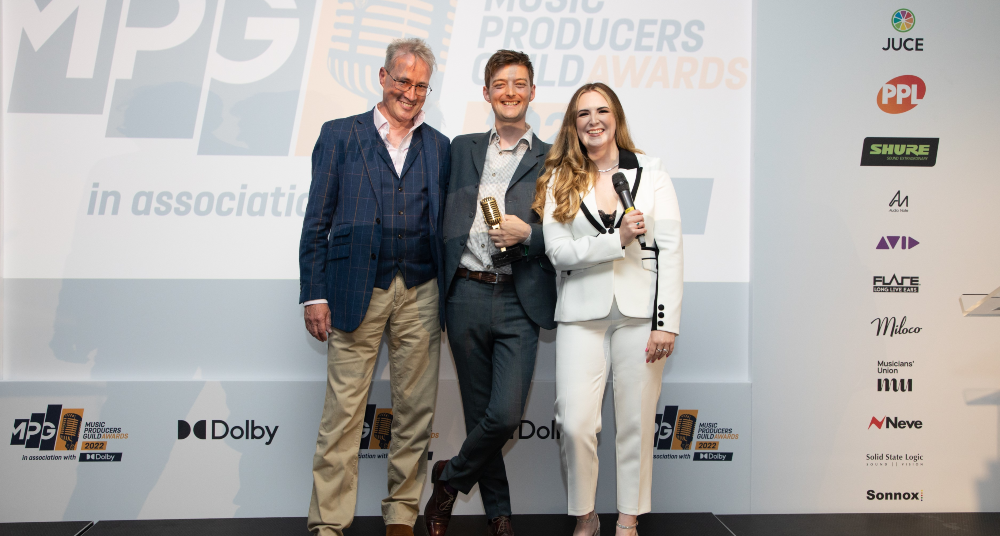 Images by Blake Ezra.
It's been a long road to this point. After leaving the care system at 18, Matt first embarked on a BTEC diploma in Music Technology, taking on freelance projects and building up a portfolio. With the unique barriers he has faced, the Rising Star Award is a testament to his immense hard work and determination, as well as a finely-honed ability to seize any opportunity to prove his skill.
'Leaving care, I didn't even know where the studios were in the UK,' Matt says. 'But I managed to buy myself a little 8-track thing. It taught me how to record, because I only had eight tracks and two inputs, so it made me have to be creative.'
After six years of building up his portfolio and working with local artists though, Matt felt like things weren't quite hitting the mark. He was still ambitious, still determined, but the invisible obstacles were difficult to climb over.
'I was just thinking, "how the hell do I break into this walled garden?" Then along the way I met a few people, and they all came from LIPA. They'd done the sound technology course, and I was like "well, they've obviously done something right, so I'll see if I can get a place there."'
'They said to me, "If you'd come here at 18 we'd never have let you in, because you have like two GCSEs."'
Applying as a mature student turned out to work in his favour. Matt had amassed a strong back catalogue, which counterbalanced the fact that he'd applied with few traditional academic qualifications.
'They said to me, "If you'd come here at 18 we'd never have let you in, because you have like two GCSEs,"' he laughs. 'But because I'd built up some experience, they let me in.'
The admission's decision has paid off. Since graduating from the programme Matt has worked at Oxfordshire's ARC Studios. During the pandemic, he worked on Frank Turner's number one album FTHC, under the Grammy Award-winning producer Rich Costey.
'From what I understand, Frank was supposed to go to LA to record the album. But then COVID happened,' Matt says.
With most of Frank's band The Sleeping Souls based in Oxford, ARC Studios seemed like a natural choice. Like most other projects happening at that time, the process for recording FTHC was a little unusual.
'It was the first time I've worked under a Grammy Award-winning producer, and it taught me a new level of detail that I never thought about before,' Matt says. 'Rich Costey couldn't be in the room. He was streaming in from Vermont, being this all-watching God while he was having the livestream from the studio sent over to him. It worked really well, and according to Frank Turner the process was a lot quicker than normal. It was really enjoyable.'
Those sorts of opportunities don't come along every day. When speaking on access for care leavers, Matt is keen to draw a distinction between the music industry as a whole and the recording industry in particular. While the entire industry can be difficult for careleavers to break into, routes into performance are more transparent than routes into production roles. Development programmes for artists and performers from underrepresented backgrounds have made great inroads, but equivalent schemes for behind-the-scenes talent are harder to come by.
'Trying to get into recording as a careleaver is like trying to play snooker with a rope,' he says. 'It's nearly impossible. But you can be creative, you can harden the rope. You can find a way.'
In practice, this meant always being on the lookout for next steps, new roles, new possibilities.
'I just had to have a real acute awareness of opportunity, and just take any opportunity,' Matt says.
Even knowing where to find career opportunities is a key obstacle for careleavers. And, once those opportunities have been identified, the possibilities can be further narrowed by a lack of financial or emotional support.
'The two other people I was up against were from really big studios. One of them worked on a Fergie track. I still don't know how to get into one of those studios. They're the barriers. Who's going to pay for me to go and live in London and not have good pay? Who's going to pay for that?' Matt says.
'The real barrier is just having that person who can go, "You know what? I know it's difficult, but you can do it." When I left my last social worker – I had about 15 of them or something – he said, "What are your plans?" I said, "Well I'm going to be a recording engineer and have loads of hit records." He just went, "No, look, you really need to limit your ambition a bit. You need to stop." It's those things. It's the support network around it. It's not just finding the opportunities, but then knowing how to apply for them, using the right language and things like that. They're the real barriers.'
Improved access to the recording industry could grow from a series of widely implemented small steps. Most people in the industry know that the social element matters, but even then the scope of its significance is hard to see clearly from the inside. For Matt, it is abundantly clear that the foundations for an ability to network or connect socially are laid long before a music career begins.
'If someone like me does come through, just having someone there to go "hey, I think it'd be really good for you to meet this person," that'd be great, because then I could just get talking to him, and I never would otherwise. Little things like that could make a huge difference.'
As Matt Taylor makes further inroads into the industry, there is little doubt that he will open up these paths for others in his wake.