As one half of British dance duo Orbital, producer and songwriter Paul Hartnoll has done much to create rave's cultural blueprint we all know, love and dance to.

Anthems including Belfast, Chime and Satan took the pair out of the clubs and into the charts and atop festival bills across the world over the course of a 25 year career. It culminated in a performance at the 2012 London Paralympics Opening Ceremony with Professor Stephen Hawking before they went their separate ways.

Now following the group's disbanding, Paul is a solo producer, writer and composer, coming up with scores for films and TV series including the BBC's Peaky Blinders. He's also released an ace 8:58 solo LP featuring collaborations with Robert Smith and Ed Harcourt. We caught up with Paul to find out about the challenges of going it alone and his thoughts on the cultural change trail blazed by dance music…

What's been keeping you busy?

I've been working on a top secret pilot for a film. It's only top secret in case the film falls through. But I've been doing it and it's great fun. It's one of the best scripts I've read in ages. I do get a lot of scripts you start reading and just go 'really - another one of these? London gangs'. But this is a different level.

Festival season has been busy, plus gigs and I'm planning a few other projects including a stage show. But at this moment it hasn't begun. I'm also working on a collaborative album with one of my electronic heroes. But I can't say anything about that either. I don't want to build up any anticipation in case it doesn't go ahead.

Are you happy flitting between these mediums?

I'm happiest when I'm doing that. But at the same time, I'm a serial monogamist. I don't like it when they're all happening at the same time. I prefer one to take over and for me to have a deadline to work to. I don't like anything open ended.

Has writing music for film and TV always been a real passion?

It's something I've always loved and always wanted to do more of but Orbital kind of got in the way as we were always doing so well! But I was always trying to do stuff - Event Horizon, the Saint - even then one was interrupted by us playing Lollapalooza - which again is a luxury problem. But it's something I want to concentrate on now. Recent work has included a film called American Ultra and music for series Peaky Blinders.

How do find working to screen?

It's like working with a singer who has this song, who wants it to be a certain way and you fit everything around it. You're encapsulating something else which has been done but there's still so much scope to work.

It's like being dictated to by a lead singer. The film tells you where the emotion has to go - and the voices, the dialogue and the action. You can play down the music by making less but it still means more as you combine it with the images on screen.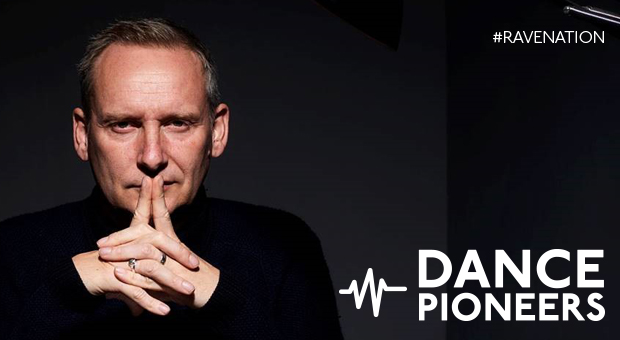 8:58 is your debut solo LP - what were the biggest challenges with releasing the record?
The biggest was with the name -
8:58
. I was trying to be creative, be artistic. I really wanted to separate myself from what we'd done as Orbital. Even though technically speaking this is the LP which would have been the next Orbital album. But all the albums have got a sticker on saying
8:58
the new LP from Paul Hartnoll from Orbital. Because you can't get rid of it.
How did you pick the collaborators?
Simply just people I really love and listen to. Lisa Knapp and the Unthanks I was constantly listening to. I love Ed Harcourt - I discovered that through meeting him and getting on really well. There's that aspect of if you know they're nice, then you can work with them easily. Flood knows him too so it was a bit like three mates just mucking about in the studio.
What was the theme of the record?
Music is a time-based medium and I've always found time fascinating - I hate being late, I'm obsessive and the irony is that music takes you out of time - it puts you in the now. That's why I like it. But as soon as you start to doubt yourself, you're back in the time trap and you need to walk away from the creative process and do something else.
How have you evolved as a producer and songwriter?
To be honest, sometimes there's nothing I like more than sitting down with an 808 and a 303 and bashing out some acid house. But music is a strange game of Chinese whispers. If it's completely new, it's not music until people have got used to it. It moves forwards slowly. I like modern folk music – I've been gradually incorporating that into my music - I've not made a folk record but it's just small steps. I might hear something by Jon Hopkins or Nathan Fake. I like what they're doing, you try and mess with it, inevitably get it wrong and do it your way. I don't worry about trying to evolve as it naturally happens.
What about the health of dance music?
It's very interesting. I was at the BBC Radio 1 Ibiza Proms. It was like an out of body experience. Most of the audience were too young to have been there first time around, most of the orchestra were too young to have been there first time around. I thought wow - look at this cultural imprint. I was right there from the beginning, a foot soldier in the beginning of rave and now here I am, at the Albert hall, watching the Proms. It's one of the most officious, established things I remember as a child with everyone singing
Land of Hope and Glory
. Now we're listening to them play
Children
by Robert Miles and
Good Life
by Inner City. Look at this flip flopping of culture, something that was so counter culture is now so established.
What does the future look like?
You've got electronic supergroups like Rudimental and Disclosure. They're the vanguard of solid dance music. And then you've got the people I associate with like Jon Hopkins and James Holden, the more art-based side. The sound just keeps going. Just when you wonder how it's going to continue, it does.
Dance music was a proper cultural revolution. We went from clubs being places where you'd get stabbed or beaten up for looking at someone's girlfriend to being places where people stopped drinking and everyone was friendly. There was a network around the country and football violence stopped on the terraces. It never really came back. It used to be awful on football terraces - there were some big cultural changes that came about because of dance music.
Are there new audiences for the music?
It's all there for the taking – if we'd still been on vinyl and CD I don't know what would happen to people like me. All of my back catalogue is available online for anyone to find. The playing field is level now as the whole of music culture is in the cloud for anyone to listen to. It's going to be interesting to see how it
works
itself out.
Visit
paulhartnoll.com
for more information on Paul's latest projects.
Check out
our #ravenation feature
, plus interviews with Bestival's
Rob Da Bank
and
Mark Archer from Altern8
on the health of dance music.
Watch
our previous video interview with Orbital
on being awarded a
PRS for Music
Heritage Award at London's Garage, the scene of their first ever live gig.