If you're looking for a barometer of great new jazz talent, then you need go no further than the drums of Moses Boyd.
Moses is one of the most exciting, freshest players lighting up the jazz scene and has the accolades to prove it. After cutting his teeth with the Tomorrow's Warriors collective, he's thrown himself into a huge number of projects both in collaboration with others (he plays with
Zara McFarlane
and
Floating Points
) and as a solo artist.
Moses has been backed by the PRS Foundation to journey over to Montreal Jazz Festival alongside Malaika and the
Peter Edwards
Trio and chosen as one of the Steve Reid InNOVAtion Awards mentorship artists, alongside Lady Vendredi and Hector Plimmer. The icing on the cake was winning the MOBO for best jazz act as one half of
Binker and Moses
earlier in November. Catch him tonight (26 November)
playing the Forge in Camden.
  We quizzed Moses ahead of the gig on collaboration, the state of jazz and being a MOBO winner...
How did you first get into music?
I guess it was always around me growing up. From church to family gatherings, music has been a vital part of my West Indian culture. Although I didn't grow up with musicians in my family, looking back I see now there was always creativity nurtured in my household in some shape or form. So when I did start playing it didn't feel to foreign to me.
What drew you to the world of jazz?
I think it was the first 'jazz' CD I ever bought,
Standard Time Vol 1
by Wynton Marsalis, still one of my favourite recordings with some of my favourite musicians. It was all completely new to me and the freedom, the swing and groove captivated me instantly. From there I began to delve deeper into checking out records and jazz history, going to jam sessions and trying to learn the tradition the same way my heroes did. Along the way I was just constantly learning more and more.
When did you realise you were onto something with music?
I guess it hit me when I stated touring with music and doing major festivals and venues across the world. It hit me that this is really my life now.
Where do you look for inspiration?
I wouldn't say I consciously look for it but I know when I find it. It can be anywhere from nature to literature or just music I haven't heard before. I travel a lot so seeing other cultures and experiencing their music, philosophies and way of life influences me too.
How did you get together with Binker
?
We met through the Tomorrow's Warriors programme set up by Gary Crosby OBE. I was fairly new to jazz at the time but my first gigs with the late Abram Wilson always had Binker in the band. We have gone onto play in many others bands together since, recently backing Zara McFarlane. We've always got on really well both as friends and as musicians so Binker And Moses was sort of a natural progression really.
How did you make the LP? What did you hope to achieve with the record?
Gearbox Records approached us as they had seen some footage of us playing and really liked and believed in what we do. We were looking to record around then anyway and it all worked out perfectly in terms of timing. The actual recording process was very old school and simple. I think there were only about four microphones used for the session, no separation no overdubs just straight to tape analogue set up. Musically we had some ideas for each track and improvised around that concept. In total I think the session was about four-five hours long.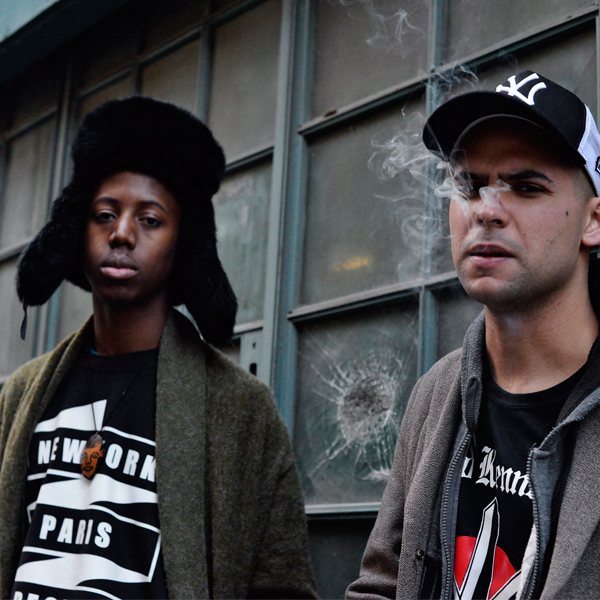 Congrats on winning the MOBO - what does this mean to you?
It means a lot. I grew up watching the MOBOs and never imagined I would have one. I didn't start making music to win awards and I believe my music would still sound the same regardless of the media interest, But recognition is always nice. To me I hope it can show the next generation of jazz musicians or just people from my community that if you work hard and keep your integrity you can do well.
What's been keeping you busy?
I've been touring a lot with Zara McFarlane and Soweto Kinch. I was also a recipient of the Steve Reid Innovation award, which has helped me record some material with my band Moses Boyd Exodus. As well as working on various projects of my own and other peoples between producing, writing and trying to stay on top of my instrument there's always something to do.
Have you any advice for new and emerging jazz artists?
Be the best you can be on your instrument first and foremost, keep your integrity, and treat people how you would like to be treated. The rest takes care of itself.
Which new acts do you rate?
Theon Cross, Sons Of Kemet, Parshmuane, Myriad Forest, United Vibrations, Otha Soul, Sumo Chief, Loyle Carner, King Krule and lots more. Not being biased but pretty much the creative south London scene at the moment. There's a lot going on.
What are your thought on the jazz world? Is it in good health?
Yes of course there's some amazing music being made at the moment both in the UK and internationally. Also the jazz world/infrastructure is changing, from the short time I've been involved with it. I'm seeing jazz being pushed to new audiences and performances spaces with organisations such as Jazz Refreshed, Steez, Brainchild, Good Evening Arts, Kansas Smitty's - it's definitely a good time to be playing this music right now.
What does the future have in store?
More Binker and Moses, more from the Moses Boyd Exodus, more groove more funk, more cowbell.
mosesboyd.bandcamp.com