Until Monday 8 August, UK Music are conducting the Workforce Diversity Survey, tracking progress to boost diversity and inclusion in the UK's music industry. The survey focuses on those working behind the scenes rather than performers, and gives critical insight into diversity and inclusion across the business. To coincide with this, M Magazine revisit our feature with Keith Harris OBE – artist manager, music industry consultant, and the former chair of UK Music's Diversity and Equality Taskforce.
Here, Keith talks about building a Black economy, overt racism in the music industry, and working with some of the biggest artists of all time.
Keith Harris OBE is the epitome of an unsung hero. He won't register high on Google searches, but has fingerprints on some of the most influential moments in Black music history; developing the biggest names in Motown, overcoming racism within the industry that sought to keep Black faces from positions of authority, building a framework for talented Black British artists shut out of the mainstream, creating a music degree at The University of Westminster for youngsters seeking a way into the industry, and working with PPL to make sure all artists are properly paid.
A dreamer from Wigan who became general manager of Motown Records, Harris went on to manage Stevie Wonder, Junior Giscombe, Omar and the late Lynden David Hall.
20 minutes easily became 80 in the company of this humble, affable man, who mentions luck so many times it's clear he doesn't see himself as a hero. It's the only time we disagree.
'...if there was already a UK R&B group, or Black female singer, there couldn't be another one. It was a huge frustration because talent-wise, we were at least the equal of those pop artists, but no one was listening.'
Maurice Stewart: You dabbled in music as a teenager in Wigan, but how important were those first experiences of working with artists and building industry relationships at university in Dundee?
Keith Harris: I'd been fascinated by the world of pop music since the age of nine or 10. I'd realised by the time I was 20 that I didn't have the talent to make it, so I needed to find another way into the business. Becoming entertainment convenor in Dundee was perfect, as in those days the university circuit was very important for bands.
I would regularly book bands like Yes, Supertramp and Thin Lizzy, who all went on to global success. Many people doing my job at unis around the country used it as an entry point into the music business, like (Dire Straits manager) Ed Bicknell and (Live Aid promoter) Harvey Goldsmith.
MS: After a year in Radio promotions for Transatlantic records, you were given the chance to work for Motown.
KH: Transatlantic was a great learning curve. They had an eclectic mix of artists which matched my own tastes, and it was at the embryonic stage of commercial radio, so it was all new and exciting.
Despite a successful year, it was made clear to me that there was no chance for progression, so I walked down the road to EMI. I spoke to the general manager of their Motown arm, who was impressed enough to offer me a job. Almost as an afterthought he said, 'You should probably meet the people at Motown International, they're based in London'. I had what I thought was a great chat with Ken East, handed in my notice at Transatlantic and went on holiday for two weeks. When I returned, the Motown job was no longer available. I heard much later from others within the company that Ken East had made it known that he didn't want a black man working at Motown.
MS: At Motown? Even considering the more overt racism of that era, that's still shocking. How did you react?
KH: What could I do? There was nothing I could say that would change their mind. They found me a position working for other subsidiaries, and I got my head down. I developed a reputation as someone with good connections at Radio 1, which led to me working on Elton John's promo campaign for Blue Moves. At the launch party, I happened to get into a conversation with Ken East's wife, who found me a charming young man. Lo and behold the next day I was told he'd 'made a mistake' and got moved to Motown.
MS: While at Motown, you promoted some of the biggest artists of all time: Marvin Gaye, Diana Ross, Smokey Robinson, The Commodores, and of course Stevie Wonder. Things are great, until the position of general manager comes up…
KH: The managing director called me into his office and told me not to bother applying. Despite the fact that 'some would say you are the natural choice'. He said I didn't have the experience, which was true. A month later, he offered me the job, as they hadn't found anyone else. Three months into the job, I'm called in again. 'We've found someone to take over (a white man), but he's not got much experience as a general manager. Can you help him out (while being demoted back to promotions) as he's settling in?' I almost had to laugh.
MS: By this point it became clear to you that in the UK at least, there was no progression for Black people in the record industry. Did this make it an easier decision to move to the States to work with Stevie?
KH: In a way I was lucky that it was so overt. Racism is often more subtle, you don't really get the message and it causes you to waste time. I met Stevie in 1977 when he and Yolanda needed someone to show him around London. We were a year apart in age, and really hit it off. He asked me to come work for him then, but I took it with a pinch of salt, as I'd heard it from American artists before. Once he went back to the States, we'd talk regularly on the phone, and he'd mention it every time. Being honest, I was scared. America was a long way away in those days, and all we knew from over here was that it was a tough place for Black people. But after that second direct snub, I took the leap and called him up.
MS: The American music industry certainly hadn't eradicated racism, but it was a world where Black people had power, particularly at a label like Motown, and particularly for an artist like Stevie. It must have been a welcome change.
KH: Berry Gordy was a visionary in a lot of ways. Not only as a songwriter and a businessman, but he truly believed in the right person for the right job. As well as Black people, there were a lot of women in senior positions at Motown, which just didn't happen in those days. He, and Smokey and Stevie laid the foundation for so much that followed.
'I had to ask myself 'Do I want to be known as 'Stevie's man', or do I want to carve a niche of my own?''
MS: You spent four years as part of Stevie's inner circle, a period of great critical and commercial success. I'm sure we could fill an entire article with Stevie stories, but I wanted to ask you about something your niece Remi (Harris MBE) mentioned. You were involved in the campaign to make Martin Luther King's birthday a national holiday, and the global smash it produced in Happy Birthday. What was it like to be part of such a historic moment?
KH: Having Stevie on my arm, quite literally a lot of the time, gave me access to the highest tier of Black American society. It was an amazing learning experience. I remember when he called me to say he'd had the idea to resurrect the MLK campaign, I thought it was a great idea but I didn't expect him to then ask me to help organise it!
The next year and a half was dedicated to strategising, alongside Ewart Abner (former Motown president and part of Stevie's circle), Rev. Jesse Jackson and Martin's wife Coretta Scott King. I didn't have time to think about the historical impact of travelling to DC for meetings, or being in the presence of such great people, but I do remember advising him to use the inner sleeve of the vinyl to spread the central message. Alongside a picture of Martin, and of the civil rights riots, there's a real call to arms, in a similar vein to Martin's speeches (that featured on the B side).
In any campaign for equality, you need allies. Getting Black and white people together was very important, and Stevie's fans cross all sections of society, so there was no better method. That message was the centrepiece of the campaign, and I'm proud to say that I helped create it.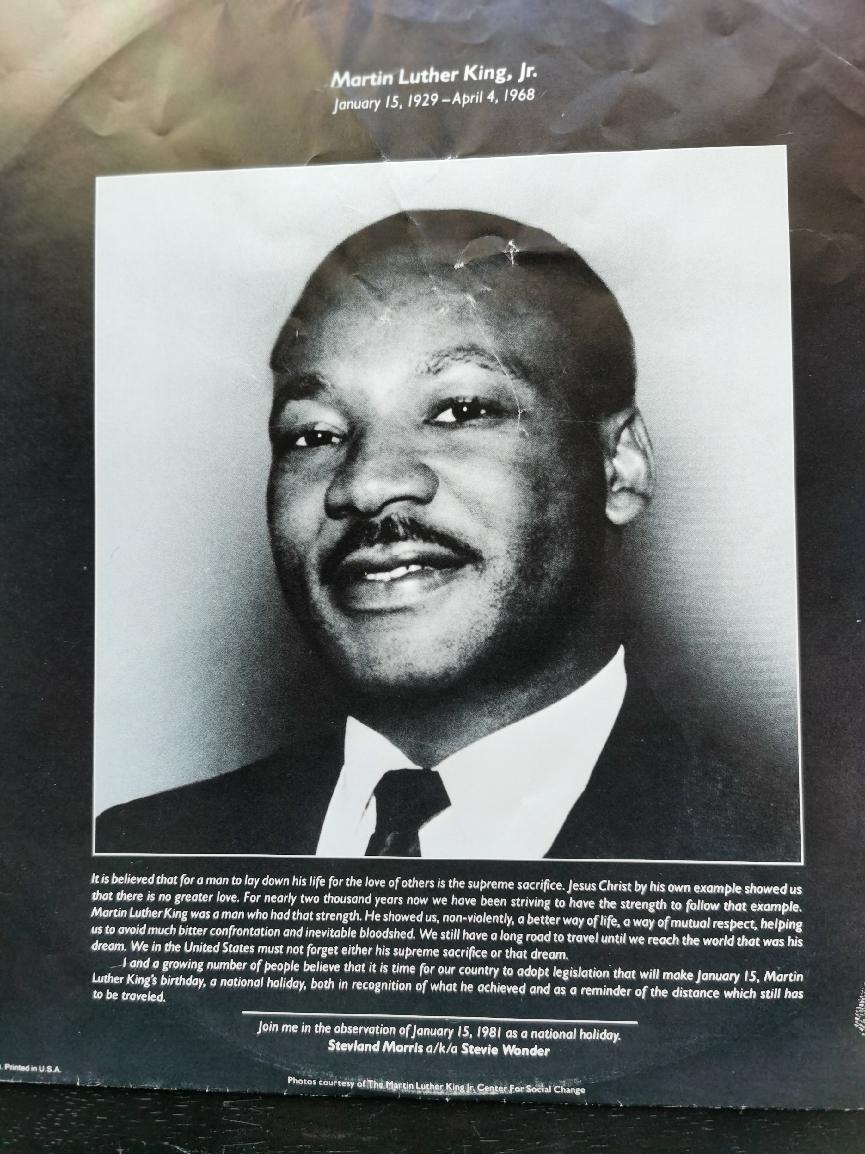 MS: What was the catalyst to leave the States and come home to start your own management company?
KH: By this point I'd become central to Stevie's operations, but I had to ask myself 'Do I want to be known as 'Stevie's man', or do I want to carve a niche of my own?' I wanted to see if I could use what I'd learned to have an influence in the UK, which was still my home. I served my notice with Stevie and came back on Christmas Day 1981. I don't think anyone had left him before, so he was quite shocked. Luckily, we have a strong friendship and I still work with him whenever he's in Britain. I didn't have anything planned, but I was willing to go back to square one to start something of my own.
MS: The UK in the '80s was a real struggle for Black British artists. I've heard you discuss previously about building a Black economy, based around pirate radio, independent shops and live events. Talk to me about that experience.
KH: Back then we felt there was one rule for Black artists and another for (white) pop artists. If a pop artist had a hit, radio automatically supported their next release, with airplay and exposure. That didn't happen for Black artists. We'd release a record and no matter how good it was or how well it did, we'd be back to square one. This was alongside the 'one at a time' policy, if there was already a UK R&B group, or Black female singer, there couldn't be another one. It was a huge frustration because talent-wise, we were at least the equal of those pop artists, but no one was listening.
Erskine Thompson had been working at building that platform for Black artists long before I arrived, and he taught a lot of us how to do it. He was a DJ on BRMB but also worked for Island records and had the connections to bring it all together. There was also Wilf Walker - the first Black promoter - and the British Black Music Association, run by Root Jackson & Byron Lye-Fook (Omar's father) who built a Black music network, and ran seminars for Black people in the industry. I spoke at a lot of those, and they were so important in giving people the knowledge to build a business, beyond the low-level street hustles.
MS: I Imagine that was an influence when you were asked in 1991 to write the Commercial music degree at the University of Westminster. How did that opportunity come about?
KH: The course had already run for a year, but was taught by people from Harrow business school, who didn't really know the music business! They invited me to rewrite the course, and I taught there for 16 years. It was important to me, because for years what I heard about the lack of Black people working in the industry was 'If there were people who were qualified, then we might be able to employ them'.
However, until then there wasn't anywhere to earn those qualifications. At Westminster we had a high percentage of minority students, which enabled me to give these kids the tools to succeed, and many of them did. And it wasn't just about the Black students - the white students were being taught by a Black lecturer, which helps to reshape people's perspectives about Black people holding senior roles.
'I wanted to encourage people across the industry to really think about what they're doing, and I've been impressed by how willing most have been to embrace it. It's the first time in all these years that I've been properly optimistic that things are going to change.'
MS: Your desire to share your knowledge with the next generation has continued at home. You have two sons in the business, as well as your niece and nephew. What's been the biggest change in the challenges they face compared to the '80s?
KH: I'd say they were teaching me! We're in a new business now, and it's 'adapt or die', so it's important that I learn from their experiences. My son Hamish in particular, as he's working for September Management (Adele, Rick Rubin, London Grammar) at the very top level.
The biggest change is that management now is central to everything. When I started it was the record company, managers are the ones that generate the heat, from social media to brand partnerships. They are the ones that really build careers. Record companies have always brought the finance, but the managers drive the industry now.
MS: After the recent Blackout Tuesday campaign, you wrote an open letter imploring the industry to use this as a step to tangible change, citing your experiences of the lack of opportunities in senior management for Black people. As someone who has been part of countless projects that has sought to redress this balance, such as MusicTank, and the Equality and Diversity Taskforce, what needs to happen to make the movement a real turning point?
KH: That was another example of being taught by my children. They suggested writing something, but initially it felt self-serving - like I was using an important cause to get a leg up. They said 'Dad you're nearly 70, you've been in the business 40 years - it would be weird if anyone thought you were trying to get a leg up now!'
That changed my perspective, and made me think 'If not me, then who?' I wanted to encourage people across the industry to really think about what they're doing, and I've been impressed by how willing most have been to embrace it. It's the first time in all these years that I've been properly optimistic that things are going to change.
Fill out the Workforce Diversity Survey.

This piece was guest edited by Ben Wynter. Ben oversees the management of Hitmaker, Momentum Music Fund and the International Showcase Fund at PRS Foundation. He is also the founder of Unstoppable Music Group which has been developing the careers of highly sought-after producers.