Ibibio Sound Machine are a London based eight-piece who break geographical, genre and generational boundaries to create their infectious, eclectic sound.
Their line-up spans musicians from Trinidad, Nigeria, Brazil and the UK who're inspired in equal measure by the golden era of West African funk and disco and British post-punk and electro.
London-born Nigerian singer Eno Williams helms the band, bringing the weird and wonderful folk stories of her childhood to life by singing in her mother's Ibibio tongue.
Her evocative poetics are then framed in an edgy afro-electro soundscape which swoops and soars around her vocals.
We caught up with Eno for our
Awesome Africa
feature in the
latest issue of M magazine
to learn more about their sound and hear about the cultural importance of uplifting music in everyday life…
There's a really interesting mix of musicians in Ibibio Sound Machine – how does it all come together?
We're a collective – an organic studio-conceived project – that could only have been possible with the vibe in London. Because of course London, and many parts of the UK, has a multicultural essence. Everyone has different influences and cultural backgrounds.
It was organic, it all developed slowly, with the lyrics being the backbone of the sound. You've got electronic sounds, hi life, funk, post punk, jazz – everything on the face of the planet is in there! It's down to our cultural influences.
Did you have a clear aesthetic when you started or was it more organic?
It was quite organic I would say. We developed sound on sound with the lyrics being the tapestry.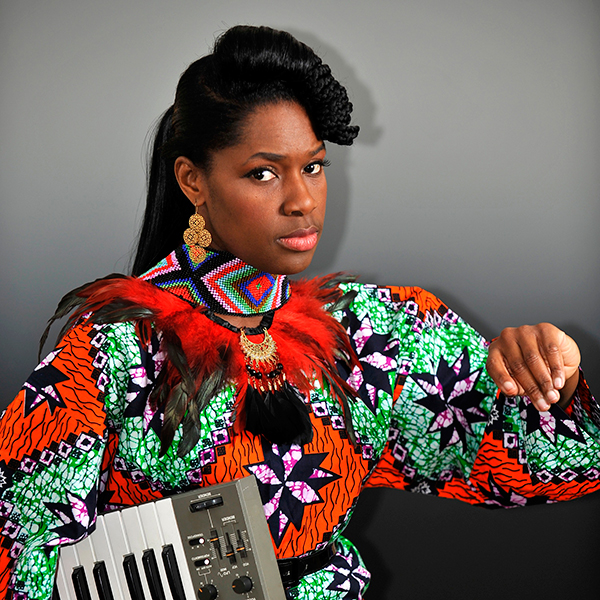 You mention the rhythmic quality of the Ibibio language. How did that influence your band's sound?
You've got the electronic sound, you've got the highlife sound, you've got the funk – you've got everything on the face of the planet! It's down to everyone's cultural influence. But the lyrics are the main focus and because the language is quite melodic, it lent itself musically.

Our collective influences are post-punk, which you hear from Leon's perspective, jazz from the guys in the horn section, then you've got the highlife influence from Alfred. I personally grew up on all sorts of music: Aretha Franklin, Angelique Kidjo, Manu Dibango, Whitney Houston – it was a real mix of Africa meets the West.

So how do you describe your sound? Is it British, African, global?
I think our sound is global. It can't be boxed into 'world music' because you can hear everything in there. You hear the jazz, funk, spiritual, African influences… People that love R&B, or gospel, or funk, can find something in it. Our audience is a really broad spectrum – old, young, anyone!

Your lyrics seem very important to the band – you publish them in English too. Is that how your songs start life? Or is the band music-led?
It's a bit of both really. Some of our songs are based around a story that I will hum and others are based on a bit of music that I'll listen to and try melodies to. Sometimes we just go into the studio and have a jam and a song will come. It's quite varied.

You're working on new material at the moment. How is your sound evolving from your first album?
We've sampled the new sound at some of our recent gigs and it's been received quite well. Some of it is in keeping with the electronic and lyrical elements on the first record. But to include everyone I sing a little in English too – maybe the verse will be in Ibibio and the chorus in English to give a broader perspective of the song. We're still trying to keep to the initial formula but evolve and improve a little.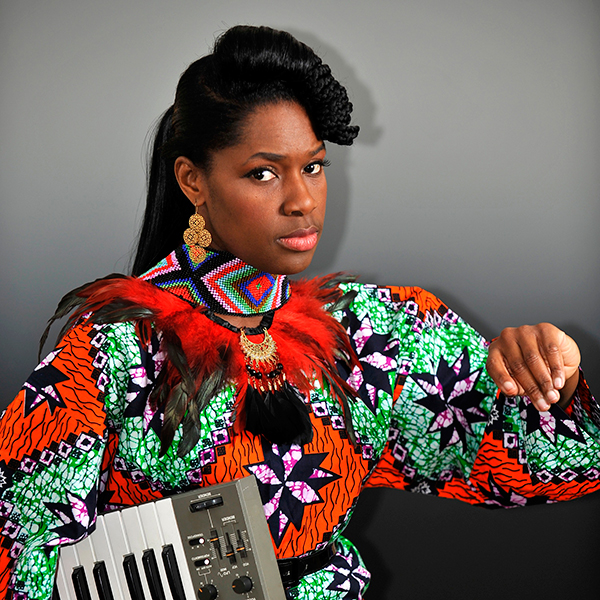 You've mentioned the fusion between African music and Western electronic music – why does it work so well?
Music gradually evolves over time and we want to do something that hasn't been done before. I but think the two work so well together because of the rhythm and bass – two elements which are really important in both. It feels like a pairing that ultimately
works
.
Do you think African music is becoming more integrated in the UK or do you think it's still perceived as exotic?
I think African music has always been around in the UK. I remember listening to Angelique Kidjo, Manu Dibango, and Youssou N'Dour – all those people have been around for years trying to bridge that gap between African music and Western music. But I think it's becoming more mainstream.
Even though those influences have always been there, our tastes are becoming more globalised. Everyone wants something different, something new. People like
Soundway Records
are putting the music at the forefront, and introducing it to people who haven't heard African music before. Our tastes are becoming more eclectic and
international
. We want to hear something else apart from the norms we're used to. We're growing our musical tastes.
What do Ibibio speakers in Nigeria make of your music?
Quite to my surprise, the people we've performed to were blown away. They didn't know that this could mix work. It was nice to have an audience that understands what I'm singing! On the other hand, it's nice to see people who don't speak Ibibio trying to sing along. I'm always so happy when I see that!
What does music from the Ibibio region sound like?
It's very folky and traditional – I guess you could compare it to Irish and English folk music. It's all about the storytelling, it's very organic and minimal. There's lots of vocals and drumming. It's joyful music. I love it. It's uplifting, and that's the backbone you hear on our record – that spirit coming through.
Sometimes artists and musicians tend to project their personalities and the way they feel. We're not always happy, sometimes we're gloomy and sad. But I feel we need happy music to lift our spirits and give us positive vibes. Sometimes that can be lacking in music. I hope we can infuse that into culture somehow. Sometimes we can be happy and listen to music that makes us feel energised and awake and spiritual.
It's that functional aspect of music…
Yes, exactly. Music has an important role to play in everyday life. Imagine what the world would be like without music? Being happy or sad without music? It feels like music is the soundtrack to everyone's lives. We need it in there.
Eno recently put together a playlist of the tracks that have inspired her sound. Listen to
Eno's playlist here
.
http://www.ibibiosoundmachine.com/