Day-glo pop producer FEMME, aka Laura Bettinson, is larger than life both on record and in person.

She's been master of her own musical destiny for nearly a decade now, finding a unique songwriting, producing and performing style that's led her to the beating heart of British synth-pop.

Her solo reveries draw on everything from classic eighties pop powerhouses like Madonna to bass-heavy club sounds, with her 2013 earworm Fever Boy officially getting ears twitching.

Since then, she's been tipped by everyone from Vogue to Music Week, and received an AIM Awards 2017 nomination for her DIY video to killer track Fire With Fire.

Laura is also a cheerleader for likeminded pop contenders, with the final date of her upcoming winter tour showcasing a stellar all-female line-up of Elle Exxe, Ronika and Salt Ashes (tour info below).

Aside from FEMME, she's also one third of Ultraista, with Radiohead producer Nigel Godrich and drummer Joey Waronker. Their eponymous debut LP landed in 2012 and won them love on both sides of the Atlantic, with murmurings of a follow-up expected some time soon-ish.

With all this going on, we were lucky to pin Laura down for long enough to get her take on British pop, women in music and the origins of her sound…

What is it about pop in particular that really appeals to you?

I've always loved huge pop icons, Michael Jackson, Madonna, all of those. They were a huge source of inspiration for me throughout childhood and still are today. I guess part of the attraction of pop is the make believe element. I mean, it's your life and you're living it, but equally it's a blown up version of yourself and you can have so much fun with that. You don't really know what's real and what's not. You create a world around you, from the visuals to the music, to the videos, to the clothes you wear. These days, with social media, you can really go to town with creating a world around you.

Is it important to be across all that yourself?

Yes. I've always done it all myself, through necessity really. On a DIY budget, it's easier to do things yourself than to employ others. I don't have a big major label behind me so I don't have tour support.

Equally, I think collaboration is very important. So I have collaborated with stylists and video directors recently. I think that's important because you can't always work completely on your own - your world would end up being very small if you did.


What's keeping you busy right now?
I'm focusing on writing a load of new music for Femme 2.0. I don't know what format it's going to take, but I've got a lot of new tunes together and I'm continuing to write. I've got a release coming out in October, which is very different sounding to where I had been on my first album.
In what way?
It's actually a lot less pop, it's more production-based and even further away from
Fever Boy.
What's fueling that?
I think I'm just enjoying flexing my muscles as a producer. A lot of popstars can't produce – I don't know many who do. You get put in a machine and have people to do everything for you, but that's really not how my project
works
at all.
I love to be on stage and do all the dancing and singing and dress-up. But, equally, I'm as happy sat on my own in my studio, programming beats until four in the morning. I think that's really important: as much as I like the fantasy of creating my own world, it's an authentic world because I've made all this business around it.
Why not a major label?
To be honest we had some early meetings a few years ago. But I think it became obvious very quickly that it wouldn't have been a good home for me. I was put off by the experiences of lots of friends in bands who were signed. Sometimes it doesn't all fall into place at the right time, your music might never get released and it just ends up sitting there on a shelf. I had a fear of that happening to me.
Then I had some pretty hilarious conversations with a woman A&R, who told me I was alienating half of my audience by not having men in my band. I thought to myself, 'The project is called FEMME for fuck's sake; it's about women'. That's when I knew the major label route might not be for me.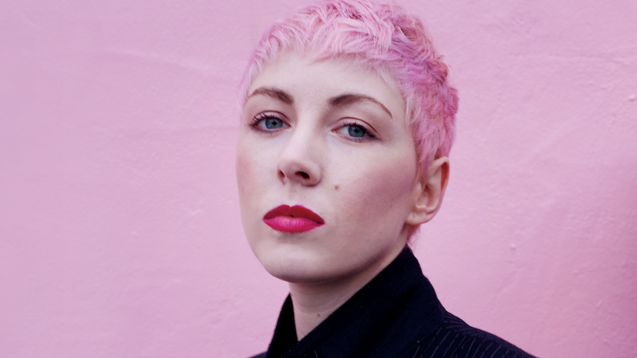 You've got a big headline show coming up at Heaven in December. What's the story behind the line-up?
I really wanted to support the independent pop scene in London. And it was important for me to put women on stage. I'd love to see more female headline acts generally. It really frustrates me that we don't seem to be able to get our UK girls up there. Rihanna and Beyoncé and Nicki Minaj are doing it in America but we haven't really got that many female headline acts over here. I think we have to develop and nurture more women on stage doing small gigs then hopefully we'll get more female headline acts.
What's your take on UK pop at the moment?
Pop chart music is generally lacking for me. I think one of my bugbears with a lot of mainstream chart music is the lyrics are so lazy. Also, I think there is some amazing pop music being made that perhaps isn't breaking through into daytime radio. I've found some amazing stuff on Spotify that I probably wouldn't hear on a Radio 1 playlist. It feels like that radio, now more than ever, is heavily dominated by major label output.
If they're going to dominate it like that, I would like to see them support more challenging output. The pop envelope can be pushed a little harder.
For me, Michael Jackson did it, David Bowie did it. Historically in the UK we've had some really awesome unusual pop music that has created absolute classics. At the minute the major labels have all that power but aren't really pushing an interesting agenda
What else is keeping you busy to the end of the year?
I'm going to LA in a couple of weeks to work on some Ultraista stuff. I'm not sure what format it'll take yet but we're working on some new tunes.
Upcoming live dates:
29 November - Hope and Ruin, Brighton
30 November - Exchange, Bristol
2 December - Soup Kitchen, Manchester
3 December - Broadcast. Glasgow
6 December - Heaven, London
We spoke to FEMME for our Girls Allowed: pop power in 2017 feature in the latest issue of M magazine.
Below you can watch our interview with her on the red carpet at the AIM Awards earlier this month: