'Unless rock stars are making music that really is doing some good in the world then it's an absurd and preposterous thing to be', says bluesy raconteur and switched-on thinker Duke Garwood.
He's just about to release his sixth album,
Garden of Ashes
, a primordial sonic stew that delves into our basest human, political and social motives. It's a vital and uplifting paean to our crazy times, which Duke has dubbed 'the year of the clown'.
Having spent the last two decades traversing the globe and immersing himself in the mess and mayhem of humanity, he's adept at reflecting back all he's seen along the way.
With lucid slide guitar, delicate finger-picking and deep bass, Duke has managed to litter the whole album with a stately grace.
We caught up with the Mark Lanegan collaborator and Archie Bronson cohort to dig deeper into his reckonings and find out how only real, honest, unifying music can save us now…
What's the thinking behind your latest album Garden of Ashes?
I write stuff as I go and then when I'm ready for a bout of recording, I just hit it. Sometimes I record as I go, if I'm not feeling too lazy or I have the right people around. But I don't like to do that too much because there can be a disparity in the sound. [Previous album]
Heavy Love
was done more like that but this one was recorded in two sessions. I always know what I want to achieve from an album, and what the vibe is, but I'm never quite sure how it will manifest itself in the end. Best laid plans and all that…
You've said you were trying to distil your frustration into something more positive on the record – what did you mean by that?
I'm a mellow dude, I'm not a vicious person. I burn deep, like a lot of men who are of my warrior-tribal type. Some of them don't deal with it very well and some deal with it ok. Some people go crazy, some go on medication, or self-medicate. I don't self-medicate anymore, but I used to. I had to find a way to harness it better into the music.
Sometimes it's easy for people to selfishly think they're the only one to get upset by everything. But I've noticed in the past few years there's more of a collective feeling of frustration and indefinite anger. We can't ignore it anymore, with Syria and our regressive governments, with America being the most irritating place on Earth at this present time. It's really getting very annoying now.
And then in England, with Brexit and so forth, it feels like the giant brain of humanity is schizophrenic and split into two massive halves. There are people who understand humanity and those who don't seem to understand it at all. That is very dangerous and also bizarrely inspiring, depending on whether you can keep your head.
I thought about that when making the record - I thought I had to make something really fabulous. I wanted people to feel that old rock and roll thrill out of it. So it's not intensely personal this time - you don't get wrapped up in someone's deep psyche.
Was it harder to think about the bigger picture when making the record?
No, it wasn't actually. It's much harder doing that crying-into-your-beard emo thing. It seems easier when you're doing it, but it's not. So yeh, it was easier to think bigger, although a lot of musicians aren't going to be able to do that. But they all have to do it now if they're going to be any use to the world. Everyone has to think in a more global and unified way, in every single thing they do – or else we're finished.

So, with this record, you feel like you're doing your part, with the tools you've got?
That's exactly it. There's this vanity and separation in artists who just do what they feel like. They want to live in an elitist bubble. I don't agree with that. I'm trying to do my part.

What's your relationship to blues music? Do you think its function is to grapple with this stuff?
It's funny, because a lot of my music isn't really bluesy if you compare me to a real blues person, but if you take blues as a feeling, then yeh. When you hear good blues it can be quite thrilling. It's mid-way to voodoo. It's a big responsibility though - if you engage somebody with that emotional energy and then let them down halfway through, you break the spell and you've blown it. You've left them hanging somewhere.

How has your own sound evolved over the years?
It's evolved massively but I've evolved as a human, you know? I'm not so selfish now. When I made [first record] Holy Week, every single track was just one take. Partly because I was a lazy fool and partly because I was pleased with myself. It is a good album and I'm still making albums like that. This new one is all one take too, but my responsibility to really deliver something is greater. My guitar sound and my voice has changed over all these years – smoking!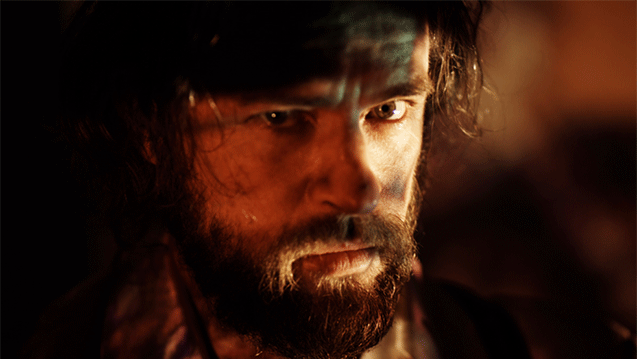 You've had loads of adventures around the world – how does that influence your sound?
I'm a rubbish tourist. I think travel when you're not a tourist is all about engaging with people. It creates a whole picture of humanity and the unity of us all. Every place I've been, I look for the humanity and the thread and the power of people. That's what informs the music, overall.
Stepping aside from music for a second, where do you see it all heading?
As a young man I was always an extreme pessimist because I wanted revolutions. I was misguidedly into the whole Che Guevara thing and wanted a big bloody rise up. Now, we're calling 2017 the Year of the Clown in my gang, because it's never been so ridiculous. I actually feel for the first time ever that I'm becoming an optimist for humans. I think we can do it, I think we can overcome this crap and I think we might be alright. There will be a lot of work to do and elitism has to go. There has to be a complete levelling of wealth.
Take the idea of rock stars – unless they're making music that really is doing some good then it's an absurd and preposterous thing to even want to be. You should only be wanting to make great music in order to have a beautiful experience with a whole bunch of people. Not so you can be some sort of god towering over them. That to me seems to be over now and anyone who thinks it isn't should get a time machine and go back to the seventies.
What's the last great record you heard?
I'm really digging the latest Tribe Called Quest one, there are some great moments on that. And there's this band from the States called Silencio. I got a sneak preview of their stuff. They make music that's inspired by David Lynch and Angelo Badalamenti. It's like fantasy music – it's like being in a Lynch film. I'm digging them. I have a pal called Lyenn who did a really beautiful new record. The single from it, called Fading, is spectacularly beautiful. I like listening to hip-hop in my car. Just between us, I like the Wu-Tang Clan. I've always loved hip-hop. I love the beats.
Garden of Ashes is released this Friday (3 February) through Heavenly Recordings
https://www.facebook.com/dukejgarwood/
Live dates:
9 February - Bodega, Nottingham
10 February - King Tut's, Glasgow
11 February - Headrow House, Leeds
12 February - The Deaf Institute, Manchester
14 February - Komedia, Brighton
15 February - The Louisiana, Bristol
16 February - Oslo, London
Lower photo credit: Steve Gullick