As indie legends go, they don't come more independent or more legendary than David Gedge.

The frontman of The Wedding Present and now Cinerama has been one of the busiest, most creative artists working within 'indie' since his music caught the ears of John Peel back in the mid-eighties. He prompted the broadcaster to famously remark; 'The boy Gedge has written some of the best love songs of the 'rock 'n' roll' era. You may dispute this, but I'm right and you're wrong.' And guess what? David has proved Peel correct over eight albums with The Wedding Present and countless more with his latest outfit Cinerama. His newest release will see the two meeting over Valentina, a Cinerama reworking of his other band's latest album.

Alongside The Wedding Present and Cinerama, David runs his own record label, curates his own festival and publishes an autobiographical comic book series; Tales From The Wedding Present, essentially his memoirs in graphic novel style. We caught up with him ahead of the release of his new album to look back on a career less ordinary...

How did you first get into music?

That's actually quite difficult to answer as I've always been into music. I grew up playing my parents' records, being obsessed with radio, watching bands play on TV. So there wasn't a defining moment when I thought this is what I want to do ... it was almost as if it been preordained!

What prompted you to first start writing?

As soon as I started messing around with instruments. Firstly on one of those electronic organs that kids have and then on an acoustic guitar. I probably started writing my own stuff because it was easier than trying to work out someone else's song.

How did The Wedding Present first get together?

I'd been in various bands while I was at school but The Wedding Present was the first to make a record. The impetus was partly me leaving university and thinking along the lines of 'well ... it's now or never'.

I was living in Leeds, which was a great place to form a band. There were bands like The Gang Of Four, The Mekons and The Sisters Of Mercy all knocking around. Shortly after we formed, the 'C86' scene kicked off so, throughout the country, there were people putting on concerts, releasing records, making fanzines. It was a very fertile time.

What was the band's big break?

When John Peel played our single. Pretty much overnight we went from trying to scrounge gigs at our local to promoters from across the country inviting us to play at their venues.

So John Peel's patronage really opened doors for you?

Very much so and I'm obviously really grateful. But, at the same time - if this doesn't sound too weird! It was kind of obvious that he'd support us. I'd spent the preceding decade being a compulsive listener to his show. Basically The Wedding Present was me giving back to him a band influenced by everything he'd been playing for me.

What prompted you to put this outfit on hold, and begin working as Cinerama?

Mainly just wanting a change. I'd been doing The Wedding Present for a dozen years and I just felt that I wanted to explore a new musical landscape, one which was inspired by classic pop and film soundtracks. I didn't think it would be fair to impose that on the other Wedding Present members!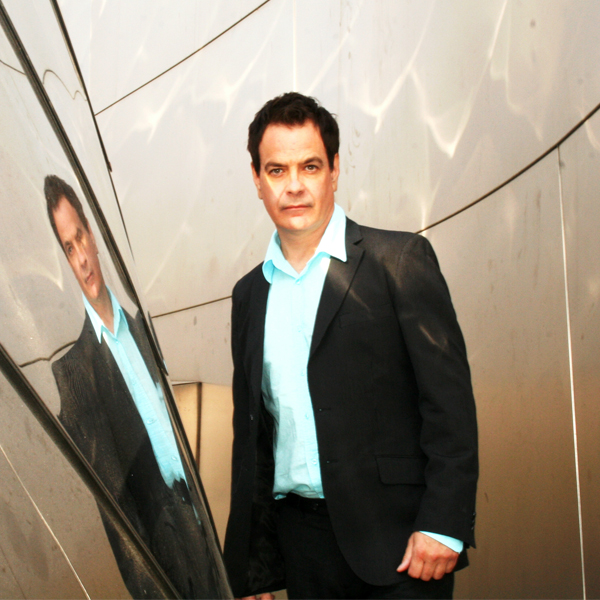 This latest release Valentina unites your two musical vehicles - could you explain about the creative process behind this new album?
Well, having two different groups at your disposal is quite rare, of course. It's a privileged situation for me to be in so I thought it would be good to use that in some way. I just thought it be cool to arrange and record the same set of songs twice, once as The Wedding Present and once as Cinerama ... with as little interaction between the two as possible. I've never wanted to be just an album/tour/another album/another tour type of artist and so I'm always trying to think up new challenges.
Valentina
is just another in a series of unusual things we've done ...
The Hit Parade
seven inch single series, our foray into Ukrainian folk music, my singing with the BBC Big Band, even the Wedding Present comic book!
You've had a pretty colourful musical career - what have been the best bits? And the worst? 
The best thing is that you never know where it's going to take you next. One minute you're at home writing a song; the next minute you're recording it with Steve Albini in Chicago. Then you're playing it live on Spanish TV or at a festival in Poland.
I think the hardest thing is that, because of the travelling and nature of the job, it's difficult to keep any kind of normal schedule in your life ... it's not really a nine-to-five situation!
What do you think about the health of the music industry?
Everyone knows it's more of a struggle trying to survive financially in the music industry these days. Tour managers are always telling me that any young bands they work with always seem to have rich parents because that's the only way they can continue. But I do feel fortunate to be part of an industry that's changed so radically. There have been some breath-taking changes to the way music is written, recorded, sold, promoted ... everything's been turned on its head and I've actually found that very exciting. Every week you have to learn something new!
Are there any new artists you currently rate?
I have a problem in that every 'new' band I hear reminds me of someone else. I know it's the nature of pop music to be cyclical and self-influenced but every up-and-coming band I hear these days sounds like a seventies punk or disco band, or Joy Division, or a sixties girl group or a fifties rock 'n' roll group ... do you know what I mean? When I first heard Sonic Youth or The Pixies or
Loveless
by my Bloody Valentine they didn't sound like anyone else. It's as if everything that can be done with guitars, bass, drums and keyboards has now been done before and the only true innovation nowadays is in the way the music is disseminated. A case in point ... my favourite new band is La Luz from Seattle ... but that's partly because they remind me of The Ventures!
Have you any advice for new and emerging songwriters?
A lot of people just don't put enough effort into it. It's a medium where it's easy to get away with being mediocre and a lot of average artists go on to be huge, largely because of clever marketing. People are often thinking along the lines of how to become successful more than they are about the actual song. Does the melody send a shiver down the spine? Does the lyric encapsulate a beautiful or terrifying moment? A great song can bring about a physiological change in the listener ... it can really transform you. As a songwriter, if that isn't your aim I don't think you should bother.
What's next for you?
2015 is actually kind of becoming the year of Cinerama's return! As well as the
Valentina
album we recently released a new compilation called
Seven Wonders Of The World
and even the third Cinerama album,
Torino
, finally got a release on vinyl. We're also playing at the Primavera Sound Festival in Barcelona and at Indietracks here in England and quite a few other shows. Plus of course, at my own mini-festival, At The Edge Of The Sea, in Brighton, at which Cinerama plays every year. But that's not to say that The Wedding Present are having a quiet year either…
Cinerama, David Gedge's 'other' band, are set to release a brand new album, Valentina, on the 18 May via Scopitones.
scopitones.co.uk