'I just used my phone, filmed a load of stuff and made a video' Crushed Beak's guitarist and songwriter Matt Poile nonchalantly remarks about their latest promo.

Doing it DIY is something of a theme for the band who announced their first album in four years with the fuzzy bouncy of lead single Honesty Box.

Now the noise pop come garage rock trio have revealed a little more of what's in store on The Other Room with the hypnotic riffs of Sky Burial and it's accompanying homemade video.

The songs began independently of bassist Scott Bowley and drummer Tim Watkins while Matt spent over a year writing and recording demos.

He subsequently brought the band in to work the songs out live before heading into the studio with producer Matt Peel (Menace Beach, Eagulls).

The finished record, while true to the band's style, hints at a more measured approach and bears the marks of sympathetic production.

We sat down with Matt to get the skinny on the band's follow up to 2015's Scatter, his songwriting processes and more…


How did you first start out in music?

I guess I've been doing music in some form or another since I was quite young. I had my first band at school, and I was still doing stuff with them through uni. Then I just grew apart form that and went on to do my own stuff. I found a drummer and just started getting on with it.

I found Garage Band on one of my housemate's Macs. I'm not great at sitting down and writing a song just strumming away on a guitar. I like to record stuff as I go, that's my writing process. So, that was quite a big thing, in terms of making my own music. I think finding a way to record stuff really easily was quite a breakthrough for me.

How would you describe your music to the uninitiated?

I don't know. I just try and put a lot of energy into it. I try and be as honest as possible about it. I don't try and make something that people are going to like, ever. If I like lit and I'm into it, I go for it. I try and do what comes naturally to me, which isn't always that easy, because you're constantly influenced by things, or you think, "I should be doing this," or "I should be doing that." Like playing some trendy synth, or something. This is the kind of band that we are and I'm not going to change that to try and be more popular.

It's hard to answer what it is ultimately, because it means labelling it indie-rock, or something, and you always want it to be more personal, rather than just boiling it down to that.

I'm kind of aware that our style of music is not particularly in vogue at the moment, but, whatever. There's nothing I can do about it. I can't just go and become a Soundcloud rapper, I just have to carry on doing what I'm doing.

What's the thinking behind your forthcoming album The Other Room?

After the first album, which I made with a different drummer, we got a bass player – we used to be just a two-piece. Then the drummer left. We're still good friends but he just didn't want to do a band anymore, which is fair enough, it takes up a lot of time.

So, we found another drummer, and it was just a different kind of process really. Before it was very much a kind of 50/50 thing and then it felt a bit more like I was a band leader. I just went and wrote all the songs myself, and that took about a year, that was before I even invited the other guys into the rehearsal room. Then it took another year of working out which songs we wanted to do. Sorting through all of them. I was still trying to write new stuff as well.

It's a different side to things. It's definitely a more considered approach. The Other Room is something that's a bit mysterious in a way. It's another side to things, you can hear it through the walls.

How do you think your music has evolved since your debut Scatter?

I learnt a lot in the process of doing Scattered in terms of trimming away the excess bits of songs. I tightened up the structures a lot. The songs are a lot more streamlined, but they're a lot more complex as well. There's a lot more stuff going on.

Before there was always the restriction that you'd have to be able to play it on guitar. I let that go a little bit with this on. There's a lot more multi-tracking and a lot more freedom in the arrangements. We can play them all live but there are more parts going on. The songs are more expansive and a bit more interesting. I think it's more cohesive. The sound has developed but I think it still sounds like the same band. It's a step on.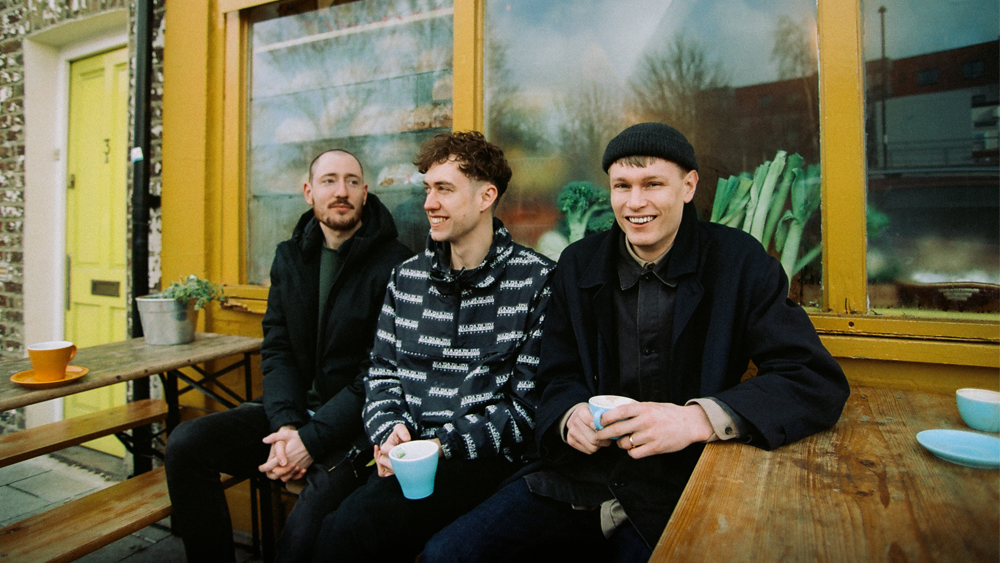 Do you have a specific process when songwriting?
Using my laptop is a really important part of it. I have a project on Logic and I start with a little riff or a loop, something like that, any little nugget, and then I just build it up and take stuff away. The laptop is a big part of how I put stuff together.
I'm not the greatest guitar player, I get by, but it lets you think about the sounds of a song while you're building it. The whole thing grows at the same rate, the sound and the song.
I like layering things up until I feel like I've done too much then I start taking away. It's adding and subtracting.
You worked with Matt Peel on the record; what impact did he have on your sound?
He's great. He was really open to how we wanted to work. He usually likes to record everything live, but to make the most of the time we used the demos as a basis. We rebuilt them all on top of that.
I guess it's his attention to detail. He wanted to spend a lot of time on the individual sounds and how they all fit together. He wanted to make sure we had these hooky sounds to draw people in. He's a really chilled guy, and he allows you to work quite quickly, but he has an attention to detail that doesn't let you get ahead of yourself.
He took the original demos to a whole new level. I couldn't have got anywhere close to the sound we've got on the final record. He was a big part of making the sound that I'm really happy with.
Who or what is your biggest inspiration?
Firstly, playing music with friends in other bands. I guested with a doomy post rock band that led to things getting heavier. Then the krautrock influence from Neu and Cluster etc inspired me to use less chords and think more about texture. Also, Syd Barrett, Wire, Stereolab, Blur's debut and Eno's
Here Come the Warm Jets
and My Bloody Valentine of course. So mainly older stuff I guess!
What's your take on the independent music scene in the UK right now?
I don't know that much about it to be honest. I'm not that involved in the scene. I mean for us, it's not that easy. Not to whine or anything, but we all work full-time. So, you just have to do it because you enjoy doing it. That's the only reason to do it. We don't do it to make money out of it.
What's next for Crushed Beaks?
The album is out 9 August, and the next single features the first video I've ever made. Then they'll be some tour dates, we're going to go and play some shows.
How was the process of making the video?
I just filmed a load of stuff on my phone. Again, it's like with the recording process, just using what tools you have available. I just used my phone, filmed a load of stuff and made a video.
The Other Room is released 9 August via Clue Records. 
facebook.com/crushedbeaks