South London newcomer Cosima is the architect of autobiographical noir-pop and dusky R&B, who brings real-time emotion to the Island Records stable.
Alongside the release of her lauded
South of Heaven
mixtape last winter, she's also delivered soul-searching singles
To Build a House
and Girls
Who Get Ready
, which come loaded with raw vocal talent.
Over the last 12 months, her soulful sounds have racked up a cool 2.5 million plays on Spotify, while a recent performance with rap heavyweight Kojey Radical at the Boy Better Know O2 Takeover has further upped the ante.
She's now working on her debut LP, with another mixtape expected before the year's out.
We recently caught up with her for our
Girls Allowed: pop power in 2017
feature to hear more about how's she's handled her transition from industry outsider to major label contender…
When did you first decide you wanted to get into music?
As soon as I started really listening to music I thought to myself, 'Somehow, I want some part of this. I wish I could do this'. But I don't think I realised I was in a position where I could do it until I was 18. I moved to my grandparents in Germany and took singing lessons.
Was there a particular song that made you think, 'I wish this was me'?
A lot of my friends in music grew up with very musical parents where their mums gave them records. I didn't really grow up with that. I was very into musicals and sheet music. I'd go to Dulwich Library to borrow the music and learn all the Cole Porter and Lorenz Hart stuff. Musicals are full of jazz standards, and I love jazz. There is something in that music which is really magical.
I've always been very geeky about what I'm into. I spent a lot of time finding music because I realised at some point I'm never going to find all of it. There will be music that I may have loved but will never hear!
What do you see yourself as, first and foremost? A performer, singer or writer?

It took me a long time to feel like a singer. I watched an old Stevie Wonder Soul Train interview and they were like, 'So, Stevie, when did you realise that you could sing?' He said, 'I'm still waiting'. I thought, 'Cool! If Stevie Wonder is still waiting then I'll just jump in the back of the queue'.

I think the voice is the most insecure part of you; when do you feel like a true singer? I watch people like Nancy Wilson, Whitney Houston and Dionne Warwick - those to me are singers. I'm still working towards that.

I think I'm a communicator, because that is everything. That's the writing. It's the performing. It's all of those things.

Your songs are autobiographical - is songwriting a process you need to go through?

Yes. I've never written from a perspective that I don't know. I've been influenced by the music I grew up listening to, because, ultimately, your first teachers are those people. For example Janis Joplin or Joni Mitchell. Those records touch me the most, because when someone goes that deep inside themselves they're going to find something that exists in loads of other people too - we're not that unique. Our pain is not that singular. There will be more people who feel like that.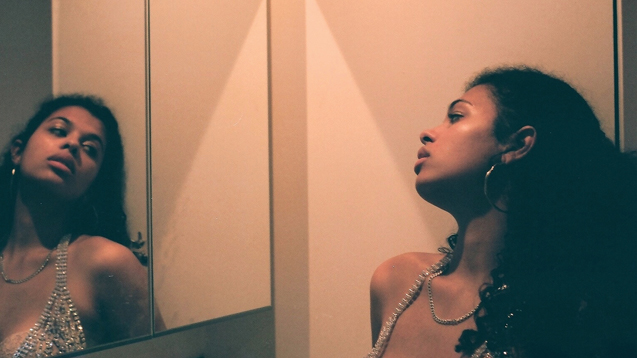 I came back from learning scales in Germany with my village singing teacher, I had zero connection to the industry. I was looking at it from the outside thinking, 'How do I get in?' I remember Googling the Universal building to find out how to get there, and then I just thought, 'You know what? I would rather just carry on developing myself.'

I put up two demos on SoundCloud and my old manager found them. I was around 20 and had been invited to play for a bunch of A&Rs somewhere in town. But you know what? I just didn't want to go. I told my old manager I wasn't going to do it. I just didn't feel comfortable. Instead, I invited them all to my mum's house and watch me perform there (laughter). After that I signed to Island.

So were there loads of people in your mum's lounge?

There were a few people. My mum was going, (laughter) 'What's going on?' It was very me. It was very, 'Oh, it's fine. Just come over.' I think it was nice for me because it was my space. 'This is my room. This is what I do. This is what my work looks like. Get with it, don't get with it, whatever. Here it is'

What happened next?

Two years of quiet development. Sometimes I think I underestimate how headstrong I am… I didn't want to put anything out until I felt I was ready, and there was a general understanding about that. So it was an interesting two years! Some bits were wildly positive, some bits were wildly negative. But there was a lot of learning, and that's the most important bit.

What did you learn?

There were loads of writing and production sessions, with me realising, 'I do not like these sounds. I love these sounds'. I think the biggest thing for me was writing, because that was something I'd always done in my own space by myself. Sometimes it's really interesting to go into a room with another person and write.

My melodies are quite languid and stretched out, so it was interesting to work with a friend of mine who's much more rhythmic. We wrote Girls Who Get Ready together and some other songs. I discovered all the different ways I can use my voice. But the most important thing was learning there are no boundaries. That's when I realised, 'Oh shit, I can write about anything in any way'.

Was being signed to a major label always your aim or would you have been happy taking the DIY route?

I think it's always exciting to open a new chapter in your life. The one make-or-break question is, can you remain independent-spirited within a major label? Can you be DIY? I think if I hadn't signed to Island I probably would have carried on DIY style, but it would still be in the same vein.

The first video I did with them was very DIY. I do all my own artwork. I do all my own styling. I don't have a styling team. Generally, I just go and do my own hair and makeup. It doesn't really pay to be a diva in 2017 (laughs).


How have your experiences of both routes been so far?
I think it's really important to be self-sufficient, and if everything was taken away from you tomorrow, have you got the tools to carry on?  If you have a label which supports you and you're independent-spirted, you can really move forward and create something that reaches people and is exciting. Mainly because it's not just them having to do all the thinking for you, and hold your hand and carry you through. It doesn't matter where I am, if it's a massive label or no label, I have to be independent and passionate and determined because if I'm not, who's going to do it for me?
Do you put your videos together to maintain your artistic control?
It's something I always wanted to do but thought I wouldn't get taken seriously at. I had made a video with a director. I wasn't happy with it – and that's when my determination kicked in.
I feel that sometimes, especially from a female perspective, there are certain jobs which are off limits. There are so many amazing examples of female directors, but there are way more examples of male directors. As soon as you get rid of that imposed limitation, things start happening.
I think the control thing is funny, because as women we don't always get to put our version of womanhood into the world. It's almost as though we have to battle against all the other versions that are given to. And then, after we've done that, we have to look inside ourselves and think, 'Who am I as a woman and how am I going to allow myself to feel enough, even though everything I've taken in from the age of nine is chipping away at the person I was born to be?'
I thought: 'Wait, I can make a video, put it out and look exactly as I look right now, this very second. I don't have to lose weight. I don't have to do anything and it's allowed to exist.'
You mention the perceived role of men and women in film. Have you noticed this in music too?
I've worked with female songwriters. I've never worked with a female producer before, never had a female engineer in a session. I had a female monitor engineer once. I feel there is definitely a lot of work to do in that area, but then you do see examples where it's changing. I see other female artists who are taking on way more, have more control and are being more vocal - we have the platforms that allow us to directly communicate with people and we're using them.
Do you feel there's an atmosphere of change?
Yes definitely. You will have to fight for it and you will have many sleepless nights for it, but there is change happening. You have to be willing to play the long game and have difficult conversations. I think you're lucky if you're around people who will have those difficult conversations with you.
What does it actually mean to say no? It means that in a lot of rooms you'll be branded a diva, or crazy, or you'll be 'impossible to work with'. Really? It's time we owned that word. It's ok to say no sometimes.
http://cos1ma.com/