As a musician for Hot Chip, Scritti Politti and Sea Hawks, Rob Smoughton's musical talents are much in demand.
Rob is a multi-instrumentalist, playing drums and guitar for his collaborators, but also finds just enough time to write his own music. Previously, he adopted the persona of late night crooner Grosvenor but is now pouring his efforts into Black Peaches. This six piece, featuring Zongamin's Susumu Makai and members of rockabilly outfit
the Severed Limb
, draw on Rob's love for country, soul, funk and tropicala. Newly signed to James Endeacott's 1965 Records, the group are gearing up for a big 2016 with debut album and tour dates… we caught up with Rob to find out more…
How did you first get into music?
A friend of my dad's moved house and was getting rid of a drum kit. He gave it to me and my brother for us to bash around on. That was quite a pivotal moment. I always wanted to play the guitar too and my dad had an old one in the loft that he re-strung for me.
When did you think music was going to be something more than a hobby?
I always did it alongside my day jobs. It got to a point where I had enough musical projects to work on that I didn't need to do anything else to pay the rent. I built up enough of a reputation that I was employable as a musician.
You've worked with many artists - Hot Chip, Seahawks and Scritti Politti - how did you become embroiled with these acts?
It's a bit of networking but I never really felt like I'm very good at it. I'm not very good at telling people I'm around or available. With Hot Chip I worked in a record shop with Alexis and Owen. Alexis asked me to play drums with them, then they went electronic, then asked me back when they needed a live drummer. I stayed in touch with them for years.
Alexis met Green Gartside at the Mercury Awards. He's a big Scritti Politti fan and Green was looking to get a band back together. Alexis recommended me as I'd done some music with the two of them before, loved Green's writing and really wanted to get involved.
Seahawks
was through
Pete Fowler
who is good friends with Al from Hot Chip. Myself and Pete love the same music, so when it came to them recording a new album with more live musicians, they asked me to be involved. I love working with all three of these bands though, it's great.
How has it informed your own writing?
With Hot Chip I've learned more about how to play live and what audiences want musicians to give them. My instinct is to keep throwing in ideas but that can be baffling at gigs. Hot Chip's thing is playing dance music festivals and they showed me what
works
live is different to what works on record, which took me a while to get my head around.
What were the first of your own songs that you were happy with?
There were a couple of early Grosvenor songs -
Night Moves
happened really quickly, without me even realising really. I wrote and recorded it so easily. Songwriters like to talk about some other influence, channelling the spirit of something. That song happened to me rather than I made it happen. It seemed like it knew where it wanted to go.
Black Peaches is your latest project - what's the thinking behind the group?
Grosvenor was a bit of fun at first, where I could play around with a character and write songs from a different perspective. I lost some of the fun of it by trying to put too much in. I ended up taking it too seriously. Then I thought I could try a band as I've always loved funk, country and soul. I wanted to do something more with a classic rock line up but work in different rhythms from Brazil and funk. It's been in my musical tastes for years.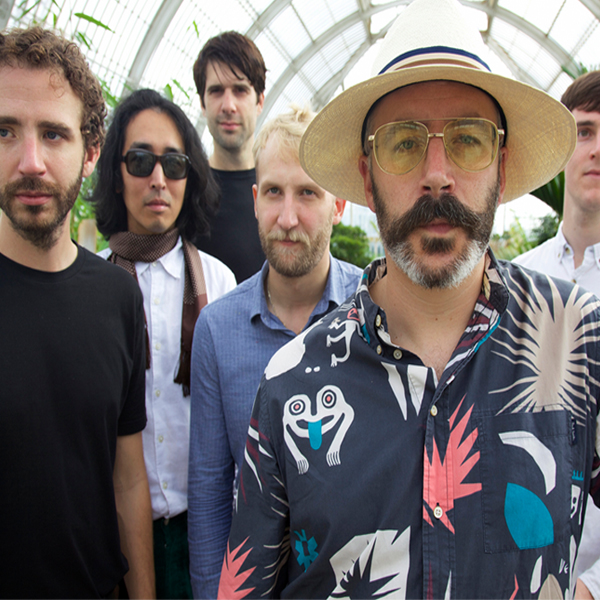 What's happening with the band?
We've signed a deal with 1965 which is James Endeacott's label. I've got to know him over the last few years via Pete from Seahawks and
Raf from 2 Bears
. James is relaunching the label and his enthusiasm is astounding. The album has now been mastered and we'll be releasing it in the New Year with a single to come out first. It's going well, I love the band we've got together.
Is there an overarching idea driving the record?
Before my songs would be me thinking up a situation and writing from its point of view but this is more abstract. There's something more ethereal about the lyrics. It's a bit less jokey as I'm trying to create more of a mood than tell a story.
Which songwriters did you look to for inspiration?
Guy Clarke is a writer I love. He's a country songwriter but his songs are really lean, there's not a lot of fluff going on. Which are the hardest ones to write. I've been influenced by Brazilian and Latin rhythms as well as funk, plus tropicalia, pscyhedelia and straight samba – there's a whole world there.
What's next?
We're going out on tour - that's where I feel we're at our best. There's six of us so it's a big band. Things get drawn out live or played differently with different energy dependiong on the venue and how the audience reacts. I'll still be playing with Hot Chip – we're in the middle of a couple of year's worth of touring while Black Peaches music will fit in around that. Scritti is all about waiting with to hear Green about the completion of the next record.
As a songwriter, have you got any tips for new writers?
Learn what other people are doing, their songs and see how their personalities come through and how they write. It's about building up knowledge on how to make music you like.
Visit
the Black Peaches website
to find out more about the band.