Over the last decade, the barrage of stories about UK venue closures has made for depressing reading. But Lucy Doyle takes a look beyond the headlines to tentatively ask: are we starting to see green shoots for the grassroots?
Disused public toilets, dentist surgeries, ballrooms, carparks – over the years, grassroots venues may have become more creative with the spaces they're co-opting, but they all still have one thing in common: they remain a lifeline to new artists across all genres.
In a music ecology reportedly struggling to find festival headliners – a study by
Music Week
last year found that just six acts who released their debut studio album in the past decade went on to top a major UK festival bill – it's more important than ever that emerging acts are given the platform to develop their live prowess. And there's no better place to do that than at one of the many independent venues found around the country.
However, while they may be the place to discover the next big thing, small venues don't exist without struggle: the rate of closures over the past 10 years makes for dire reading, with more than 40 percent shutting their doors for good. Issues such as increased business rates, strict licensing laws and property development are making it harder than ever for venues to survive, but pressure from the industry is mounting.
New lifelines
In July, the Agent of Change principle came into effect, following a high-profile
campaign by UK Music
and backed by artists including Paul McCartney, Brian Eno and our latest cover
Nadine Shah
. Where previously, a developer could move in next to a music venue and demand soundproofing, now the onus is on them to take responsibility for the impact of their build on pre-existing businesses.
Meanwhile, there are initiatives and models in place to help small venues:
PRS Foundation's Open Fund
invites organisations to apply for support for projects that involve the creation, performance and promotion of new music. One venue to benefit from the scheme is
The Albany
in Deptford, South East London. The multi-purpose arts centre launched its music programme this autumn, using the Open Fund for marketing and promotion, as well as its first gig with Noisettes frontwoman and bassist Shingai Shoniwa.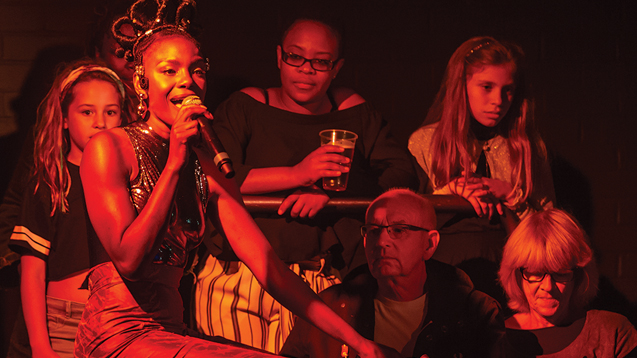 'The funding has allowed us to be really creative with presentation,' says Rachel Nelken, Head of Creative Programmes. 'We gave Shingai three days of rehearsal in the theatre. Normally the theatre would be hired out, but it allowed us to prop up the income that we would have raised and meant that she could really craft her show.'
It's this 'above and beyond' relationship with the artist that drives The Albany. From offering grant application support to artists, to inviting musicians to become workshop facilitators, it's a venue model that aims to nurture the talent that comes through its doors – which can only mean good things in return. 'We're "growing our own" as it were', Rachel says of the venue's talent incubation.
Elsewhere, initiatives like
Independent Venue Week
(IVW) have gone from strength to strength. Returning for its sixth edition in January 2019, the week-long celebration shines a spotlight on indie venues through a nationwide series of gigs. 'I think people see the venue as more than just somewhere to see live music; they see it as a place where they can hang out with mates, where they can be immersed in local culture,' says founder Sybil Bell. 'They're proper cultural hubs.'
Learning about live
With IVW now expanding into the US, Sybil says that grassroots venues are 'vital' to new artists. 'No venue of any substantial size or with a very commercial slant is going to put an artist on that has never played shows or only played a handful of shows,' she says. 'It's not just about the artists, it's also about the crew: the sound guy, the lighting guy, the tour manager. They've got to learn their craft somewhere as well.'
Joining the IVW family as Ambassador this year is Mercury Prize-nominated South London MC
Novelist
, who says grassroots venues are 'a vital testing ground' for artists. 'This is where you get a real feel for what it's like to perform publicly, learn about yourself and grow your talent,' he says.
It's a similar story for indie-punk trio
Muncie Girls
, who cite the Exeter Cavern as key to their development. 'It's where Muncie Girls came from, learned how to be a band; it's where we met people from other bands and how we started touring,' says lead guitarist Dean McMullen.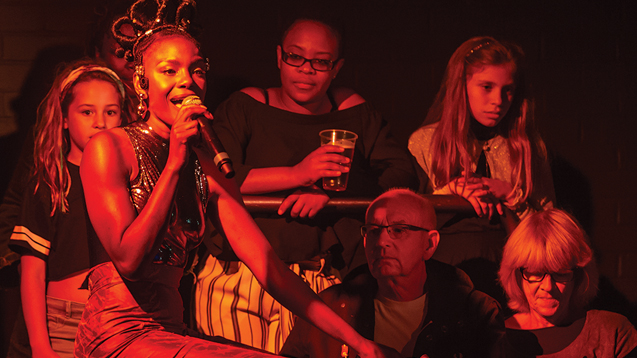 Former long-term Muse tour director, Glen Rowe, shares the same perspective on the venue. 'Put it this way: if there was no Exeter Cavern, there would be no Muse.'
Glen recently announced plans for his charity,
NEKO Trust
, to build five new UK venues. 'Through talking to lots of young people around the country when on tour, I kept hearing the same alarming problems about venues closing down or venues making young bands pay to play,' he explains.
The NEKO Trust aims to avoid some of the common issues faced by venues by building its sites 'with noise leakage management as our main priority,' he adds.
For Josh Idehen, Tom Leaper and Shanaz Dorsett of
Benin City
, there were three London venues in particular that helped shape them. 'Passing Clouds was the first place we were paid a decent wage, Hootenanny gave us the chance to try out our music in front of several live, packed audiences. Vibe Bar was where we decided to change our sound for good,' they say.
Small venues are vital for the group, whose sound is rooted in spoken word and jazz-funk, but sadly two on their list have already met their demise. 'East London is grimmer without Passing Clouds and Vibe Bar, and that's the honest truth. You don't just lose a space, you lose a community; an entire vibe where you had a connection with. Roots aren't easy to grow.'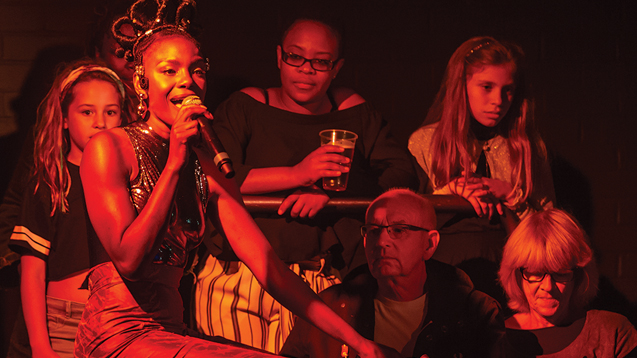 Pulling shapes
With closures affecting all genres, in the classical community, innovators are looking outside the traditional concert hall setup and turning to unconventional spaces. Composer
Freya Waley Cohen
is Artistic Director of Listenpony – a series which hosts concerts in venues such as crypts and art galleries. She says unusual venue spaces are 'vital to help create an atmosphere that allows the audience to experience a close connection with the music and the musicians themselves.'
Freya's roaming performance artwork,
Permutations
, explores this idea further. 'It has nearly 70 rotating doors, and different doors are moveable depending on the shape and size of the venue in which it is installed,' she says. 'This gives the listener an infinite variety of possible listening experiences – it's up to each individual to create their own version.'
Orchestra of the Age of Enlightenment
is a period-music orchestra that has been challenging convention since its inception three decades ago. Its classical music events series, The Night Shift, takes place in smaller-scale pub and gig venues, attracting a new and younger audience. John Holmes, Director of Marketing and Audience Development, says that venues such as The George Tavern in Whitechapel, London – which it helped campaign to save from closure – are crucial to the series, offering something new to musicians and audiences alike.
'The musicians themselves have often found the intimate atmosphere in pubs transformative; often commenting that despite the lack of the usual "rules" around behaviour you'd find in a concert hall, the audience listens more intently to the music and engages with it in a more open way.'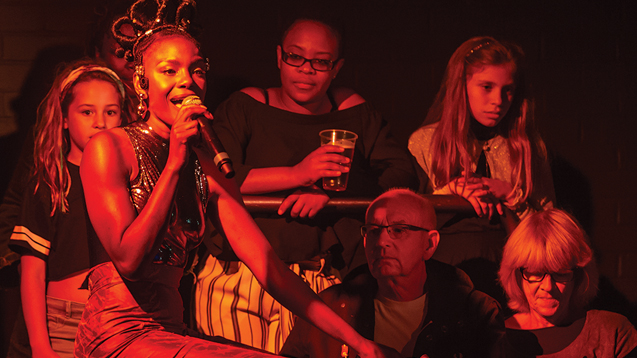 Green shoots
Innovation is likewise key to the 10-year story of
Kazimier Productions
. The redevelopment of Wolstenholme Square in Liverpool resulted in the closure of the beloved Kazimier Club, which was 'a devastating blow to us all', says Director Liam Naughton. However, the group found a new home in 2016, opening
Invisible Wind Factory
– a 1,200-capacity warehouse on Liverpool's North Docks and a 'cultural theme park for the future.'
With a team made up of artists, musicians and filmmakers, Kazimier Productions has an interdisciplinary approach to its multimedia programming, also running a gallery which supports the local arts scene. '
The Output Gallery
is keeping us curious, and running this has cemented our cross-arts approach to running venues,' Liam says.
'It's difficult running music venues in this era – we are all constantly up against it with restrictions, especially when running venues in old factory buildings' he continues. But challenges are to be embraced: 'We are fine with market forces kicking in, it keeps us fresh with having to find ways to deliver our objectives and overall activity in a viable and relevant way. It's exciting really.'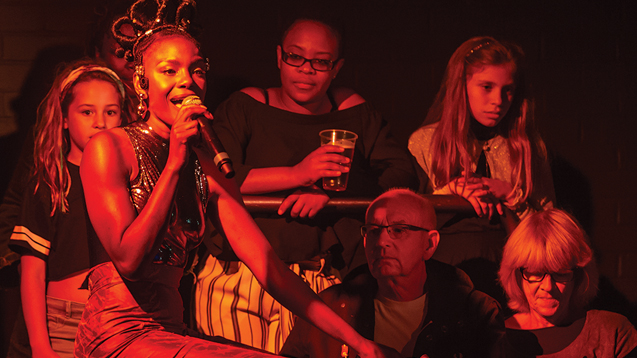 Across the country, many more venues are adopting a multi-functional approach to stay afloat: from
The Tin
in Coventry, which also offers a rehearsal space, artist studio and large community room, to London's vintage-shop-by-day, music-venue-by-night,
Paper Dress
. Pointing to
The Boileroom
in Guildford, The Albany's Rachel says: 'Dom Frazer, who runs it, has made great strides. She has lots of non-music activity on the downtimes that the venue is not being used, and I think that's something that's really interesting to look at.'
With IVW approaching, for Sybil, it's about turning people's attention to the fact that new venues are opening – and thriving. Last year's programme featured several venues that had been open less than a year, while two new venues have signed up for the 2019 edition. 'I think it's a story that should be told more', she says.
As for the enduring relevance of grassroots venues and artists, she adds: 'There's something about the romance of walking through the door of a venue, feeling the atmosphere, watching the bands play, the engagement that goes on. You can't touch that. Nothing replaces the importance of being in a venue.'