Martin Phipps is one of the most decorated screen composers working in Britain today, with enough Ivor Novello Awards and BAFTA gongs to give his mantlepiece proper grief.

He's written music for some of the most interesting and edgy TV programmes of recent years, including Peaky Blinders, The Shadow Line and Black Mirror. He's also created a film score with Hans Zimmer (Woman in Gold), and many more under his own steam.

More recently, he composed the score to Hugo Blick's Netflix and BBC Two series Black Earth Rising and is now working on the third series of Golden Globe Award-winning drama The Crown.

For over 15 years, Martin has worked hard to earn his stripes as a go-to writer in a notoriously tricky industry to crack. Here, he shares his top tips for composers, and looks back on what he's learned since his first major commission, Eureka Street, back in 2002…

How did you get into writing film scores?

I came from a musical family, so it wasn't exactly a great departure for me. But when I got to college age, I decided I didn't want to study composition because, in those days, the courses were really traditional and quite deadly.

So, I did drama at Manchester instead, but I didn't realise just how bad at acting I was until I got there! I started making music for the plays, just to get out of acting in them.

As an untrained composer, what was that experience like?

It was a revelation. I absolutely loved writing – working on my own and being in full control. I loved the detail of it, and I loved the connection with the drama and the story.

What happened next? How did you get your break?

Well, I just plugged away. I stuck close to anybody who was making anything, who was doing any kind of TV, or film, or anything. I slowly inched my way up, doing little tiny documentaries, small news pieces or whatever. Then I went to National Film School at the NFTS and did their music course. That was good. Then I married a drama producer, so that helped, too (laughter).

How does your insight and experience differ from someone who has been formally trained?

You're not going to be able to use a full orchestra most of the time, so it's about being able to create sounds in other ways.

If you're only comfortable with a very classical palette, it could limit you. You need to be much more dextrous these days to be able to write music for film and TV.

People ask me what I play, and I always reply, 'the computer'. That's what I do all day long; make sounds in a computer. Or on a synth, or with live instruments – it's a mash-up of all of them.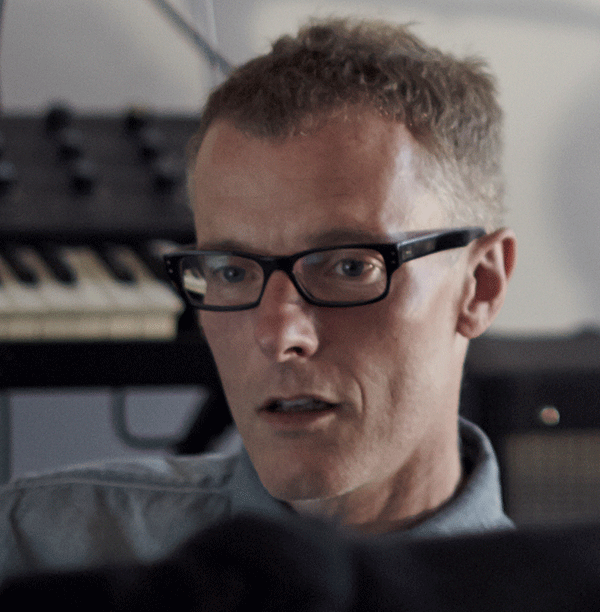 How do you approach a new project?
More and more these days, I'm trying to take on less work - and spend more time on it. I also want to start earlier on a project. I like to get a script and spend some time on my own with it, not locked into a scene, or a cue length, or anything like that. I want to form some ideas and themes to start with.
That's what gives me the most inspiration and freedom; a proper blank page. When you're writing pure music, you come up with better, more interesting ideas - before you get locked into the actual specifics of a scene or what the director needs at that moment. It's great to find some time to really experiment and be free.
What about sound inspires you most, and where do you like to find new noises?
I'm a magpie. Something catches my ear somewhere, and I relate it to an idea that connects with the project I'm working on. It's usually about trying to find a sound that connects emotionally with the characters or the spirit of the piece. Not necessarily about the time, or the place, or the setting of the film, but about the spirit of it, and most often about the internal journey of the characters. That sound can be anything, but you know it when you hear it.
I try and listen to as much as I can and keep a broad mind. I immerse myself in as much music as I can.
What are you working on at the moment?
I've taken over the music on
The Crown
. I'm really, really excited about it. I wouldn't normally take over a series that someone else had set up, but I think
The Crown
is different. I absolutely love it and think it's very special, and it has such a character and flavour of its own.
The third season has a completely new cast, and I think they just felt they could develop the music in a slightly different direction, although absolutely massive respect to what's been done already. Hans Zimmer and Rupert Gregson-Williams did a great job – fantastic job – on the first two seasons, so it's going to be a very hard act to follow.
Do you watch a lot of telly?
Yes, I try to, and films as well. Although telly is having such a golden age, I think films are where the ideas are often born. There's a freedom to experiment in good films. Often in low-budget films, the higher-budget ones have less freedom in them, I think.
Is the craft of composition something you're still learning, or do you feel you have all the tools you need now?
I'm definitely still learning stuff, but that doesn't necessarily mean I'm getting any better (laughter). You want to keep an open mind, and there are interesting advancements all the time. But, then again, sometimes I listen to stuff I did years ago and think, 'God, that's really good. I'm sure I don't do stuff as good as that anymore!' So, who knows? Yes, it's hard, but I try not to repeat myself.
Are there things in particular that push you into the learning zone?
Seeing other people at work and spending time with them. You can pick up a lot just by watching how somebody else
works
. I did a film with Hans Zimmer and little while ago, and the few days I spent in the studio with him were incredibly informative and inspiring.
Do you have any tips for new screen composers?
Yes, don't go into writing music to picture unless you enjoy the process. You've got to like being part of someone else's narrative. It's about the sum of the parts - the music and the picture together. That must mean more to you than just the music on its own.
I think if people are only trying to be screen composers to earn a living, but actually they just want to write music on their own, they're going to struggle.
Also, less is more. It might sound cliche but try to distil what you want to say with your music. Even though you're working across lots of different projects, hang onto what you like and what you think is good, and don't get pulled in too many directions.
It's quite hard early on in your career. You write for whatever bit of picture you can get your hands on, so you will end up writing lots of different styles. But don't forget what it is you really want to do. That's the stuff people are going to be interested in, not you pastiching lots of different styles.
And lastly, don't just don't hang out with musicians. Hang out with people who make films and TV – anyone who's creative in that department. Although musicians are great, they're not going to give you a job!