Girls I Rate, a movement focused on equality for young women in music, launched its 2021 #GETHEARD Future Hitmaker Competition back in April. In partnership with PRS for Music and PRS Foundation, the #GETHEARD Future Hitmaker Competition will give aspiring women songwriters the opportunity to have their music broadcast and funded for the very first time.
Women aged 16-30 are encouraged to submit their music via the Girls I Rate website for the opportunity to have their music heard by a panel of A&R experts, and #GETHEARD on the radio. Three songwriters will be chosen to receive a Future Hitmaker Award of up to £3,000, a six-week introductory course on Music Production and Sound Engineering at the Institute of Contemporary Music Performance (ICMP) worth £199, a one-month membership to The Qube, and audio equipment from Girls I Rate radio show sponsor, Audio-Technica.
Shortlisted #GETHEARD submissions will feature on the Girls I Rate radio show on The Beat London 103.6FM every Monday until 22 June, 7pm – 9pm, with shows available to listen back to via Mixcloud.
With ten days to go before the submission deadline, M Magazine meets the judging panel to find out who they are and to get the inside scoop on what they're looking for in a Future Hitmaker.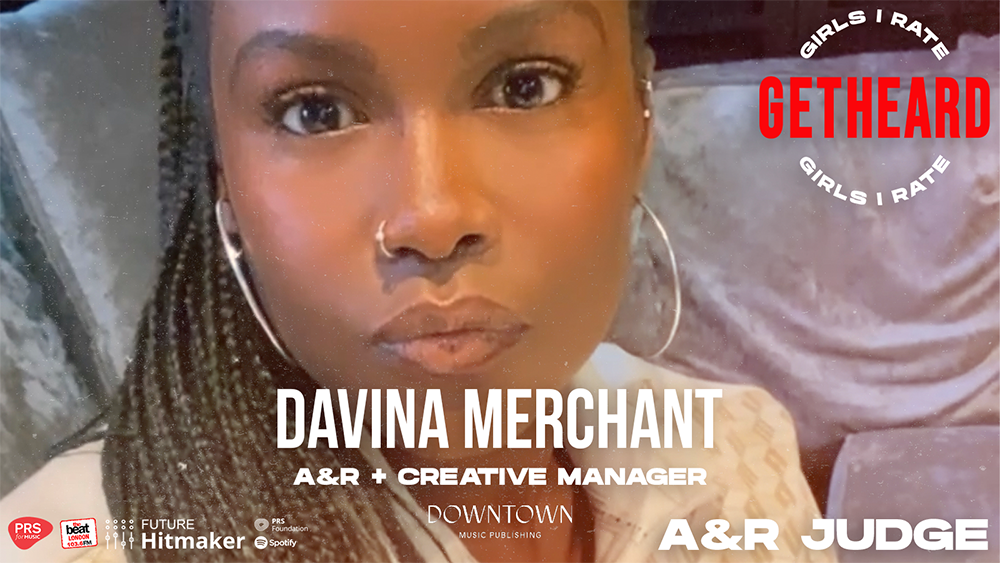 Davina Merchant
A&R and Creative Manager, Downtown Music Publishing
Starting her career as an enthusiastic entertainment journalist, Davina was passionate about breaking more stories to champion those behind the music. Her exceptional ambition meant that pursuing a career in the music industry allowed her to facilitate her passion, and to build a thriving career in the music industry.
Kickstarting her career in management, Davina went on to work in label services before joining Downtown Music publishing's London Office at the top of 2018. She has gone on to earn an impressive reputation as a forward-thinking exec with signings that include Mae Muller, Tion Wayne, Hamzaa, Deiago, Moelogo, Jaz Karis to name a few.
Having connected with Carla during her journalist days, Davina had always kept in contact with Carla and Girls I Rate. As her position evolved in the music industry, Davina noticed there were only a handful of black women within her field. Davina is excited to work with Get Heard to give those an opportunity to have their music heard and connect with people in the industry and provide an opportunity for them to network with others. The ability to be able to network is one of the most fundamental tools needed to work in this business.
Davina says: 'Consistency is just as important as potential. Things change so quickly within the music industry, you have to know how to adapt and stay authentically you. I'm really looking forward to being involved in #GETHEARD and listening to and mentoring more females as they develop their careers.'
Davina is looking for…
Strong lyrics, good vocal delivery, a well put together demo, a strong first verse, chorus or hook.
Clear social media pages; music and contact information that's easy to find, relevant hashtags, participation in viral challenges.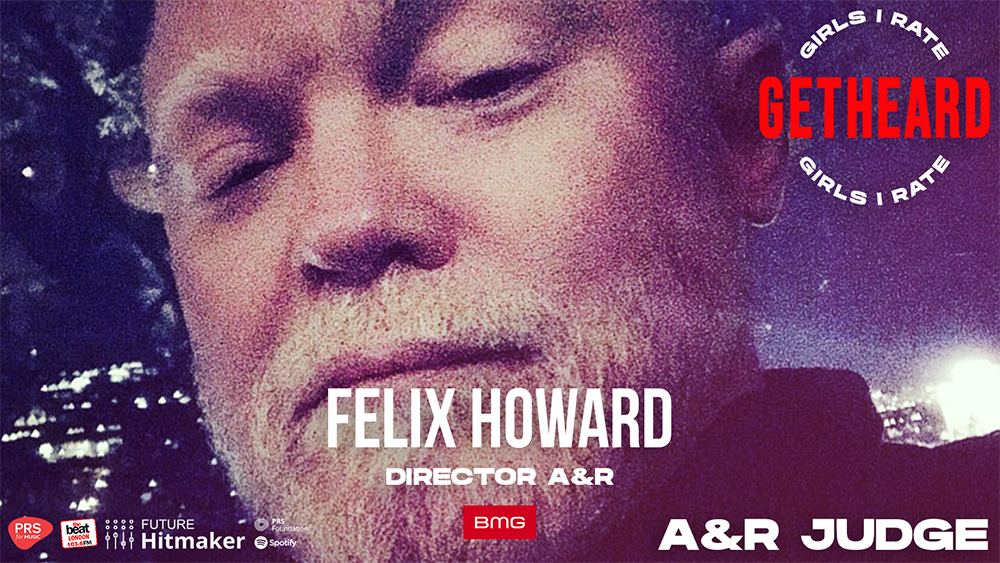 Felix Howard
Director A&R, BMG New Recordings
Felix has had a 35-year career in the music industry, including playing bass in bands, writing songs, production, A&R, and both publishing and records with artists such as Sugababes, Amy Winehouse, Sia, Calvin Harris, Tinchy Stryder, Beverley Knight, MNEK, Lewis Capaldi, James Vincent McMorrow, Hurts, and many others.
Felix says: 'I'm very excited to be a part of GETHEARD – Carla and the Girls I Rate team are always finding great talent and are at the front of a much-needed change in our business. Can't wait to hear the tunes.
'I came to be involved with GIR because I think Carla Marie is a great ambassador and disruptor for change, we've worked together and known each other for over ten years and I have immense faith in her.'
Felix is looking for…
Compelling and impressive hooks and lyrics.
He explains: 'I don't care as much about the production, I'm more interested in the writing. Please don't sink your voice below the music. I want to hear you and what you think.'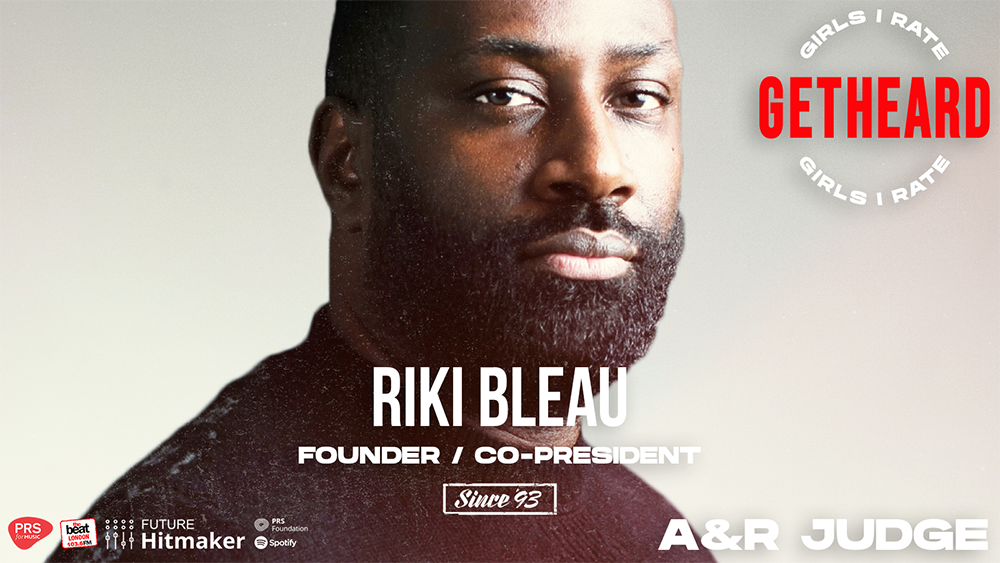 Riki Bleau
Founder Since 93, co-president Since 93 Record, MD Since 93 Publishing, MD Since 93 Management
Riki Bleau is the founder of Since 93 and co-president of Since 93 Records. He's been in the business for around 15 years, having managed Channel U and built a successful publishing company, management company and now record label. He's worked with a huge array of talent including Labrinth, Naughty Boy, Emeli Sande, Sam Smith, Fredo, Loski and Aitch.
Riki says: 'I've been blessed to have worked with some of the most talented individuals this country and the world have to offer and seen the ups and downs of the life of a creative. These experiences have enriched me and I'm happy to share my experience with others on a similar journey. I've known Carla Marie for some time, I have a huge respect for her work ethic, achievements and her dedication to the betterment of the female expertise within music via Girls I Rate, I rate her and so I'm here to help.'
Riki is looking for…
Originality and great songs.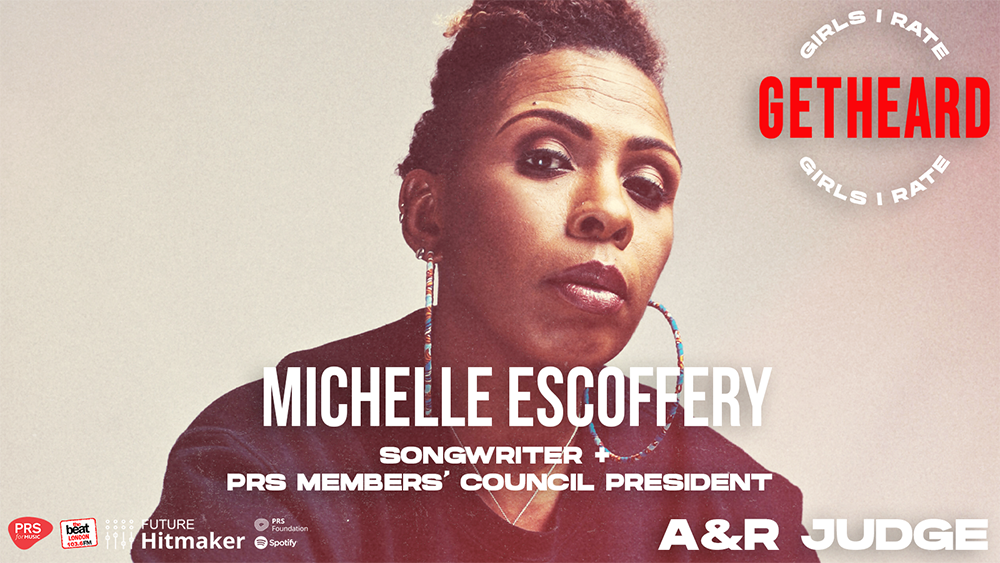 Michelle Escoffery
Songwriter and President of the PRS Members' Council
Michelle says: 'I am honored to be a part of this incredible initiative, created to provide an opportunity for female songwriters, composers and artists to #GETHEARD. It's vitally important to encourage and empower the next generation of music creators and I look forward to supporting and championing young women entering the industry alongside Girls I Rate and PRS Foundation.'
Michelle Escoffery is an Ivor Novello, Brit award-winning songwriter and vocal producer. Throughout her career, she has written for Artists like All Saints, Liberty X, Beverley Knight, Nabiha, Tina Turner. Michelle runs a boutique label called 528 Music Global developing the skills and talent of new songwriters and producers.
Outside of songwriting, Michelle lectures on Commercial Songwriting at a post-graduate level and last year was elected as President of the PRS Members' Council where she acts as the voice and advocate for PRS' writer, composer and publisher community, helping to create more synergy between membership and the Members' Council, implementing positive change and growth.
Michelle is looking for…
Convincing delivery, great melodies and clever lyrical content.
She says: 'I want to hear something I find hard to forget. I am so looking forward to listening to your music and being impressed.'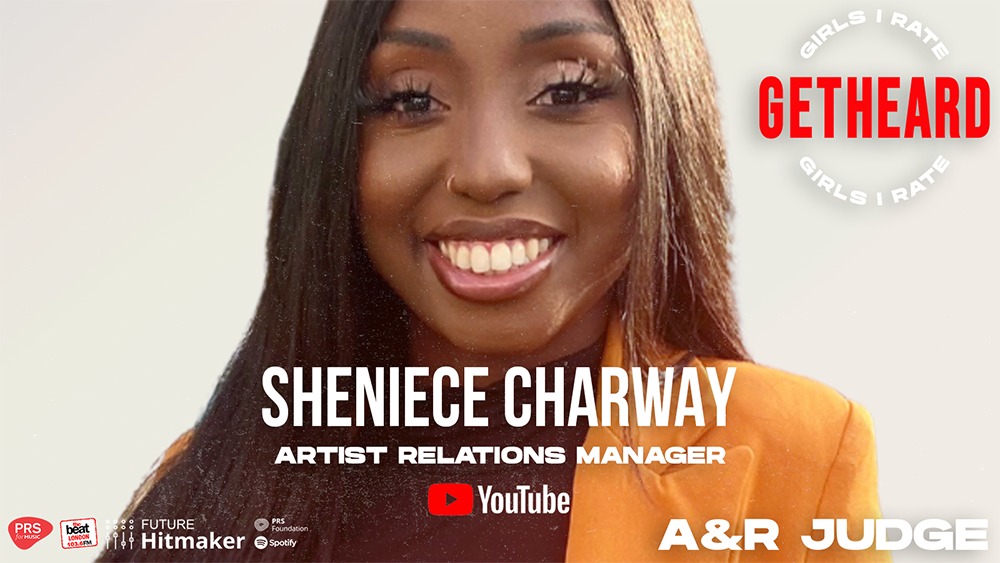 Sheniece Charway
Artist Relations Manager, YouTube
Currently working as an Artist Relations Manager at YouTube Music, Sheniece has been able to work with array of artists including Skepta, Rick Ross, Aitch, George Ezra, The Script and more. Previously, she worked as a Marketing Assistant at Columbia Records.
Sheniece says: 'I'm super excited about being part of the A&R listening competition. I know that there is a lot of amazing female talent in the industry so I'm really excited to hear what they have to offer.'
Sheniece is looking for…
Honest and vulnerable lyrics with a great track that she can play loud.
To apply to #GETHEARD for the chance to have tracks listened to by the expert A&R panel, applicants must submit songs via this link by 31 May 2021.