From classic TV themes to slasher movie scores and beyond, library music is all around us but many of its composers remain largely unknown. Jim Ottewill flings open its doors to celebrate some of the UK's most unsung musical heroes…
'Everyone knows and loves the music to
Grandstand, Ski Sunday, Mastermind
or
Grange Hill.
Yet most people have no idea who the people behind these wonderful pieces are.' Composer and
HutTwenty9
documentary maker Paul Elliott is reflecting on the magical universe of library music, a parallel pop dimension where many classic sounds have been born.
Sampled by hip-hop stars from Jay-Z to Kanye West and fetishised by audiophiles, the best sonic creations from the genre, opened up in Paul's new
Library Music Film
, offer a uniquely unusual conundrum: the music's ubiquity is at odds with the mystery surrounding its creators. 'The majority of the general public have no idea what library music even is,' Paul says. 'But it's a huge part of pop culture; it's the soundtrack to many of our lives.'
Open up your mind
So what is library music? Made for films, TV and other visual media, it offers an off-the-shelf option cheaper than commissioning a composer to score an entire soundtrack. Also known as production or stock music, the sound was born in the twenties, enjoyed a heyday during the sixties and seventies but is currently revelling in a resurgence. Hardly ever commercially released, the genre's pioneers have always been loved by record collectors but, increasingly, more mainstream ears are pointing adoringly towards their creations.
Shawn Lee
, artist, radio presenter and library music nut, helped make and narrate HutTwenty9's
The Library Music Film
. His Ping Pong Orchestra project features new music inspired by these vintage sounds. 'It's honestly some of the greatest music I've ever heard,' he says. 'It's collectible. But, coupled by the fact it's so mysterious, it's hard to resist.'
The new documentary unearths the stories around the remarkable careers and adventures of the music's key players. Alongside a season devoted to the music at the British Library and the publication of American aficionado David Hollander's new
Unusual Sounds: The Hidden History of Library Music
book, it now feels as if this secret world is beginning to receive the critical love it at last deserves.
Cult classics
Alan Hawkshaw and Brian Bennett, 81 and 78 respectively, are two of library music's most revered. Alan's distinctive keyboard skills can be heard on much-loved themes to
Grange Hill
and the
Channel 4 News
, while
The Champ
is one of hip-hop's most sampled moments. Best known as a drummer in The Shadows, Brian has received Ivor Novello Awards for his TV and film compositions, while his grooves have been sampled by everyone from Drake to Nas.
'From my first Nas hit, it's never ceased to amaze me how rap artists continue to use my music,' remarks Brian. 'After Drake [who sampled Brian's music on his
Summer Sixteen
hit], my grandaughters now think their grandad is cool!'
Both were star composers for the legendary KPM library music label in the sixties and have just released their latest LP together,
Full Circle
. It seems the rest of the music world has almost caught up with them.
'Apparently hip-hop originated with a song called
Rapper's Delight
by the Sugarhill Gang that was inspired by my Love De-Luxe
Here Comes That Sound Again
composition,' says Alan. 'There have been at least 150 samples of my music released, but the biggest was probably
Pray
, the lead track on Jay Z's
American Gangster
album. It has and continues to be a great surprise that my music has been so influential.'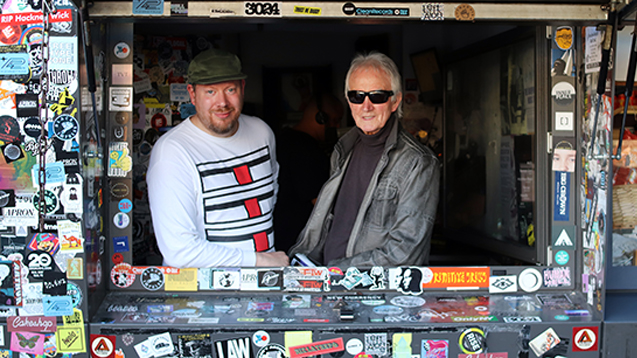 Renewed passions 
So why the renewed interest? If you blow off the dusty moniker, the music of Alan and Brian, as well as fellow luminaries Barbara Moore and Keith Mansfield, is full of wild, innovative sounds and incredible musicianship.
Jon Tye, DJ, record collector, producer and head of the
Lo Recordings
label, has a deep passion for library music. To him, it's a constant source of inspiration. 'Some of the more experimental sides of this music are like nothing else,' he says. 'Back then, few people would have been able to release music that was so strange. Now you take it for granted that there's an independent music scene but at one point it never existed.'
Paul agrees: 'The fact that this music has lasted is testament to the combination of brilliant musicians playing really well written pieces. These guys were at the top of their game.'
The anonymity of many of the composers means the only thing for listeners to focus on is the music. As an act of musical expression, there are arguably fewer purer forms. 'No one is pushing an artist,' says Jon. 'It's all about the effect of the music rather than the image it projects or the identity that lies behind it.'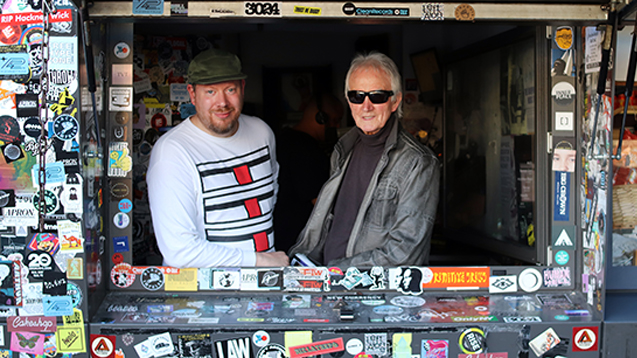 Production Music Awards
While this reverence for the past is understandable, contemporary production music is simultaneously booming. Thanks to the accessibility of quality recording technology and the explosion in video content, there's now more demand for library
works
than ever before.
The Production Music Awards, sponsored by MCPS Production Music and
PRS for Music
, recently took place for its fifth consecutive year. Organiser Richard Canavan believes its expansion is a barometer of how far the industry has come. 'The first event in 2014 was the culmination of a year of industry consultation and planning. Since then, the awards have grown to attract 300 entries from music libraries all over the world,' he states.
Simon James, Head of Production Music at
PRS for Music
/MCPS, agrees that the industry is in a state of rapid expansion. 'The UK has driven the library business for decades and the music of our writers is woven into the fabric of many cultures across the world,' he says.
'We represent the most respected production music catalogues and our mission is to help our writers' and publishers' business grow in this new digital media landscape, as illustrated by our comprehensive new licence recently agreed with the BBC'.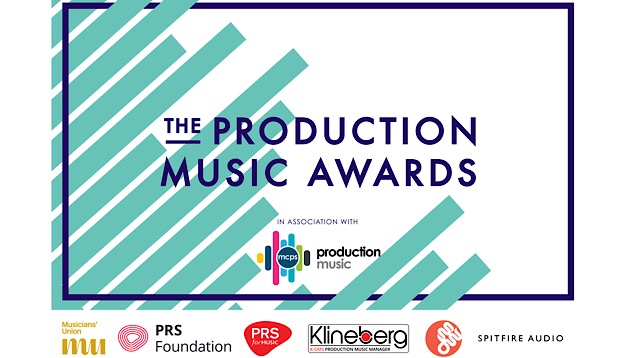 New labels
While demands for production music grow, other established players are looking for opportunities in this exciting musical space. In October 2017 experimental electronic label Ninja Tune opened its
Production Music
division, making thousands of tracks from the likes of Coldcut and Amon Tobin available. Martin Dobson, Ninja Tune's Head of Publishing, says the move was a natural progression for the innovative company.
'We wanted Ninja Tune Production Music to be artist-focused as we felt a credible catalogue fronted by known recording artists was missing from the library music world,' he reveals. 'There are plenty of media people who only use production music. We wanted to expose our roster to these clients at a fee structure they could afford.'
Creative licence
With some of the label's biggest names channelling their energies into this offshoot, Ninja Tune is blazing an exciting new path. But what creative opportunities does production music afford?
'Writing for media allows our artists to step outside the usual constraints of making commercial music,' says Martin. 'It can give them freedom to experiment with different production techniques, instruments and styles - something we actively encourage.'
Louisa Rainbird, Head of Creative at publisher
Music Sales
, is a Production Music Awards judge and industry expert. For her the exceptional quality of production music means big name composers are looking to muscle in and get involved with libraries.
'Composers such as Hans Zimmer, Daniel Pemberton and Ruth Barrett write brilliant music for a host of libraries. It really works as they are so adept at reading what visuals need from music,' she explains.
Ninja Tune's Martin Dobson agrees that the wider industry's attitudes towards production music are shifting. 'Previously, library music used to be a dirty word in sync with artists and writers composing under aliases to keep their involvement secret,' he says. 'But now, our clients are happy to use production music in their bigger and more well-known productions. It feels like an exciting time to have a library catalogue.'
New talent
As with the collectible music of the past, the library music of today continues to offer composers a potentially lucrative income stream as well as creative outlet.
Award-winning composer
Justine Barker
has worked on music for a wide variety of TV programmes including the likes of
Casualty
and
Holby City
. 'Not only is it a great opportunity to experiment with genres and styles but there are good financial benefits too,' she explains. 'Once the work is done, it can potentially keep earning you royalties for years after.'
But how can get new composers and music writers get on the radar of libraries? Justine believes new composers need to focus on what many specific libraries lack. 'Do your homework when approaching them as they get hundreds of submissions every day. Co-writes can be a good way to work with a library that doesn't know you. So, if you can buddy up with an artist that already writes for them, that may get your foot in the door.'
Future sounds of library music 
As with ever increasing demands for content, alongside growth in music
consumption
via digital, it seems the possibilities for production music are endless. But can this revival and renewed audience sustain itself?
Jon Tye believes attention spans are cyclical and musical fashions are liable to change but new sounds will always hold some appeal. 'You would never have time to listen to all the library music that's been made,' he states. 'Instead, people focus on certain eras – so in 20 years' time people might be digging around for library music made in the noughties or now.'
For KPM's Alan Hawkshaw, to stand out as a composer and enjoy a long and successful career, it's all about making great music. 'I am personally tickled and secretly proud to have been anointed "The Undisputed King of Library Music". But you've got to remember this is a title that could apply to any of my KPM colleagues; they all wrote such powerful and enduring library music."