Anita Awbi hangs out with rising 'psychedelic boogie' trio All We Are to discover how old fashioned graft and songwriting craft can still take you far in the music biz…
'We're like a big, psychedelic whale', says All We Are's Rich O'Flynn. 'If you listen to our album, there's definitely some mournful songs in among the happy vibes. I think everything sounds a bit Twenty Thousand Leagues Under the Sea.'
Obscure marine references aside, Rich might be right. There's certainly something aquatic about the trio's eponymous debut record. Maybe it's the glimmering reverb that laps gently around the guitars, or the half-submerged vocal harmonies. Eleven songs of fluid, smooth groove to send you on an immersive trip through outlier indie, R&B and disco.
Their sound is hypnotic ear candy in the same sublime flavour as Foals,
Glass Animals
or
London Grammar
, but with elastic arrangements that hang so loose they threaten to disintegrate on the dance floor. 'We always wanted to make tunes that people could move to, and add a bit of positivity to the world too,' Rich explains. 'But there's also a gloomy undercurrent to the album. We want to speak to as many people as possible and hope they get what we're doing.'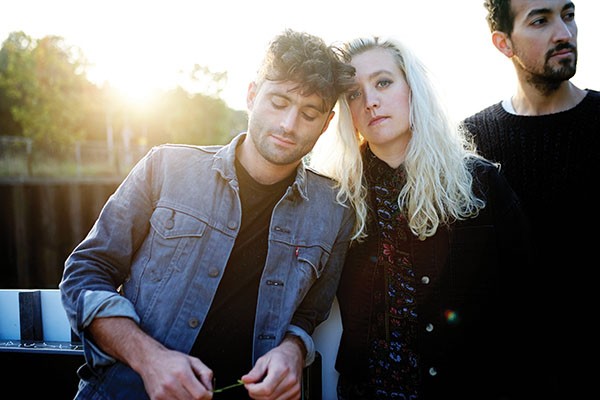 Together, Rich (drums) and bandmates Guro Gikling (bass) and Luis Santos (guitar) have hit on a sound that fizzes effortlessly through the bits and bytes of the digital landscape. Unhindered by geographical restraints, it seems the cult of All We Are is spreading fast, as proven by a quick glance on blog aggregator Hype Machine. Their contagious pop has resonated with an unblinkered generation of blogged-up, switched-on music fans earning them a place on a glut of music industry tip lists, from The Guardian's influential 2015 inventory and the BBC's Sound of 2015 poll to the Get Into This (GIT) Newcomer Award shortlist.
Amazing Radio, BBC Radio 6 Music and the
PRS for Music Foundation
also pledged early support, with the latter funding the trio for a UK tour and single release last year. But probably the biggest feather in the band's cap so far has been their recent signing to Domino Records imprint Double Six.
So, how exactly did this Liverpool-based trio catapult from bedroom band to fully-signed going concern in 18 months?
Talent spotting
All We Are have the musical chops, of that there's no doubt. From their first meeting at Liverpool Institute of Performing Arts to their first album wrap, Guru, Luis and Rich have grafted hard and honed their skills. Focusing less on their brand and more on their band has obviously paid off. But it was a chance encounter with Double Six label boss Ryan McCann that sealed their fate and scored them a record deal with one of the UK's most prestigious indies.
'We had a support slot in London to launch our self-released single Utmost Good and Domino just happened to be at the gig. There was a connection right away, which was great because they're pretty much our dream label!' Rich explains.
All We Are's serendipitous story brings to mind the heady days of Britpop, when A&Rs gathered at the back of tiny venues waiting to chuck cash at new talent as they came off stage. Since then, heavily restricted label budgets have cramped the risk-taking record men while the internet has killed off musical karma. Now everyone can hear anything they want immediately, gigs are never a surprise.
Ryan, who stumbled upon the band at the Sebright Arms that night, says: 'Obviously it's a lot easier to hear people's music now, so we all make judgements before we go to the show. Usually, I know what I'm going to see. I never usually go in blind. But with these guys, I literally had no idea what their name was or what they really sounded like.'
He recalls how he was 'instantly blown away' by the number of great songs All We Are had and how well written they were. 'I'd never seen a support band of such a high standard just out of nowhere. I wasn't the only industry person there, but they'd come to see the headline act. Everyone was blown away by All We Are and if I hadn't signed them that night someone else would.'
What was it about their performance that wowed all the industry bods?
Dan Carey
, who produced their album and has also worked with MIA, Hot Chip, Bat for Lashes and Kate Tempest, believes it's all about the band's on-stage chemistry. 'I think what they've got going for them - aside from their brilliant playing - is that they are so definitely a band.
They're not just three people working on a project, they live for All We Are,' he says.
'You can see that when you go to the pub with them. They respect each other so much and they're all pushing in exactly the same direction. All they want to do is get into the studio and practice. That level of devotion is what makes someone like Ryan at Double Six so excited. It's not just what he's hearing at the gig, he can sense there's something incredible that's going on between them.'
For Guro, Luis and Rich, it's their strong sense of togetherness which keeps them going. Hailing from Norway, Brazil and Ireland respectively, they've found a new home in the band. It's an infectious dynamic that's as visible on stage as it is audible on record.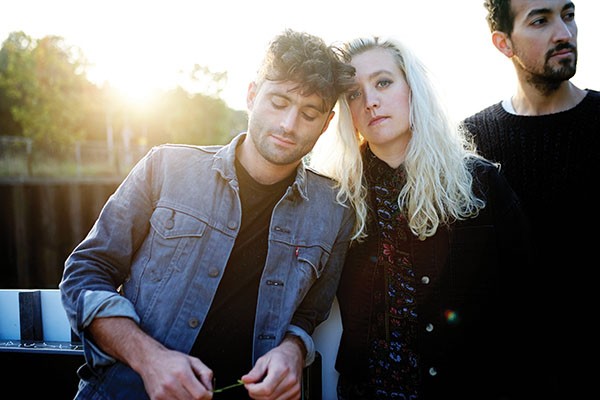 Psychedelic boogie
'We really like to go off in isolation - just the three of us,' says Rich. 'We did it as much as we could when we were trying to define our sound. I think it's not so much the places we go to but the isolation we put ourselves in: no internet, no phones.'
It's an approach that has worked well for the band. They've delivered an album that sounds coherent; post-rock excursions emerging at the end of tracks to carry you almost seamlessly into the next.
Songs were written in a disused school in Liverpool, a remote cabin in Norwegian mountains and a countryside getaway in Wales: their unique sound born out of a lust for life and a love of long, late nights. But when they hooked up with Dan for production duties, they relocated to his South London studio to record the album proper.
'Dan made the whole room sound so lush and gorgeous,' remembers Guro. For the recording of falsetto harmony-driven I Wear You, he made everyone in the studio wear sunglasses, even the engineer. 'He couldn't really see, but he wasn't allowed to take the shades off,' she laughs.
Dan's set-up isn't like a normal studio with a live room and a control room. He's keen to ensure everyone feels comfy and at home, aping the vibe of a live rehearsal space rather than a hi-tech recording den. For the entire process, no one wore headphones so everyone could hear exactly the same thing.
'Sometimes we'd just record in the dark,' remembers Dan. 'Recording in normal light is one thing. But if you shut the blinds and turn off the lights you get a different feel and it's easier to be transported by the music.'
The end result is a warm and woozy album, which feels 'live and raw' says Rich. 'We never really set out to make a particular sound - what we do has come about very organically. It's the same when we write - we're very democratic and jam for ages to see what ideas come out.
'A melody might emerge, so we'll develop that together, and then a word might pop up,' he continues. 'By the time we even come to write lyrics we find most of them are already there. So I think there's definitely that organic vibe but we do like a good solid groove to get people going.'
With diverse influences pulling the album in different directions - from Kendrick Lamarr to Metronomy and OutKast - theirs is a groovy disco sound with bags of sex appeal. Job done for a new band on the up.
Mates, late nights and grooves - All We Are's 'psychedelic boogie' certainly makes for a special proposition. 'We wanted to be together and that's just all we are,' Guro says.
All We Are are published by Domino Publishing Company and their debut album is out now.
Top image credit: David Edwards
http://www.thisisallweare.co.uk/