PRS for Music's very own Jules Parker, Gemma Kenyon and Chris Carey have been at the showcase all week, contributing to industry panels and assisting with the British Music Abroad showcase events.  Here is a glimpse of what they got up to as the festival drew to a close…

Friday 18 March
Jules Parker: The annual BMI brunch on the lawn of the 4 Seasons Hotel was as usual, very well attended.. Breakfast in the sun on the side of Lake Austin.
Caught an amazing set from Clock Opera at the PRS for Music Foundation brunch.
Hosted a panel - Using the UK, a springboard to international success. Very pleased that room was full - especially at 5pm on a Friday when it's sunny outside and there are so many choices for free beer + food. The panelists were informative, relevant and stuck to the subject.  All were swamped at the end of the session as managers and acts looked for more personal advice and a chance to pitch their music. Then went to a meat fiesta at Brazilian Rodizio with some Northern Irish music industry..

Hung out with US tech companies at the Orchard party - met the founders of companies that are hugely beneficial to acts connecting with their audience - Rootmusic, Next Big Sound, Topspin, Mobile Roadie, Sonicbids. All while listening to great music - The Black Angels, Charles Bradley and the Menahan St Band ... Then on to meet up with US managers at the Driskill hotel bar - seemingly the place to hang out for the US music industry!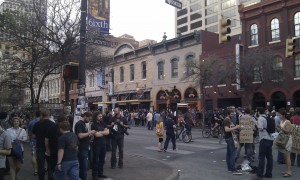 Saturday 19 March
Jules Parker:
Attended a BBC panel -
Making money composing music for TV and film
, featuring LA-based British
PRS for Music
writer Helene Muddiman. A British-centric view of composing for TV and film.  There was much discussion about how rates/royalties vary between the US and UK & how the industry will be shaped in the future. Chop shop Atlantic party in Brush square - feat. Scars on 45 - PRS band who have had much success with syncs in USA.
In the evening, we saw Subtrkt - UK dance act/producer, Mount Kimbie - UK dubstep pioneers, Odd Future - LA hip-hop collective, the buzz band of the festival - crazy, sold out shows.  Looked after by XL records. Turned up at the
Sounds Australia
showcase to see Art vs Science (live dance act) - great show. It seemed as if all the A&R from London was there..
And that's it - need to sleep now!
Gemma Kenyon: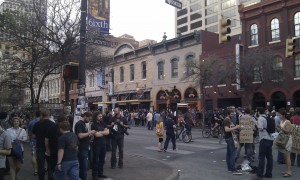 Watching Kill It Kid with an enormous amount of industry here. Something which they more than deserve. Met with lots of the major publishers who gave me lots of tips for the top. Talked to Dry the River in the queue for breakfast at BMI brunch. Also had breakfast with Rod Thomas from Bright Light Bright Light...

It's been amazing!