PRS Members' Fund is today celebrating its founders and its rich history.
The Members' Fund team write: 'History is like the geology and substratum of human activity. And the history and experiences between PRS for Music and the PRS Members' Fund has formed the bedrock of the organisations that we are today.
'And what better way to celebrate this fundamental bedrock than to take a little dig into the formative layers and to celebrate the Founding Day of the Members' Fund! By taking a closer look, previous hidden intricacies and connections with PRS for Music can be revealed.'
Find out more about the PRS Members' Fund's legacy.
History
The 1930s were signed by the worldwide Great Depression, Britain's largest and most profound economic crisis with its devastating effects on employment and profits plunged in nearly all sectors. By summer 1932 unemployment reached 70 percent with more than three million out of work nationally and many families depended entirely on payments from local support.
Driven by the desire to support its members during the crisis, at a PRS annual general meeting its then chairman Leslie Boosey suggested the creation of a fund to help sustain the livelihood of PRS songwriters, composers, and their dependants during the difficult times that were being experienced.
The following year emerged the PRS Members' Assistance Fund with a small contribution of £100 from the society's investment earnings to allow a few immediate payments to those members most in need.
On March 19, 1934, composer Frederic Austin, author Henry Jocelyn Clive Graham and publisher Herbert Smith, signed the Trust Deed to establish the PRS Benevolent Fund.
The benevolent Fund was financed by a subvention of 0.5 percent of the society's distributable income.
War years
In 1939, with more contributions under its belt, the Fund purchased a freehold property in Surrey. Although intended as a convalescent home for older beneficiaries, the onset of war resulted in PRS using it as their 'evacuation offices'. Subsequently adapted as a temporary refuge for members made homeless by war, it was sold in 1945 due to the high running costs.
Structure and governance
PRS directors had stipulated that the chairman of the PRS Board must also be chair of the Fund and Leslie Boosey became the first chairman. He remained chairman of the Fund for 23 years, until his retirement in 1957, aged 70.
The rules of the society regarding the chair were then relaxed, and the Fund committee became entitled to select its chair from within its own committee members.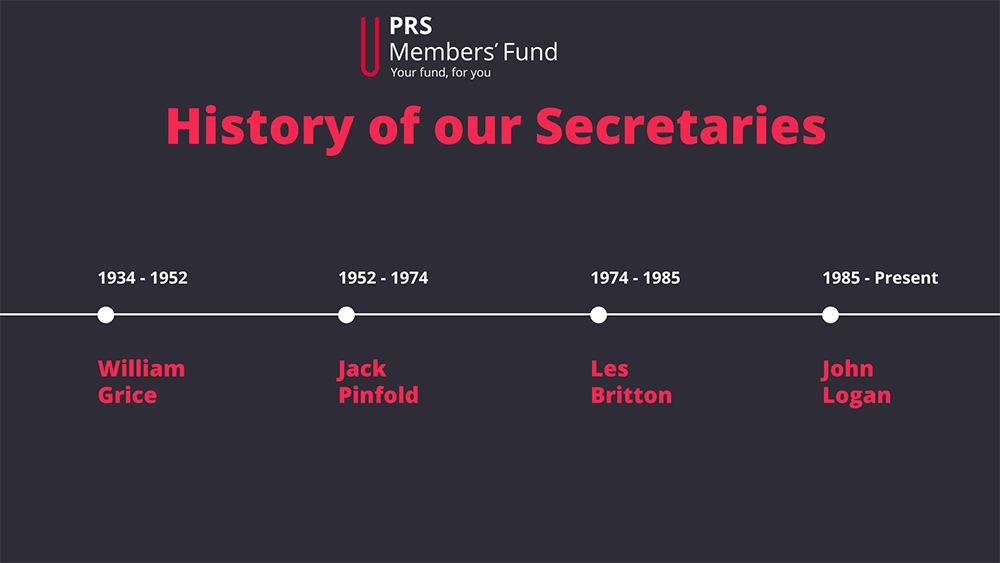 Today
The year 2020 has been one marked with struggle due to the COVID-19 pandemic.
The challenges of the Great Depression – when there was a huge economic and social upheaval – is not dissimilar to that caused by the current Covid-19 crisis, resulting in mass unemployment and far-reaching poverty.
The main remit then – as now - was to support members and their families who were struggling financially. Therefore in March 2020 we allocated monies to create a dedicated PRS Emergency Relief Fund (ERF) launched in collaboration with PRS for Music and support from PRS Foundation.
During 2020 and through 2 separate ERF phases, we helped over 4,000 songwriters and composers, with around £2m paid out in hardship grants. This enabled PRS members to pay their bills at a time when gigs were being cancelled because of COVID-19.
ERF phase three which helped a further 850 members still hit by the pandemic with £331,000 being paid out so far in 2021.
We anticipate that there will be further need as the country moves out of lockdown and until such time live music returns and venues and festivals safely open for business.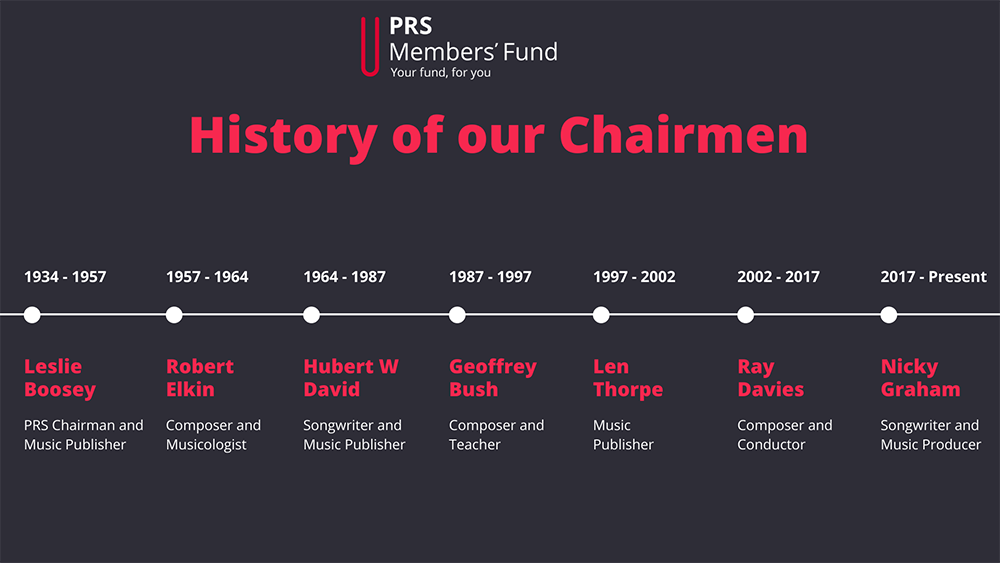 Future plans
Continue to work together with PRS For Music: to support members during difficult times.
Raise awareness of our work: no eligible PRS member who is experiencing distress should hesitate in asking for help from the Fund, this is your Fund, for you!
Increase our presence online: provide more webinars on mental health and other topics, useful content and other resources.
Improve diversity and inclusion: look at how we can become better engaged with the whole membership.
Develop our services: review and improve to meet our members' needs.
Support the Fund
For over 80 years, thanks to the generosity of our supporters, we have been able to provide essential grants to PRS songwriters, composers and their families during difficult times
We want to take this opportunity to thank all those who have helped support our work and whose donations have allowed us to make a difference in the lives of many fellow music creators. Thanks to your invaluable contributions we are able to implement our services and better serve our members in need.
Find out more on the PRS Members' Fund website.