Following the news from Government that a £1.57bn support package would be made available for the arts and cultural organisations, The Music Publishers Association, PRS for Music, The Musicians Union and The Ivors Academy have written to Culture Secretary Oliver Dowden regarding ticket subsidy for the classical sector.
The proposed scheme aims to support all the creators, freelancers, staff and companies who make classical music in the UK such a success.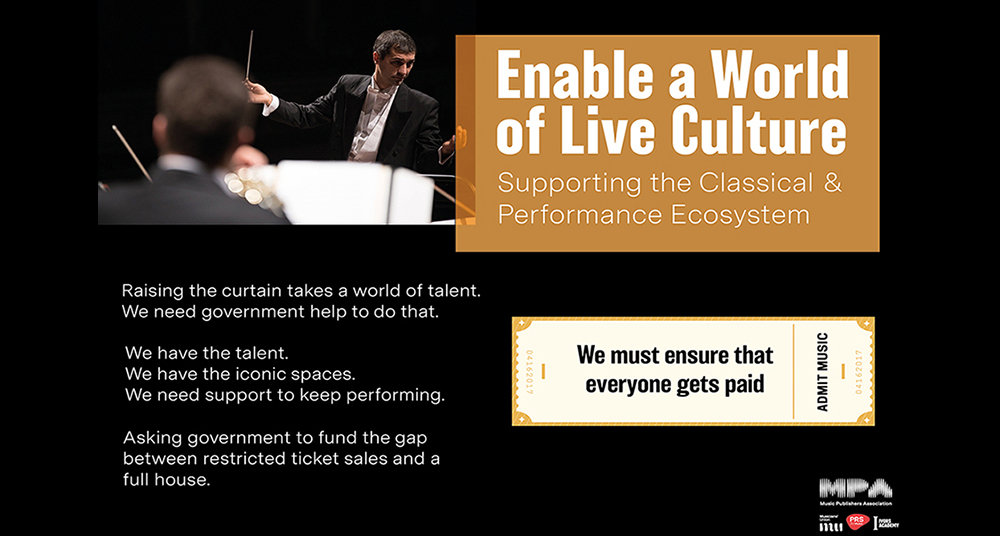 The letter reads: 'We, the undersigned, are writing to you concerning the critical risk that social distancing, as a response to the Coronavirus pandemic, is having on the UK's concert hall venues. We support the MPA, The MU, PRS and The Ivors Academy's request of DCMS and Treasury for relief through a Ticket Subsidy Scheme.
'The Scheme will not just help to save our concert hall venues up and down the country from closure, but essentially also support all contributors to classical music concerts who rely on income from live music events more than any other genre of music in the UK. The Scheme would alleviate the limitations on concert attendance afforded by the social distancing required by the government, through a targeted and proportionate government initiative to purchase unsold tickets.
'Holding live concerts with only a c20-25% ticket purchasing audience is not financially viable for venues, while the musicians and conductors who perform, and the composers whose music they play remain starved of income until live concerts can once again be performed to the public. A ticket subsidy scheme is simple to administer and would offer a lifeline to the cultural sector just as soon as live concerts are permitted to be performed to the public. This solution alone will not address some of the long-term sectoral problems laid bare by the Coronavirus Pandemic crisis, it will, however, provide an essential catalyst to re-opening this culturally important sector.'