'It is a particularly satisfying part of publishing to protect the rights of composers and writers,' says Manners McDade's creative manager Clare Evenson.
Prior to he role at the UK music publisher, she worked in the
International
Digital team at Warner Music where she co-ordinated the company's relationship with
streaming
partners like Apple and Spotify.
In addition to that role she also managed the team's relationship with Warner Classics and the Warner Music UK choir, where she co-ordinated performances with Kylie Minogue and Alexander Armstrong.
While she was at Warner, Clare was selected for the company's first mentoring scheme for high-potential individuals.
Clare has also curated the
online
editorial content for she said.so, a network of women who work in the music industry.
She joined Manners McDade in 2018 as a creative and sync executive before being appointed as the company's creative manager in March of this year and in July she was awarded the Richard Toeman Scholarship professional award.
Here Clare shares her experiences of the publishing world and offers some invaluable tips for budding publishers…
How did you get into publishing?
I have always loved the
repertoire
and artists at Manners McDade and admired the individual path they were carving for contemporary classical music. After some work experience many years ago, I followed their new music releases with interest and when the opportunity came up to work with their brilliant team, I jumped at it. I had built my experience on the label side so was interested to learn about publishing in more detail, particularly with composers and artists in a genre where my own classical expertise would come in to play.
What drew you towards working within the publishing side of the music industry?
Initially it was my interest in sync that drew me in. There are of course sync roles on the master side too, but sync for a specialist independent publisher provides a particularly exciting opportunity. I loved the creativity of working so closely with compositions and have continued to love this side of using the emotional capacity of music to breathe life into the picture.
When I started my first job in the music industry, there was a lot of talk about the effects of streaming and one of the interesting things about publishing is that you learn the intricate routes of how artists are paid. It is a particularly satisfying part of publishing to protect the rights of composers and writers, which extends to my creative role at Manners McDade too.
You were granted the Richard Toeman Scholarship professional award recently. What does it mean to you and what do you hope to gain from it?
I'm thrilled to have the support of the Music Publishers Association (MPA) and am looking forward to the business coaching as well as the opportunity to attend specialist conferences and meet others in the industry. I really hope I can give back to the Young Music Publishers Association (YMPA), learn about the MPA's aims for the year and contribute in any ways that I can.
What sort of skills and expertise are needed to work in publishing? 
Attention to detail and diligence is important for protecting our composers' rights. Working as closely as we do to advise our artists, a technical understanding of publishing contracts, royalty breakdowns and PRO's ensures we are a trusted source of expertise for everyone with whom we work. The MPA offer training courses covering these topics for those just getting in to publishing.
Networking and getting to know other companies is a big part of a sync role, so building relationships is important. Knowing our catalogue inside and out means we can respond quickly with the best music for someone's needs.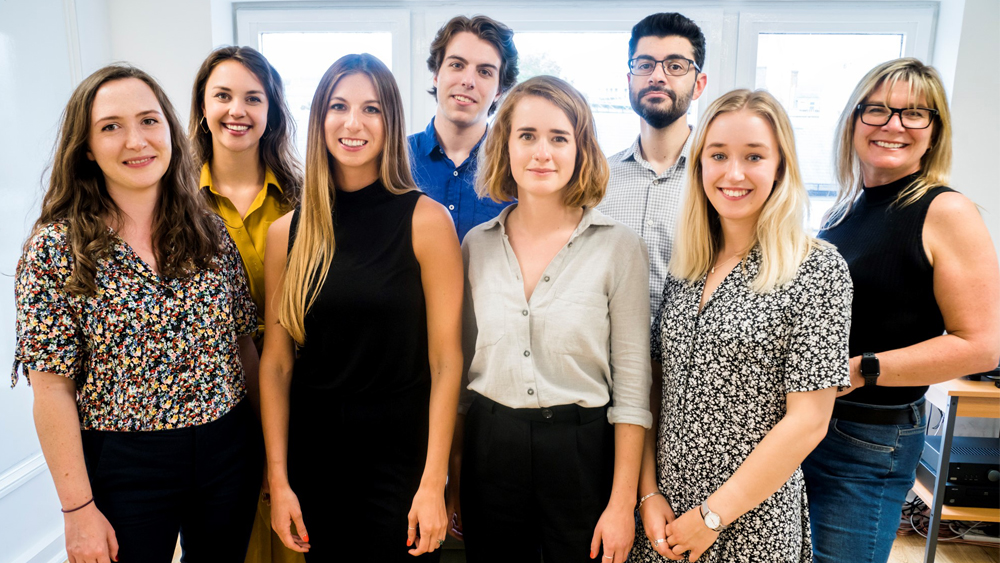 The Manners McDade team
Do you have any advice for budding publishers just starting out?
Find a mentor! It's a great source of help to be able to ask questions openly and speak to someone with experience. I have been lucky enough to seek advice from several mentors, including Catherine Manners, founder of Manners McDade, and others in shesaid.so, for any time that I've needed a second opinion.
What opportunities are there to gain experience?
In addition to work experience and internship opportunities, I attended a couple of open sync panels at universities in London which are great for meeting supervisors and sync managers. The YMPA host events too, including panels and socials for networking.
Which projects have you most enjoyed working on to date?
Our music is often really well-suited to film trailers, including Jon Opstad's stunning track
IGNIS IV
which was used in the worldwide trailer for Brad Pitt's upcoming film,
Ad Astra
. Receiving a Music Week Sync Award for best film trailer for Snow Ghosts' haunting track in the trailer for
Beast
(featuring Jessie Buckley) was exciting too!
Can you explain a little more about what you do at Manners McDade within sync and licensing?
As a specialist contemporary classical and electronic music publisher, my role involves pitching our catalogue for sync internationally and expanding the reach of our artists' music. Being a trusted source of new music in this area means we are constantly on-hand for any sync requests and even bespoke edits on existing tracks. We're in close contact with our artists and composers so that we can make a quick turnaround on approvals during the week.
I then draft the license or liaise with our network of international sub-publishers to complete the licensing paperwork. We often look after the master too, which is often a benefit is someone is trying to clear a track quickly, so I handle that side as well.
You work with clients across global brands, TV and film. Is there a difference in the kind of writers and composers you work with across these different mediums?
The Manners McDade Agency has a roster of fabulous composers for TV, film, games & bespoke music for advertising. Each composer has their own sound and expertise, so knowing these we will work with the most specialist composer for the project, depending on the genre they're looking for.
Brands are becoming more and more interested in working with an artist, so as a genre specialist, we are a go-to for supervisors looking for music such as that of Poppy Ackroyd or AVA, both signed to One Little Indian Records.
It's a real benefit that our writers on the publishing roster can often make bespoke edits on pre-existing tracks, which opens us up to lots of projects. We have lots of new music coming this year, pushing the boundaries of genre, with new releases from Nils Frahm, Hector Plimmer and Houndstooth label, as well as recent signing, Eartheater.
What is the process of pitching composers, artists and repertoire for a sync deal?
It takes a long time to build relationships so it's about ongoing conversations and building an international network to widen the reach of an artist's music. We're always excited to receive new music from our artists, which we can then share with our network.
We travel to the US and Europe a lot to meet the brilliant partners we work with on films, trailers and brands. Elsewhere we work with pro-active international sub-publishers who can take our roster around the world.
We love to host showcases and with our composers releasing original sheet music books and performing at stunning venues, we have lots of exciting ways to share their music.
How important has sync become as an income stream for composers in recent years?
It's exciting creatively for a composer to see their music used in a different format, but it's important that writers are creating music that they love, not because they think it will work well on an advert. Opportunities can be unpredictable, as are budgets!
As publisher, it's really satisfying when we can help bring the creative to life with music, for example recently a Nils Frahm sync on a Lincoln Nautilus advert and Eartheater's sync with Converse, where in both cases our specialist genre brought originality to the creative.
mannersmcdade.co.uk