Diverse British composer Graham Fitkin has worked across genres and continents; performing, conducting, publishing, producing and educating others about classical composition.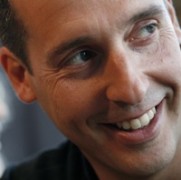 Fitkin writes chamber pieces, orchestral scores and multi-layered pieces for single instruments. His work is minimalist in style, pushing the genre with epic tonal compositions that have been performed by musicians across the world, including the virtuoso Chinese-American cellist Yo-Yo Ma.
His contribution to The Proms this year will premiere on Wednesday 31 August, and will include a BBC-commissioned cello concerto for Ma.
Here, he reveals his top tips for aspiring composers.
1. Look into taking a DIY approach
I've found the most useful path is to do it yourself. There's no reason why younger composers can't set up concerts and do it themselves. In fact, when I was at university, one of the best things I ever did was get involved in putting concerts on, getting those musicians together, making sure the piano was tuned - simple things like assuring the whole practical aspect of putting an event on was done right. That has put me in really good stead professionally.
2. Get to really know your music
Look for the people who your music is best suited for. Get to know your music, really know it, so intimately that you can tell instinctively where its best placed. A lot of composers will come to me and say, 'I sent some music to so and so' - it might be the Berlin Philharmonic or whatever - and they won't get a reply. You should get out of the mindset that someone you don't know is going to reply to you because you've sent something off into the ether. Yes, you might strike lucky by sending your music to the Berlin Philharmonic Orchestra, but your chances are very slim just out of the blue.
3. It's important to have the right people around you
One of the things that really helped me when I was younger was working with groups of musicians who were in a similar place to me and who needed music to play. They needed someone like me to help them, and I needed them to help me have my music performed. Those people were the Smith Quartet or Ensemble Bash or Piano Circus, names that have come up and made their own way. But we were like-minded people. When I first put on a concert at the Purcell Room [in London] a long time ago, you had to work with all of these musicians and tell them 'Look, there's not going to be much money in it - or anything!' And then I had to go out to work and get some money to put it on in the first place and then we'd rehearse together.
4. Don't get disillusioned
Part of the problem is that you get disillusioned really easily, and you wait around for something exceptional to happen, but it won't unless you go and do something about it. There are still funding organisations like the PRS for Music Foundation and the Arts Council, but you can't rely on that. You have to keep going as if you are not going to get that funding, otherwise you will be waiting around forever.
5. Be aware that it takes more than your first lucky break to make it
In some ways it's quite easy to get your music played these days. But what happens after you've had something played? The difficulty comes after you've had that first opportunity. Many people just stick at that level.
For more in our classical composers series read M at The Proms: Insider's View