Mads Hauge is an acclaimed songwriter and producer who co-wrote and co-produced Pixie Lott's #1 hit singles  Mama Do and Boys and Girls as well as Cry Me Out. He has also written for Eliza Doolittle, Olly Murs and Natasha Bedingfield.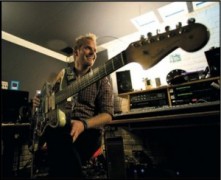 1. Recording gear doesn't make make your song any better. It might help recording it easier, but the focus should be on the quality of the song not the converter, plug in or compressor.

2. Come prepared to writing sessions. Have a few fresh song titles or lyric concepts ready. Find words that grab and intrigue you and use them in a new way.  Ask yourself "How would I sing that word/ phrase and turn it into a hook?".

3. The more you write the better you get. I had to write over 100 songs before I got one on a record. You learn something from every co-write and situation.  Write with lots of different people. Your co-writers automatically becomes a great start of a network in the music business.

4. Verse and choruses are equally important. Don't underestimate a great verse that leads into to the chorus in the perfect way. Make the song grab the listener lyrically and melodically from bar 1.

5. Make sure your songs can be sung by others than yourself. Keep it simple and double check that the range (highest and lowest note) is not too wide. Also, lyrically a song can be personal but not so personal that it would be out of place if someone else sung it.