Are you a dab hand at lyrics, but struggle to put together a great melody? Or vice versa? Collaborating with other songwriters can be a good way of expanding on your own ideas and drawing on other influences to create something great. Many songwriters find it an enriching experience, taking their music to a level that they would have struggled to get to alone.

Having worked with an impressive roster of artists such as Adele,  Ellie Goulding, Cee-Lo Green and Tinchy Stryder, songwriter/producer and musician Fraser T Smith is well qualified to give his take on how to get the best out of a creative collaboration.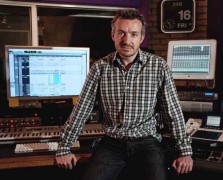 1 . If you're writing with an artist , do some background research - check out Youtube clips etc.. to get a feel for the project.

2 . Always try and put the artist or fellow co-writer at ease , writing a song with someone can be pretty daunting,  so make them feel comfortable. Buy them tea, Red Bull, vodka (!) - whatever it takes...

3 . Always be ready to record from start - have a session prepared and mic set up and ready to go ... often the first melodies / lyrics to come out are the best.

4 . Try and stay off the laptop as much as possible. The screen forms a barrier between you and the artist, and as hard as you're working - it'll give off the impression you're just checking your Twitter.  As musicians you've got to engage with each other, and get a vibe going.

5 . If you hit a wall, don't be afraid to move onto another idea - or try something weird. I had this with Cee-Lo - we went round two ideas and I couldn't get a spark going. He'd told me he was into Spandau Ballet, so I started playing the congas from 'Gold' (badly). This fired him up, and we then wrote 'Wildflower' in about an hour.

Fraser T Smith is an award-winning English record producer, songwriter, mixer and guitarist responsible for songs such as James Morrison's Broken Strings (featuring Nelly Furtado), Tinchy Stryder's Take Me Back and the aptly titled Number 1 featuring N'Dubz which spent three weeks at No 1 in the UK charts.
www.frasertsmith.com

Have you tried collaborating with other songwriters?  How did it work for you?  Leave your thoughts below.