Anita Awbi chats to the self-styled 'psychedelic hip-hop boy band' about how their evolution from mainstream MCs to acerbic outsiders has made the world sit up and listen.

'What are the chances of three boys from Africa and Scotland meeting up and having the same understanding of music? It's highly unlikely and a bit weird,' says Kayus Bankole, one third of Young Fathers.

He's talking over a crackly mobile phone line from Berlin, where the band decamped straight after their surprise Mercury Prize win last month. The result astounded music fans and critics alike, who had put their money on firm favourites FKA Twigs or Damon Albarn. At that time, few people had delved into the deft lyricism and sonic alchemy of Young Fathers' debut album Dead – in fact, the record hadn't even shifted 3,000 copies since its release in February. For a band firmly set on driving to Germany to start work on their second LP, the award marked just another chapter in a curious rags to riches story that began long before the media circus hopped on board.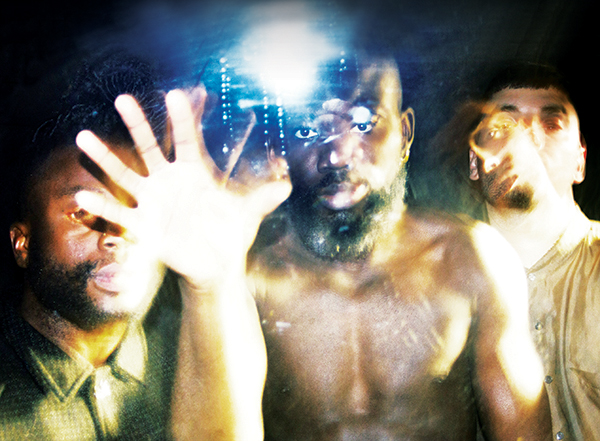 'It's just part and parcel of the industry. The cameras, us standing by the mic, the clapping, it's just what happens…' Kayus says cynically. 'It's a good thing but it doesn't mean that we're going to stop doing what we do. The minute we finished with the Mercurys we took a long-ass drive to Berlin. In our heads we just want to keep busy and get more people to hear us.'
Although this assured attitude attracted criticism from some on the night, it's clearly born out of a strong survival instinct. Over the last decade, Kayus and his cohorts Graham 'G' Hastings and Liberian born Alloysious Massaquoi have been waylaid more than once on their musical mission. Now they're determined it won't happen again – regardless of the accolades which are rolling in thick and fast.
Basement beginnings
Young Fathers' incubation process has been lengthy: the Scottish trio began working together back in 2008 when they were just 14, honing their flow in open mic slots around Edinburgh before chancing on some music software that Graham 'picked up for a tenner'. They used their rudimentary set-up to sketch out beats and raps, playing around with synchronised dance moves and outfits to create a self-styled 'psychedelic hip-hop boy band'.
A close encounter with Scottish label Black Sugar Records delivered a couple of well-received singles later that year, including the Timothy London-produced
Straight Back On It
. Their first album
Inconceivable Child...Conceived
almost followed in 2011, but in a strange twist of fate or bout of cold feet, it never saw the light of day. Left stranded by their label, the trio went rogue in a dank Edinburgh basement studio. Like proper hip-hop troupers, the experience toughened them up and pushed them down an experimental DIY route.
The fruits of those aural explorations were captured in the caustic, genre-busting mixtapes
Tape One
and
Tape Two
. Ironically, the cassettes helped the band more than any previous indie label involvement ever could, earning them a bucketful of kudos and renewed industry interest. The mixtapes have since been translated into award-winning releases by respected US label Anticon, home to likeminded trail blazers cLOUDDEAD, Daedelus and Baths. Meanwhile, here in the UK, the cassettes pricked the ears of Ninja Tune imprint Big Dada, prompting them to get behind the trio and help deliver
Dead
.
We're not a political band but
we do have a conscience and
we are aware of our surroundings.
Music with a message
'When we first met each other as young boys, not a lot of words were said - we just bonded automatically over bass and loud music,' remembers Kayus. 'But even then, we knew we were special and we knew no one sounded like us.'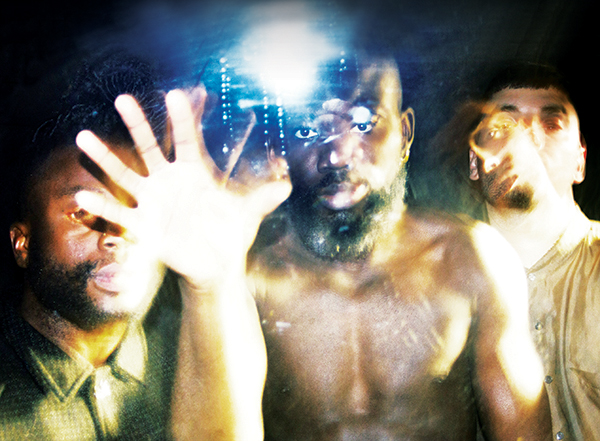 It's true. Young Fathers are unique. No one else is mining the fault lines of leftfield hip-hop and electronica with such gusto, at least not in the UK anyway. With a dizzying musical DNA that blends fragments of African polyrhythms, C86 indie and daisy age rap, they're pretty hard to pigeonhole. Like Stones Throw stalwarts Koushik or Savath y Savalas, their sample-heavy signage points to psych-tipped hip-hop – conscious music with a past, present and future.
'We're not a political band,' insists Kayus. 'But we do have a conscience and we are aware of our surroundings. We have a sense of fairness. And we always go with our gut because we're not scared to be ourselves and say what we think. A lot of people find it hard to be themselves but fo us it's easy.'
True to form, their music carries oblique references to cultural, social and economic disparity, while inflammatory tracks such as
Queen is Dead
, which was banned by the BBC on its release, seems to set a more direct agenda. Live, Alloysious, Kayus and Graham radiate with the broken synapses of rap, R&B, punk and dark electronica – three young men with a unified voice and an antagonistic agenda. It's an eclectic vision, expertly sketched and rich in hooks, visceral thrill and psychedelic melody.
Method to the madness
From the rumbling beats and grinding electronics of album tracks
War
and
Just Another Bullet
to the gritty complication of
Low
, Young Fathers always push the right buttons and boundaries with their expansive sound. Tapping into the innate soulfulness of Massive Attack one minute, and conjuring the playful indie crossover of TV On The Radio the next, it's hard to imagine them working out of a Scottish basement to concoct a combination of beat, rap and song that smells less of its dingy birthplace and more of an exotic musical melting pot.
'We don't want our music to sound like anything else,' Kayus explains. 'When we go in the studio we rely on that immediate feeling you get when you hear a great sound or when you're humming to yourself and it starts to sound good. The next person will feed off that and things will start rolling. We're all so different and have very different influences, so when we all get together in the studio we just go for it.'
Their openness to experimentation extends further than just the recording studio though. The band often pull songwriting auteur LAW into their live shows – including their Mercury Prize TV performance – adding 'another voice in the mix' says Alloysious. The Leicester native, born Lauren Holt, started off as a jazz singer and pianist but these days she packs a bewildering array of obtuse influences into her music. Since her relocation to Edinburgh, she's started writing with Young Fathers and accompanied them on their post-Mercury Prize road trip.
Our music is just
vibe and feel:
it's raw
and from the gut.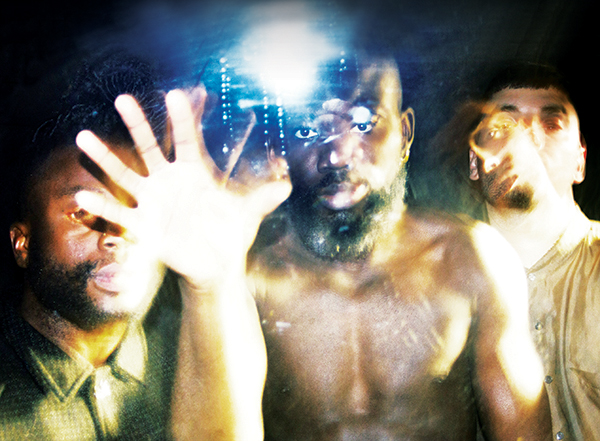 So what will the new Berlin recording base and the addition of LAW mean for future Young Fathers material? If Kayus' current musical delectations have anything to do with it, we could be in for another mental excursion into unchartered hip-hop territory. Alongside Nigerian wedding music from his early childhood, including sunshine hits from Sunny Ade, Kayus and his cohorts have been digging an old NME cassette which carries no indication to the music it contains but boasts 'singing so beautiful, we're all really annoyed at each other because we don't know what it is!'

'Y'know, it's really weird to talk about our music and our influences,' admits Alloysious. 'It's hard to find the words because so much of it is intuition. When I talk about it, it seems less organic. It's just vibe and feel: it's raw and from the gut. When you mix those elements with a recording schedule, good things happen.'

Just as the mantra in their ridiculously catchy single Get Up repeats – 'Come in, do the right thing. Get Up, and have a party' - Young Fathers are intent on seizing the musical moment - with or without the industry fanfare.