You could fit the 'actual' Windmill venue onto the stage that bears its name, and there would still be room for a band or two tucked down the side. Just a ten minute walk away from the real venue, it's the sheer scale of what's been achieved at the inaugural Wide Awake that is felt first. Throw in some (in all honesty, most) of the most exciting bands of the current, or any, underground generation and the festival has launched off to an impressive start. Like seemingly everything these days, it was delayed due to 'all that', but the wait has paid off - with many of the key artists on display today producing, and releasing, stunning pieces of work and growing into their roles as major acts.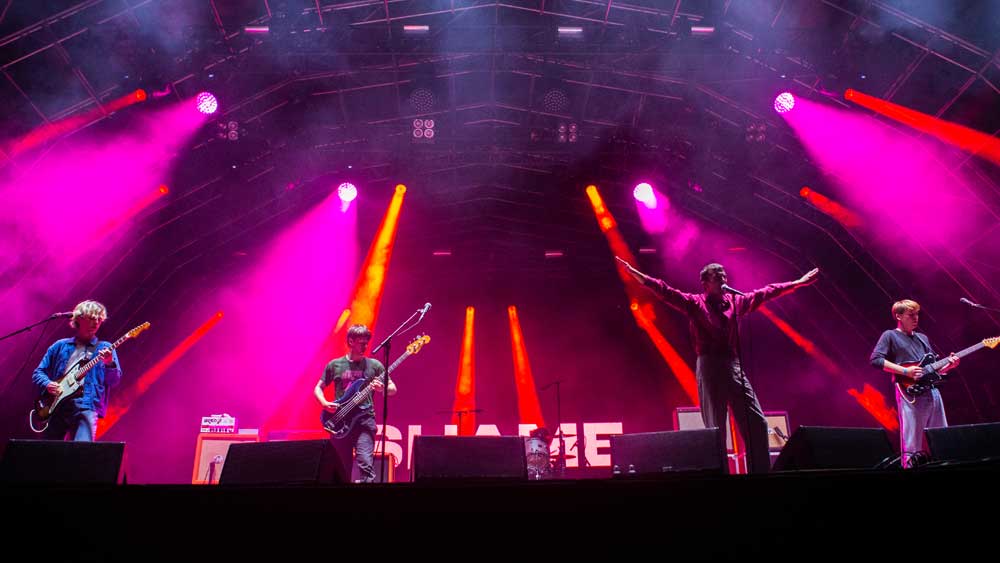 'We've been coming to this park since we were kids,' says Shame frontman Charlie Steen midway through their triumphant closing set. It's that air of familiarity and community that runs through much of the day. Many of the acts on display cut their teeth at venues like The Windmill, and there's an excitement at being back together. The backstage areas are refreshingly empty for the majority of the day in favour of watching each other play.
For the artists, just like everyone else, it was a day to be back with each other, celebrating their recent freedom and to be able to escape from the shadows and horrors of the last eighteen months. 'You're gonna wake up tomorrow and find out it was all just a joke,' promises IDLES frontman Joe Talbot at one point during their early afternoon 'headline' slot. That's pretty much as close to a reference to the dreaded 'C' word that we get all day. It's not a day for looking back. Instead, today is about the present and the future, and a seething carnival of underground music that is bursting out in every direction.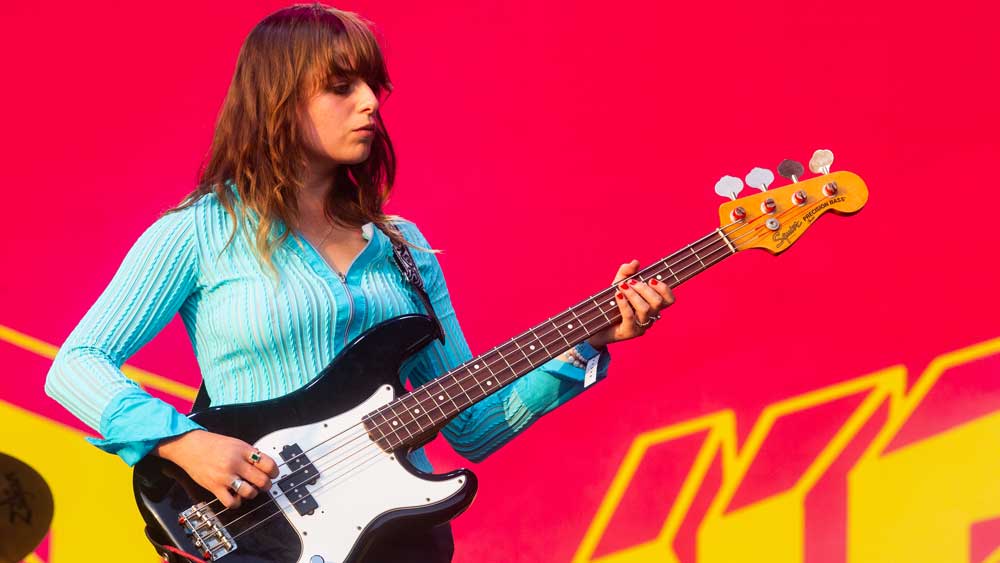 There's a staggering amount going on - the clashes border on criminal - yet nowhere ever feels empty. There is a perfect moment late on where the crowd pinballs between the slick, polished pop of Self Esteem, the earthy sprechgesang of the super-hyped Yard Act and a visceral closing set from Shame. And it all feels right. Nick Berthoud of Lazarus Kane describes the entire scene that has sprung up around The Windmill and the like as being all about the attitude rather than the genre. 'I feel like there was already a community forming beyond the boundaries of genre before Covid, but now everyone wants to support each other and get excited.'
Shame's Josh Finerty likens the day to the infamous Day Of The Juggalos, the American free-for-all festival put on by Psychopathic Records. As we chat, he gazes round in awe on more than one occasion, expressing his amazement that so many people have come. 'It's so weird that we didn't always sell out shows at some of these venues, and now there's fucking thousands of people here,' he says with a grin. Alongside him, bandmate Eddie Green points out just why the line-up is so diverse. 'This whole thing is way bigger than just a 'post-punk' scene. There was certainly a time where everything was branded with the south London post-punk paintbrush,' he says, 'But this line-up is testament to the fact that it's so much broader than that.' Tyler Hyde (Black Country, New Road) agrees. 'People need to forget about saying it's just a post-punk scene', she says, 'The beauty of somewhere like The Windmill is that it accepts, well not anything, but it does within reason. If it's any good, they'll put it on.' As the crowd veer from Lynks to black midi via The Murder Capital and PVA, soaking it all in, it's impossible to disagree with them on the strength of the current scene, despite the fact this community – like many others - was forced was spend so long apart. 'I think people are always going to be making music and finding ways to express themselves and share that with people,' says Dana Margolin (Porridge Radio), pointing out that the underground's ability to be flexible is in its very nature.
When I ask Hyde about how, and why, an entire scene has sprung up around venues like The Windmill and Moth Club, she's refreshingly blunt. 'It's about the people who work there, and how welcoming they are to people that may not have done much before, but just have faith that they would put on a good show,' she says, 'And that's a kind of faith that a lot of venues don't put into young bands.' Louis Haynes (Lazarus Kane) describes playing there as a vital step in the journey of any artist. 'You know that the discerning listener is going to be at The Windmill,' he tells me, 'So when you've got your shit together, you've practiced and you've got something you're really proud of, that's the place where you really test it.'
One person all the bands pay their respects to is The Windmill's legendary lead booker Tim Perry (BC, NR's Luke Mark describes him as 'The Godfather'). 'I think he has been incredible in all this,' agrees Berthoud, 'because he's effectively curated this entire scene. This multi-genre collision is happening largely due to his taste. He's always said, 'they're good, they're good and they're good - and I don't really care if they're different'. And it's created this mash of worlds that works so well. He told me it's just because he replies to the right emails,' laughs Mark, 'but I'm sure there's more to it than that.'
Talk about an understatement. And, as the day unfolds, it pays testament to that creativity of thought. Sure, the big beasts of post-punk are as present and as shouty as you imagine. Put IDLES in front of a crowd of thousands, even in a lunchtime slot, and it's going to form an instant, intense connection. The surging circle pits roar, the crowd surfers fly, and old favourites like Samaritans and Mother hit with the fire of a thousand suns. It's an incendiary start, like a release valve that's been held at boiling point for eighteen months being let off all at once. IDLES playing this early may have been a decision forced upon all involved by the Bristol gang having to head back home to play another huge show that same night, but if anything, it works nicely with huge crowds remaining for some of the smaller bands that follow. Things quickly get a little more off-kilter, and pleasingly so. It almost feels surreal to have PVA's set of bangers unveiled in the blistering sunshine, but it's still a delight.
Later, Black Country, New Road, finally on a stage that can fit them all on in comfort, take the opportunity to show that they belong on the biggest of stages, as the infectious nature of their Mercury-nominated For The First Time envelope the crowd in good times. black midi are as wonderfully eccentric as ever. Drummer Morgan Simpson once again proving to be the not-so secret weapon as he gives the impression of someone continually pulling everything together from the very edges of nonsense. Away from the main stage, there is still so much to take in that it proves the point as to just how vibrant the current underground scene is. Porridge Radio and Dry Cleaning both pull in huge crowds, marking for many the first chance to actually see bands like this since they released stunning records over the course of lockdown. There's a welcome return for the intensity of The Murder Capital as they return to the stage for only the second time in eighteen months, which rubs perfectly against the mix of aerobics and live show at the Lynks set under the heaving So Young canopy. That canopy takes a firm pressure test once more at the end of the evening, as Yard Act prove just why they've sold out Village Underground on the strength of two singles. The next wave of talent keeps on coming.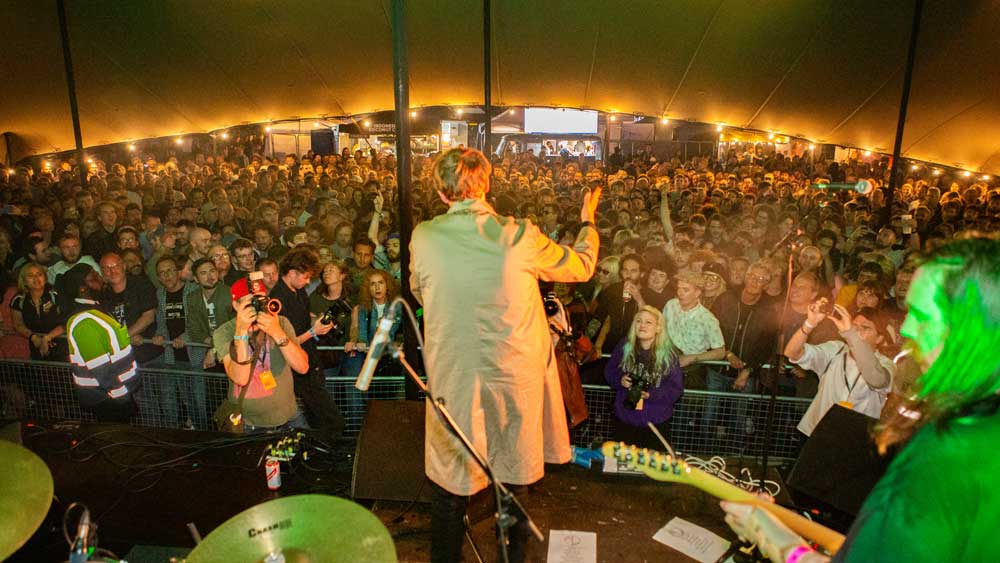 By every measure, Wide Awake was a huge success and looks certain to become a fixture on the festival calendar. But, most importantly, as a celebration of the underground scene and the way that it's still rumbled on despite everything, it was celebratory and uplifting.
For Shame, a band that formed literally round the corner from Brockwell Park, it felt like coming home.
On today's showing, you could bet your house that there will have been many more future headliners in the crowd, one day ready to say that they too used to come here as kids. Long live the underground.