The virtues of product placement has been much debated recently, with Britney Spears reported to have made half a million dollars  from the product placement in her music video for Hold It Against Me. Many artists have found that it can be part of a mutually beneficial relationship if used in the right way. Singer Katy Perry recently took to her Twitter.com page to voice her opinion on it, insisting it should be done "with style & grace." Singer-songwriter Rene Byrd is doing exactly that, having successfully dipped her toe into the world of product placement.  She talks about how it has worked for her.

My vision is to bring back class and elegance into music, create timeless songs and become an established artist with a prolific body of work.
The idea of working with corporate sponsors came to me when I was working with a freelance clothes stylist, who I hired to assist me with a photo shoot.

The day before the shoot, she gave me some bad news and told me she was unable to source the clothes I needed.

Thankfully I managed make the most of the shoot using my clothes plus my make-up artist's styling. However that proved to be a turning point for me.  I thought, 'Why not go to source?' I recognised that being an artist you require a particular look, whether it be shoes, make-up or clothes and this would seem like a good way to "cross brand." So I contacted  all the companies I would like to cross brand with and see if they would be happy for me to do a  product placement endorsement deal.  I pitched to them as professionally as I could, letting them know that I would represent their brands in the best possible light and also ensuring that the brands fitted my ethos.
Yes, you do get rejections, but with everything you persevere.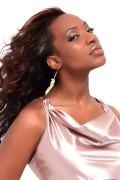 A good working relationship
I have teamed up with numerous inspiring small businesses to help endorse their brands through my image.  Among these brands are Australian make-up line Becca, worn by celebrities such as Julia Roberts, Alicia Keys and Kylie Minogue;  luxury shoe designer Aruna Seth, worn by Pixie Lott and Goldie Hawn; London-based milliner Katherine Elizabeth,  who designed for stars such as Lily Allen and Dita Von Teese; and designer Aiisha Ramadan.
I have established a good working relationship with them all, and this has all helped my musical career go from strength to strength. My recent gigs include performances at the famous Elstree Studios, a charity event alongside Lady Gaga's fashion designer. My album is due to be released 2011 with original material and adaption of a 1979 classic "With You I'm Born Again" originally by Billy Preston and Syreeta, and I'll be filming a live and unplugged video for this in the next coming months.
This experience made me realise that music is just one part of the pie - you have to connect to the lifestyle of music, fashion, make-up etc to sell your brand.  I am very excited about the future and the opportunity to share my music.
www.renebyrd.com
The opinions expressed in this article are those of the author, and do not necessarily reflect those of the M editorial team or PRS for Music.Got something to say? Make your voice heard! Open Mic is a space for our readers to raise a subject for discussion. We reserve the right to edit and select submissions before publishing.Send your story and photos (jpeg preferred) to magazine@prsformusic.com with the subject 'Open Mic '