M caught up with Iain Farquharson, the co-writer of the song that won this year's Eurovision for Azerbaijan - Running Scared.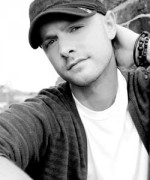 Among Iain's songwriting credits are Craig David's
Officially Yours
and forthcoming single releases with Professor Green, Rough Diamondz and One Direction. Iain is currently writing with X Factor Winner Matt Cardle for his forthcoming debut album.
Taking time out from a songwriting session for Leona Lewis, Iain revealed the story behind the song and told us about his journey from boy band to successful songwriter.
What does it feel like to write a winning Eurovision song?
It's kind of weird because it wasn't in this country, it feels a little bit like fish and chip paper now, it only takes a few hours and everyone is like: 'well back to the day job', but I've spoken to the guys who co-wrote the song as they were at at the Düsseldorf Arena and they've been really soaking it up! But I had a great night at home on Saturday watching it, it was totally unexpected - one of those surreal things and now I'm trying to get my head back into all the other projects I'm in the middle of writing for.
When was Running Scared written?
It wasn't too long ago, it was this year, I work quite a lot in Scandinavia as there is a great market over there with producers and writers and I've been going there for almost ten years now. Originally, the bones of the song were written by a friend of mine Stefan Örn and Sandra Bjurman who are both Swedish. They had the rough idea and I was over there working on another song with Stefan and he brought it up. Stefan and Sandra worked with Azerbaijan last year on their Eurovision song so they had the connection there already.
Stefan and Sandra played it to me and it really was kind of bare - it wasn't ticking any boxes so we practically re-wrote it. They had the title
Running Scared
, I did my thing on it, we re-wrote the melody and made the chorus sound more contemporary and worked on the lyrics with them. So it all happened really naturally, it was just one of those songs you write and you think: 'that's really solid, there's nothing wrong with that'.
It was done specifically for Eurovision so we just put it to one side. Then a few months on it all went a bit crazy, the Azerbaijanis really loved it and I flew out to Kiev in the Ukraine. We recorded the song with Ell and Nikki as I do vocal production. It felt really great as I followed it through to the end in the way songs used to be written. Obviously I write a lot of songs and often you don't meet the artists they are for, so it made it all the more special when the song won, especially as Ell and Nikki are lovely people and they work very hard. They were so excited to represent their country as Eurovision is a really big deal in (continental) Europe - people aspire to write and perform songs for the competition. Ell and Nikki's excitement got us excited about it.
I've written quite a few songs with Stefan before and he's a good friend. Stefan is also in a Swedish rock band signed in America called Apollo Drive and Sandra is a writer I know from the circuit in Stockholm. It's a very small place, Stockholm, and it's full of incredibly talented people who know each other - it's not like London.
How did you construct the song?
I'm what is called a 'topliner' these days - which means melody and lyrics. I used to be a performing artist myself so what I bring to a session is melody,lyrical content and concepts - basically topline means 'on top of the track'. With
Running Scared
I just felt we could make it stronger, I felt it was very important that we had a chorus which would stick out and was catchy, so we brought it out a bit more and made it more melodic. I play keys - I wouldn't say I'm a pianist, I bring more of a singing kind of thing to it. Stephan is an extremely talented multi-instrumentalist so we worked around a piano. We worked out the song by using trial and error - the real old fashioned way, just jamming I suppose. 'This
works
, that doesn't work' etc. What they had started had potential, I just felt I could bring my flavour to it and turn it into a contemporary song, which is what I feel we did. We had our roles - Stefan and I worked out the chord structure of the song and the melody and Sandra was mainly working on lyrics and I helped her as well - a real team effort. It was pretty much one of the easiest song writing sessions you could have - no egos, which is another reason why I love working with Scandinavians so much - it is pretty much just making music, there's none of this 'I've had this many hits in this many countries etc'.
The over-riding memory of writing that song is that it was enjoyable, which is what it should be when you're writing a song for Eurovision!
How did you become a songwriter?
I was in a band called triple Eight. I started the band with one of my best mates, Justin - just two kids from Bristol wanting to seek fame and fortune as kids do. We moved to London and got signed to Polydor. We had an incredible two years - we didn't hit the heights we and everyone around us thought we would as we only released two singles but it was more important in the end to make the contacts that I made and subsequently worked with incredible people I wouldn't have worked with if I wasn't in that band - it really, really helped. Also if I'm working with an artist I can understand a lot more where they're coming from. I was working with the One Direction boys from X Factor earlier this year and they are literally me ten years ago!
I always wanted to write songs, I wrote most of the songs on the Triple 8 album, although it was nicer released it was a great platform for me.
How did you make that transition?
It was kind of made for me really, the band got dropped from the label, so it was a bit of a 'now or never' scenario. I thought 'I either try and establish myself as a writer now or I'm never going to'. The difficult thing with that is that as a writer you almost have to have a name and a reputation before you're taken seriously so coming out of a boy band it was quite hard to convince people I could actually write songs. It's just like anything, it's having the perseverance. I don't think anyone makes it in the music industry without a serious amount of perseverance - all the clichés you hear are totally true. You have to have the confidence to believe you can write songs that other people will like and eventually things will work. You get to have this strange sense of inevitability about it - on Saturday night watching Eurovision with my fiancée and my mates - they were going crazy while I sat there with a glass of wine and a half-smile - you think: 'If you put in this many years and this much effort then something's bound to pay off'. I felt I had a point to prove after Triple Eight and hopefully that's happening now after years of hard work.
Right now I'm in the middle of a Leona Lewis song session but I don't think having to impress the people who makes the decisions ever stops - even if you've sold so many records in so many countries - it never stops. I think songwriters must get off on it or something!

What has been happening in the days following the Eurovision win?
It's definitely a buzz when someone says 'I love that song', it's a mental 'kick'. The whole Eurovision thing was definitely that feeling. It was amazing that so many people liked the song, which is essentially what we as songwriters do for a living. Texts started arriving while it was happening on Saturday night right up until today, most of the messages have been from other writers, producers and artists which has been really great as we are a little fraternity.I think it's nice to get recognised when you're doing well as we have all had millions of doors slammed in our faces and it's a lovely feeling to get texts and emails from all around the world from different people I've worked with who wanted to say 'well done'. It does prove we're in a tough business an when good things happen you've got to celebrate it.
Running Scared performed by Ell/Nikki
Stefan Örn, Sandra Bjurman, Iain Farquharson