After a decade working in PR,
Tom Mehrtens
is a success story that any LGBTQ+ aspiring music industry professional could take inspiration from. Mehrtens is a senior entertainment publicist at
SATELLITE414
— a London-based entertainment agency representing global icons such as Adele, Beyoncé and Dua Lipa. Most recently, though, SATELLITE414 have played an important role in the meteoric rise of Japanese-British pop star,
Rina Sawayama
.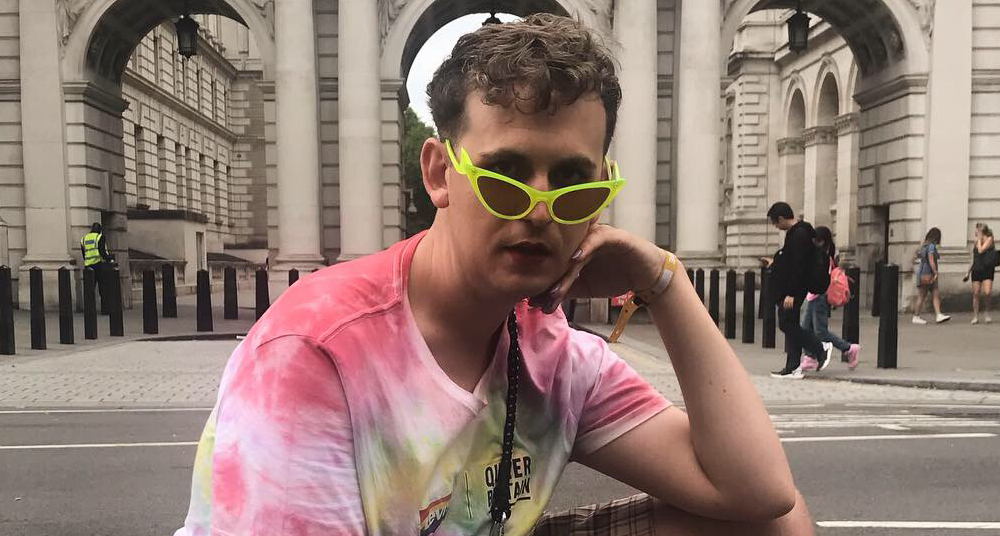 An openly pansexual woman of colour, Sawayama is changing the landscape of mainstream music. Having successfully campaigned to make the BRITs and the Mercury Prize more inclusive for immigrant artists like herself in the UK, Rina is adored by critics, fans and music icons alike.
2020 was a mammoth year for the artist, her debut album SAWAYAMA was revered, achieving universal acclaim and appearing on countless year-end lists. She made her TV debut on Jimmy Fallon's Tonight Show, and her fanbase — affectionately known as the Pixels — grew exponentially. So far in 2021, Rina has collaborated with Elton John, announced her feature film debut and was nominated for the coveted Rising Star award at the BRITs. These are all well-earned triumphs for both Sawayama and her team; triumphs that have felt like years in the making.
Mehrtens began working with Sawayama during the build-up to her stunning 2017 EP, RINA. 'She came fully loaded with all of these creative ideas — we can't and won't take credit for any of that,' Mehrtens enthuses. Her first headline show sold out quickly, they tell me, and it was from there that things began to snowball.
'Press really picked up on her when she was in the Dazed 100 in 2017, and then things started to pick up in America, which is obviously a big thing — breaking in America is very, very hard to do. She was selling out shows there, albeit relatively small ones, but there was a growing fanbase.'
A notable moment for Sawayama was her coming out story which broke with her 2018 single Cherry; her first track about a female love interest. 'Being queer myself meant that I could handle that situation sensitively,' Mehrtens explains. They set up an interview with Zing Tsjeng, the then-editor of Broadly UK and a fellow queer woman from Asia.
'To tell that story, it was really important to put Rina in the room with somebody who would completely understand. [When] working with Rina, or any of my queer artists, I think it does help that I have had — and still am experiencing — my own journey with queerness, in its very many forms.'
Mehrtens' wide roster of talent includes plenty of queer representation, including Munroe Bergdorf, Dorian Electra and Pabllo Vittar. When I ask if this is a conscious effort to help amplify marginalised voices, Tom responds, 'Yes and no. I think there's subconsciously a queer agenda, so to speak, in my roster because I do feel like I'm a good person to tell those specific stories. As I was saying, I've experienced it. It's something that's very important to me. It's close to my heart, and I want those stories to be told properly and with grace.'
'The reason that I work with any of the artists is because ultimately I love the music,' they add. 'I'm not just going to work with a queer artist because they're queer — I've got to inherently love the music anyway, and I think it boils down to that. It just so happens that marginalised people make some fucking great music!'
'There are not enough queer people in executive roles, and across the board, walking into planning meetings with major record labels.'
Being able to platform LGBTQ+ talent is a privilege that has come from years of hard work and breaking down stigma, they say. 'I was hesitant in the early days of my career as a junior publicist; I didn't want to pigeonhole myself as 'the queer publicist.' And then as I got further on in my career — I would say maybe in the last three years that I've been like: 'You know what? Yeah, that is the person I want to be!''
A watershed moment in their journey was working with Sink The Pink, an LGBTQ+ collective of drag artists and creatives who are breaking the boundaries of nightlife in the UK. 'I think that that was maybe the first turning point and I thought, 'Yeah, I want to push this agenda, and I want to put it in the mainstream, not just the queer media.'' Mehrtens credits Carl Fysh, the chief executive of SATELLITE414, for believing in them from the beginning and pushing them to craft a roster of talent they believe in. 'I was a lost little gay, and he definitely took me under his wing. I think he definitely nurtured that in me, and it's really important to acknowledge that,' Mehrtens says. 'As a junior publicist, I was fortunate enough to work alongside him on projects. With him being an out gay man in the industry through the '90s and '00s, when it wasn't as accepted, to know that he has succeeded and pioneered some incredible artists was definitely inspiring to me.'
Though queer visibility in the industry has grown in recent years, we still have a long way to go until LGBTQ+ people are truly equal. 'There are not enough queer people in executive roles, and across the board, walking into planning meetings with major record labels. It's been hard being a very visible queer person; especially in the early days of my career when I wasn't as respected. I'd love to see more queer faces at the heads of meetings. But there is much more acceptance, for sure, and I hope that it's not too daunting for young queer people to get into.'
The sheer presence of queer people in the music industry, both on stage and behind the scenes, is invaluable in paving the way for the next generation, but how can we make it easier? 'Just seeing each other and uplifting each other, I think,' Mehrtens suggests. 'I don't know how to get our names on the executive boards, but I believe that existing and existing loudly, actually, is the best way about it. And the proof is in the pudding: We can do a job just as well as a straight person — and probably better, because we have to try twice as hard.'
It's also important to acknowledge how privileged we are to have established queer media in the UK. 'We have Gay Times, we have Attitude, we have Pink News, and they all serve slightly different purposes, but are all valid in their own right. I think that as queer artists and publicists working for queer artists, we should give them access to our A-list talent — because without that A-list talent, they're not going to be able to keep thriving.'
Sawayama's impact is already apparent, having blasted into the mainstream and led positive change within the industry. Mehrtens' advice for anyone hoping to follow in her footsteps is simple: 'Just do you. I think it shows to anybody — publicists, journalists, fans, anybody — that if you're trying to be someone you're not, it's completely inauthentic. Do you and do you the best you can, and it will work.'
'It's really important to recognise that everybody's goals and expectations are different,' they continue. 'With with someone like Rina, we've got certain aspirations, and with someone like Softcult — the queer rock band that we work with — they've got different aspirations. Set yourself realistic goals and you'll probably hit them.'