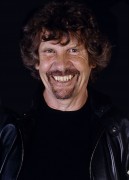 by The Zombies reached number one all over the world in 1969, but its regular appearance in a Magners cider commercial has introduced it to a new generation of listeners. Rod Argent talked to M about songwriting and the importance of advertisments in keeping a work commercially alive.
'It's been an amazing song for me,' Rod begins, 'throughout its 39 year life it's been played constantly, particularly in America.  I was very proud to receive an award, as it had passed its five millionth play in the States - one of only a few British songs to reach this milestone'.
The song has also appeared in several films, including
Awakenings
, as well as being featured in an episode of
The Simpsons
. Rod remembers that when he was writing the song, it was the title that came first and was actually a misheard Smokey Robinson lyric:  'The Zombies used to cover
Tracks of My Tears
and for years I had misheard the line "If you look closer it's easy to trace the tracks of my tears," as being "It's the time of the season to trace the tracks of my tears". Sound reproduction wasn't always that good in those days! I was really disappointed when I realised what the correct line was, and decided that if Smokey hadn't used the phrase "Time of the season", then I was going to.'
The rest of the song's origins remain lost as Rod admits: 'I don't remember too much else about its composition. However, the lines "What's your name, who's your daddy" were an affectionate nod in the direction of George Gershwin's
Summertime
("Your daddy's rich and your mama's good looking"). I was later told that
Time of the Season
was the first use anyone could find of the phrase, "Who's your daddy?".'
As well as creating a lasting catchphrase and receiving award-winning American airplay, it's been featured in a year-long Nissan campaign in the Far East, a major commercial for Fidelity Banking in the US and in summer campaigns for Magners in the UK. 'I must admit to being hugely grateful, if a little bewildered, that the song is still going so strong,' says Rod.  'If anyone had predicted this situation 40 years ago, I would have called them mad!'
Writer: Rod Argent / Publisher: Verulam Music Co Ltd / Performed by The Zombies
Read the story behind another classic song used in advertising - Roger Greenaway's I'd Like To Buy The World A Coke
and then
find out what the top ten most-performed songs in adverts are
.