Bringing together music artists from all over the world, the WOMAD (World of Music, Arts and Dance) Festival is renowned as one of the top festivals for International music.  Dewayne Ector takes a break from set list collecting to report back

If you're curious about different types of music from around the globe but hadn't a clue about where to start looking, then WOMAD Festival is definitely not a bad place to start. Especially if you've got the rare opportunity to go backstage collecting set lists from a carefully collected bunch of the world's best performers, I can guarantee that you'll constantly and pleasantly be surprised in one way or another.
The opening day saw Bellowhead headline on the main stage shortly after the presentation of the Songlines best group award for 2011. Friday saw Alpha Blondy, AfroCubism, Alabama 3, Jazz Jamaica and Dub Colossus amongst others. Saturday brought Rodrigo y Gabriela who destroyed it in the Siam Tent, followed by the legendary Baaba Maal on the Open Air Stage, and an epic set of old skool tunes supplied by the Nextmen who gave them the dubstep treatment.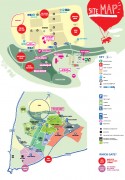 Colombia's Bomba Estereo also floated my boat with their mix of hip hop and cumbia. Sunday saw performances by I Am Kloot, and also saw another legend in the form of Booker T play to a massive audience in the Siam tent. The evening and the festival said farewell with a crazy set from the gypsy-punk combo Gogol Bordello, and yes, some people were even wearing purple and eating beans!
The quality and variety (and sometimes eccentricity) of the music weren't the only surprises from the artists that were in store either. On the festival's second day I was invited to have traditional tea from Mali with Khaira Arby and her band while they went through their pre-performance rituals. The next day I was exchanging banter with Argentine composer and performer Axel Krygier after he was literally bouncing up, down and all around the BBC Radio 3 Stage. On the final day I found myself talking blues tunes with the renowned Booker T Jones and his crew from Memphis Tennessee, while Booker's manager was filling out the PRS set list form. That said, it would seem that the general theme amongst the vast majority of the artists was humility and approachability. The anti-prima donna attitudes of all these amazingly talented artists only helped me to appreciate their brilliant performances even more.

Another element that one has to deal with when working at a festival is the staff. i.e. gate men/women, stage managers, artist liaisons, etc. Having worked at different festivals in the past few years, I can say from experience that festival staff could seriously influence the set-list collecting experience. At worst, the WOMAD crew were amazingly sociable, unbelievably accommodating and just a downright lovely bunch, even when they were running around like headless chickens trying to avert major disasters, like the first act of the second day, Jazz Jamaica, rocking up 5 minutes before they were due to perform. The WOMAD crew treated us like family which helped to make the experience that much less demanding...

...and demanding it definitely was. Although there were lots of times when what we were doing didn't feel like work, as we were distracted by amazing performances or interesting conversation, trying to collect set lists was a pretty tough job. The six plus stages, spread across the festival site meant that us four PRS representatives were constantly running back and forth from one stage to the next to try to collect set lists for over 10 hours a day! Added to that, trying to find the most opportune time to catch the artists became a nerve wracking experience at times. And when you did manage to catch them, there's a chance that the language barrier made it more challenging to explain what you were asking for. But none of that was enough to put us all off from swearing that we would do it all again next year.

Dewayne Ector