Tony Lawrence reports back on the Chelmsford shindig with a line-up that never fails to impress.




After about an hour and three quarters of navigating through some god awful traffic, we emerged in to the leafiness of Chelmsford and our venue for the next two days, Hylands Park.

The first thing I noticed as I walked into the ground was the overall corporate feel of the event, especially behind the scenes in the hospitality area were brands like M.A.C, Sony (thanks for the free headphones!), Firetrap and Mahiki dished out freebies to the celebs in attendance, lucky them!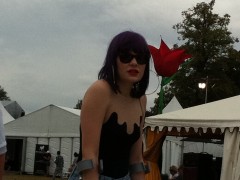 Anyway, onto some music.

This year some very good acts were on show, most notably for me Primal Scream, Pendulum, Eminem, Squeeze and Chase and Status.

Because of the fact that a lot of these acts are on at the same time, you are forced to decide who you would like to see most, which can create a bit of a dilemma.  That said, the general vibe was a happily energetic one with massive crowds congregating at all of the bigger stages and because of the number of top draw acts, it meant you would always have something to see.

Right, so who did the business then? Well, Pendulum were their usual highly energetic selves and performed flawlessly.

I also managed to catch Bruno Mars who while not being an act I would normally pay much attention to, caught my attention with a charismatic performance and had the crowd eating from his palm like a hungry thoroughbred.

Standout performance for me though over the weekend was Eminem. The sheer energy and delivery was just what the doctor ordered and the crowd lapped it up.

He flew through all his well-known hits in frenetic fashion, dragging the crowd along as if they were caught on the tail of a runaway speed boat.
Also, as most of us had assumed, he dueted with Rihanna (who had performed just before him) on his hit Love The Way You Lie which the expectant audience enjoyed no end.

Rihanna, who is very sexy and whose hits are obviously very well known and loved, didn't really do it for me performance wise but the gathered masses sung along all the same.

Other acts that were worth the admission fee though were Dizzee Rascal, Plan B, Big Audio Dynamite and Tinie Tempah.
The Strongbow tent (where I was stationed) was constantly busy and had the most helpful artist liaison and production people ever (big shout to Jes, Julia and Anneka)! The atmosphere was fantastic and some brilliant DJs and acts including DJ Fresh,The Petebox, Friends Electric, Barry Ashworth (Dub Pistols), Mistajam and Camo and Krooked kept the vibes going.

Food wise I personally thought the grub I tried was a bit disapointing, also £17 for a Dominos Pizza?!! I know you pay a bit more at festivals for tucker, but please!  That said, the addition of a food stall within the camping area was a masterstroke, as we didn't have to go far to get breakfast or dinner and the food here was fairly decent.

One bug bear was that on each night everything finished at 11pm, so for those wishing to party hard after the bands were all done there wasn't really an option.

Overall I must say that V 2011 was a very enjoyable and well organised festival and was thoroughly worth attending, especially as they can afford to get huge world renowned artists, and then add amongst them some truly amazing musicians!

Roll on next year!