M asked not one, but two Secret Garden party goers to give their take on the popular festival. In part one, PRS for Music set list collector Claire Humphreys shares her experiences of a festival famed for its spontaneity, quirkiness and random encounters…to a musical soundtrack

From the second you arrive in the garden, there is magic and madness at every turn. The site contains not only stages and stalls but art installations – such as the caged clocks on the shore of the lake and a sign reminding everyone to 'be excellent to each other'– and wandering performers doing impromptu music, theatre and mime.

Even if you didn't see any performances you could happily amuse yourself discovering the site, swimming in the lake (weather permitting)!, watching the amazing fancy dress going past or, if you like that sort of thing, getting back to nature in the naked sauna area... But obviously for us the weekend was all about the music... Most stages at Secret Garden Party operate in a more or less continuous state of flux. It's not unusual for new stages to be added at the last minute or overnight, the line up and timings bear very little relation to the published programme and artists frequently swap amongst themselves and around the stages. All we could do was fling ourselves into the madness and do our best!

Musically this festival really does have something for everyone – the Great Stage alone boasted a wide variety of acts, from Leftfield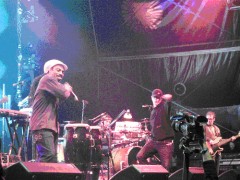 and Mylo right round to Martha Reeves and the Vandellas and Blondie.  For the ravers in the crowd, the Remix Bubble pounded out beat-heavy sets from the likes of Audio Bullys, Flux Pavilion and Dub Pistols from the early afternoon until after it got light outside. This tent was crammed full for most of the night as frenzied crowds were whipped up through the builds and raved on platforms and in and outside the tent through epic drops. At night the Collo-Silly-Um, a giant hay bale and wood enclosure, also pumped out heavy bass, fire and acrobatics whilst festival goers raved on and around its many levels.

You could even rave by the lake to DJs on the Pagoda stage or catch a boat over to an amazing sculpted Dragonfly in the centre of the lake where music played until Saturday night when the stage became the base of an awesome fireworks display.

For the more discerning punter there was Where The Wild Things Are – a stage with dirty beats played from a treehouse to an audience seated in a cocktail bar. Or, if blues and soul or folk were more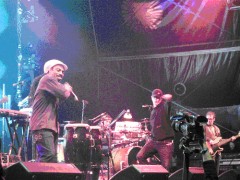 your scene, there was the epic Crossroads stage, the Folk Lodge or the Village Hall which, in addition to swing classes, great bands and tea, boasted naked knitting , crazy golf and oversized Hungry Hungry Hippos...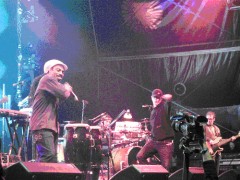 Far over the other side of the site I was hard at work in the Chai Wallahs tent discovering some new favourites –
Submotion Orchestra
,
The Drop, Joe Driscoll
and the
Boxettes
for example – and answering hundreds of
PRS for Music
related questions. Chai Wallahs has to have been my favourite stage of the festival and not just because of their comfy backstage sofas... This stage showcases the best in up-and-coming bands and really knows how to throw a party. I'd recommend checking them out at any of the numerous festivals they're doing.
Hidden up in the woods was the Artful Badger stage where you could play a piano, sit in a treehouse, climb in giant nets strung around the trees or just get in the tent and enjoy intimate sets with artists who had played other stages. During the day here there were games, theatrical performances and competitions.
And that was just the larger stages... The Small World stage was solar powered and boasted intimate gigs from a variety of artists, many of whom have toured with the stage around festivals like Beach Break and Bimble Bandada and will be heading on to Green Man. This stage was like a family and they welcomed me to the fold with countless cups of tea and hot chocolate. Valley of the Antics provided a crazy mix of acrobatics and multiple genre performances and a late night bonfire to warm you up... This festival gave you everything you could ask for and had you chasing beats even after everything had wound down on Sunday night.
I could carry on describing all the crazy things that I saw but I am sure to run out of space and time... Suffice to say that I'll be returning to the garden as soon as possible to lose myself in the mayhem and dance the night away with happy people.
Pics - Emma Slater
Read part two - Katie Shellard's diary