M asked not one, but two Secret Garden party goers to give their take on the popular festival. Katie Shellard shares her experiences of a festival famed for its spontaneity, quirkiness and random encounters...to a musical soundtrack

On 21-24 July 2011 deep in the heart of Cambridgeshire, amid rolling Tellytubby-esque hills and a lake inhabited by a mighty dragonfly, something very magical happened. Dressed as cavemen, astronauts, tins of soup, jellyfish or whatever fantastical creations their imaginations dreamt up, 17,000 people gathered on an estate near Huntingdon for the 8th annual Secret Garden Party.

This was to be my second SGP and one of the many things I love about it is, unlike other festivals, the weekend isn't dictated by a military-style schedule of must-see bands and artists, speed-marching between stages only to get held up in a crowd and inevitably miss them.  That's not to say the line up wasn't impressive, with fifteen stages hosting nearly every musical genre you can swing your pants to, and legends like Blondie, Leftfield and Martha Reeves gracing the Great Stage. But the "Head Gardeners" at SGP actually encourage you to ditch the timetable, turn off your mobile and fully immerse yourself in spontaneity because otherwise you miss the quirky detail and random encounters that make SGP so special.  In fact there's so much to see and explore, that it would probably take two weeks (and more than 500 words) to uncover every nook and cranny.

A grand lake divides the north and south fields, a musical arena in itself with DJs and "gardeners" (the official name for SGP revellers) raving aboard a giant Meganeura before it exploded into a mesmerising fire work display on Saturday night. The north field is musically more chilled, but poke your head into one of the many tents and you could meet famous explorers, watch drunken Shakespeare, go on a shamanic journey or discover a flirt factory. We received a tip on Friday afternoon to be in the Living Room for an artist called 'Angel' which turned out to be SGP regular Ed Sheeran, who played a faultless set to an enthralled audience. (Angel, incidentally, was the name of a homeless girl he met at a gig he played for Crisis, and was the inspiration for his hit song 'Class A Team'.) Afternoon entertainment highlights included a dance-off at the town hall and the Micra-rave; a bicycle with sound system, accompanied by a troupe of ravers dressed like 1980s arcade game characters, playing "Escape on a jet ski" and "Chum in a blender". No, I didn't understand either but it was very amusing to watch!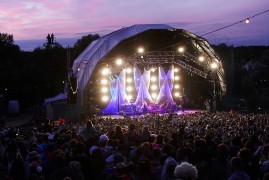 Saturday bought the lovely discovery of Sheffield band Slow Club who played the Where the Wild Things Are stage. From there to the Great Stage for Mylo, where we caught the end of the The Loose Cannons. I wish I could remember them for their music as unfortunately I only know them as the band who announced the sad news about Amy Winehouse. Being in the SGP bubble where the boundaries of fact and fiction are blurred, it took another three hours before someone could confirm whether it was true. Mylo's set was disappointing, possibly due to the poor sound or that he played none of the classics we were hoping for, so in desperate need of a dance floor we hit the Remix Bubble where a sweaty crowd bounced to Alex Metric.
Neighbouring stages Team Love and Remix pumped out house, techno, drum and bass, and the dirtiest dubstep to ever rattle my bones. At 3am we finally succumbed to the Artful Badger, an intriguing wooded area guarded by billboard-size drawings of menacing badgers. Inside gardeners lounged in huge nests constructed of rope knitted through trees and, weaving around those who obviously hadn't left the Badger since Thursday, we squeezed in a dance to The Egg before retreating to the tent.
While many festivals wind down on the last day, the energy of SGP peaks. Though I preferred to soak up the sun on a haystack and watch The Bees and I am Kloot, the grand theatrical finale saw mass crowd surfing and the famous paint fight. To put Secret Garden Party into words simply doesn't do it justice. It's something that needs to be experienced. The diversity of performers is unparalleled, leaving you with a list of new favourite artists and renewed love for your old ones. Where else could you mud wrestle, race space hoppers, go swimming, have your fortune told with the mint leaves in your mojito or be chased by two grown men dressed as foxes then realising it's because you're wearing bunny ears?
See you next year Secret Garden Party…
Katie Shellard
Read part one - PRS for Music's set list collector Claire Humphreys' diary