M had a chat and shared a few doughnuts on a sunny afternoon with acclaimed band The Reason 4.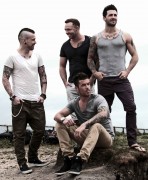 The Reason 4 co-wrote their debut album with Eliot Kennedy, who co-wrote many of the Spice Girls' hits.
In this exclusive interview, the band tell M how the album came about, how they write songs, their influences and how they use social networking to their advantage.