Anita Awbi gets to the heart of the matter with The Libertines to learn how they kissed, made up and staged 2015's biggest comeback…
This year, the impossible happened. After a decade of fractured friendships and tabloid turmoil, The Libertines delivered another record. Another great record. Just as if the last 10 years never happened.
During the early 2000s, likely lads Pete Doherty, Carl Barat,
Gary Powell
and John Hassall were the raucous highwaymen of UK indie, ambushing the scene at opportune moments with their explosive sounds and creative credibility. But when they jettisoned onto the Pyramid Stage at Glastonbury this summer for a surprise show, they didn't just steal the weekend, they stole 2015.
It's a new twist in a start-stop career that's seen them fall out more times than most bands have had hot dinners. Perhaps it's unsurprising then that they've approached their latest riposte with as much zeal as their simmering spats.
Straight after Glastonbury they ripped through Camden's toilet circuit and trounced naysayers with two inflammatory headline sets at Reading and Leeds festivals. Their aptly titled third album,
Anthems for a Doomed Youth
, followed in September, hitting a very respectable chart peak of number three.
But it's not over yet. Pete, Carl and the gang are heading out on an arena tour of the UK and Europe in January, which will see them perform to the largest crowds of their career. So, with 2015 suitably shook up, how does it feel to be back?
'I'm learning to enjoy it this time because, from our past experiences, I know how fragile this whole thing can be,' says Libs co-writer and guitarist Carl. 'I'm loving every minute of being at large and fully functioning again. I think it's the only way.'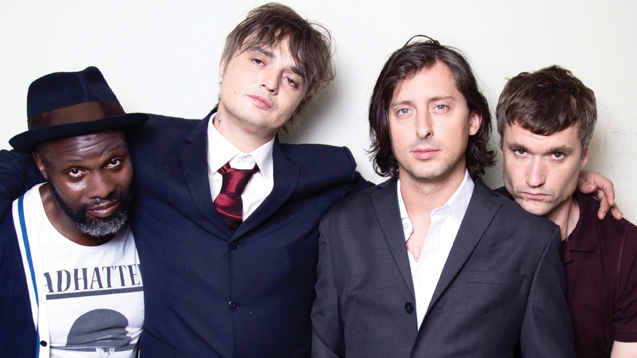 Creative badlands
Together with Pete, Carl is the creative powerhouse behind the operation. The pair ignite John and Gary's riffs and rhythms with the cathartic lyrics of self-deprecating working class heroes. 'We have the same chemistry, which enables us to write in the way we do,' Carl explains. 'Despite everything, that's been consistent throughout. And the music that's come out of it is always representative of where we're at.'

Wherever they've ventured, the Libs' loyal fans – and the press – have eagerly trailed. We watched with half-covered eyes the car crash antics of charmed prankster Pete. We read about the toxic mix of drugs, burglaries and brawls that led to the band's disintegration. And we lamented after, having defined a generation with their first two albums Up the Bracket (2002) and The Libertines (2004), the four-piece imploded. It felt like we followed them to the end of the line without a return ticket…

'I obviously regret all the hospitalisations and prisons,' Carl says, 'but I also regret losing sight of friendship and love too… We've grown up a bit now and become more tolerant and understanding. We realised what it was we were throwing away.'

For The Libertines, it must've been a knotty reawakening. From their humble beginnings in late-nineties London, they tapped into the jaded romance of a city gone bad – and got embroiled along the way.

This tension between romanticism and realism lay at the heart of Pete and Carl's volatile creative partnership - but they've come a long way since then. These days, Carl has a family and Pete is committed to rehab in Thailand. So how has their unique dynamic shifted under these new circumstances?

'I believe there always has to be some level of tension and love – love enough to want to prove yourself,' Carl explains. 'And, dare I say, a smidgen of competitivity, if I'm brutally honest. It stops you getting complacent. A little bit of salt takes out the acidity, or vice versa in this case.'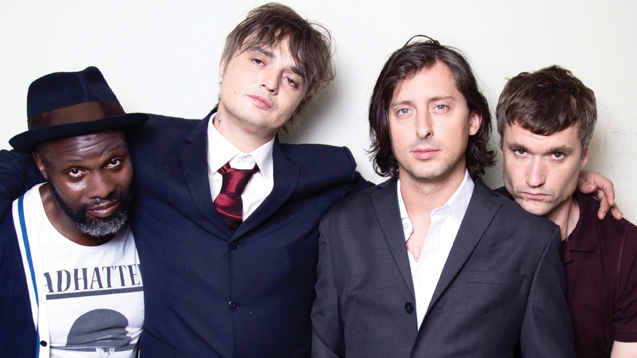 Pressure points
Pete announced the beginnings of the third record at one of their Alexandra Palace shows in London last autumn. Since then, speculation mounted as to whether they'd be able to write together, or whether the band would just disintegrate (again). So when Carl and Pete convened in Thailand in November 2014 to tentatively put pen to paper, the pressure must have been enormous…

'Not really,' says Carl. 'I think those kinds of pressures are self-sabotaging. Of course there's something to prove – otherwise there's no point in making any music is there? But in terms of external pressures, I didn't really think about it.

'The thing about The Libertines is that it's so much more chaotic, and so much living is done inside the band and inside the music, that external pressures seem irrelevant compared to what's going on already.'

So does it feel as though everything is still hanging by a thread? 'Yes it most certainly does,' says Carl, 'which is why I'm enjoying every second while it lasts. You never really know how many are left.'

The impossible dream
It's true the story of The Libertines is littered with tragic footnotes and untapped potential. But it's also a tale of triumph over adversity. As Pete sings on their latest, Q Award-winning single Heart of the Matter: 'with all the battering it's taken, I'm surprised it's still ticking'. But ticking it is, both for him and his band - a creative time bomb that's not lost any of its power.

Their latest long player is a ramshackle storm, only mildly tamed by producer Jake Gosling (Ed Sheeran, One Direction). It's overflowing with Pete and Carl's trademark doomed optimism and Arcadian directness – everything you'd hope for from a new Libs record. But it also reveals the load-bearing backbone of the band.

Recorded in just five weeks at Karma Sound Studios in Bang Saray, Thailand, it contains 10 new songs and just one old track – You're My Waterloo. Following a couple of writing sessions with Carl last year while Pete was undergoing rehab in the country, the whole band decamped there to record.

Drummer Gary says: 'Initially, the dynamic over the first five to 10 minutes was awkward… veering toward a little bit scary. But luckily enough, friendship was our saving grace. It helped us figure out how to work with each other again.' What followed was a 'catharic' experience, he explains.

With access to two separate working spaces, Carl and Pete would hammer out lyrics while Gary and John would hone the music, the latter two becoming more involved than ever in The Libertines' subtly evolving sound.

For bassist John, the album was about dogged determination more than anything else. 'You've got to really believe in it and believe you can make it happen. Once you can do that, it's half the battle.

'Another album always seemed like the impossible dream… It's been a long development process – you need to learn to trust it and have a bit more confidence in it, then you gradually develop something you can work on.'


Lady luck
Before long, the band were back on usual hedonistic form, partying in nearby Pattaya, rejecting their 'plan B to record a load of old songs' and embracing lady luck, chuckles Carl. 'Fortune smiled on us,' he remembers.
But it wasn't all business as usual inside the studio. Jake had them recording guitars on the beach, sampling motorbike engines and messing about with synths. Gone were the days of simply capturing the live experience on record: The Libertines had become studio-ready auteurs, sharpened by a decade's worth of side projects.
'I think Jake was the undeniable turning point in helping define the sound for this album,' Gary explains. 'In the past we were shaped by [producer and ex-Clash guitarist/songwriter] Mick Jones, in that he wanted to capture the essence of the band performing live, so we played everything live.'
But for
Anthems for a Doomed Youth
, Jake introduced them to the 'dreaded click track', something John had never worked with on a Libertines album before. 'I was actually quite shocked when Jake suggested we use one because we'd only had a click track on a couple of tunes before,' he explains. 'You can get purist about them but actually, they're quite good at stopping everything running away with itself.'
From the outset, the LP sounds just like a Libs' record should. It's only on repeat listens that everything starts to unfold. 'I was looking for something else, something that would take our craft in another direction,' says Gary.
'We couldn't work with the likes of John Leckie because he did the Arctic Monkeys, and I don't want to sound like them. They got their sound from us! I don't want to go backwards and work with somebody who created a sound based on what we were doing 10 years ago.'
Instead, The Libertines' latest album boasts much more space than its two breathless predecessors. Its roominess allows the rhythm section to resonate generously, while Carl and Pete's poetic vignettes perch on top. It's certainly good enough to put paid to any cynics and has cemented their comeback as much more than a few cash-grabbing reunion gigs.
'The future's bright,' says Gary, 'and the intention for this record was to prove to people that, not only have we come back and created an album, but it's forward-thinking too.'
So what does Carl make of it all? Will there be a fourth album? 'I hope so. I don't feel like we've got to a finish, it's never really drawn to a close. Being in this band just seems natural really, like wanting to get up in the morning.'
This feature appears in the latest edition of M magazine - M58.