Continuing M's "Festival Diaries" series, Tom Pearmain talks about his experiences of Latitude Festival, an eclectic mixture of music, poetry, literature and comedy.






A team of four headed to Latitude on behalf of PRS for Music to collect set lists, hopefully not get too wet and maybe catch a band or two. None of us had experienced Latitude before, whether for work or as a punter, but from what I had heard we were in for an eclectic mix of entertainment in happy and relaxed surroundings.

You can believe the rumours - they are all true!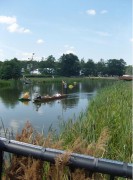 The first thing that struck me was the size of the place. Small enough to get round in half an hour or so and bump into a friendly face or two but big enough to lose yourself in all the things to see and do.
You can cruise around the Film & Music stage, Comedy Arena, Cabaret stage and the Poetry and Literary stages cross a bridge in to the woods where you'll be lucky enough to find theatre on the waterfront, a Magners pub,
works
of art, video installations and even a random piano just down from the Sunrise Arena.
I stumbled across the piano on the Sunday where a kid of 4, maybe 5 years old was smashing the keys with great delight and somewhat tunefully while his mum filmed it in fits of giggles! Two minutes later I'm by the Lake Stage where a couple of hundred people are grinding to Ghostpoet tunes.
There was great variety in the music on offer as well from relatively new acts like Braids and Tripwires to classic singers such as Wanda Jackson or Adam Ant. I didn't have too much time to see many bands because I was working so hard of course, but from what I did catch my highlights included Bright Eyes (featuring a guest appearance from Jenny & Johnny), The National who headlined the Obelisk stage on Friday night, Eels, Steel City Soul Club, Steve Mason, Foals and Foster The People.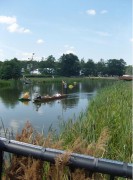 As is tradition at a festival, you always see plenty of strange goings on and Latitude didn't let me down. The Cabaret Arena on Saturday night featured two DJs in drag while on the stage a chap dressed in an imaginative red outfit peeled potatoes! Paloma Faith, during her vow of silence in order to save her voice for her performance, had no less than three costume changes before she even went on stage and none of them had anything to do with what she actually performed in... And no matter where I seemed to be on the Saturday Kermit the Frog was being hoisted around on the end of a big stick, and not to mention the most bubbles I've ever seen in a four day outing!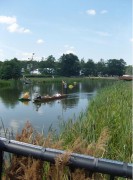 Adding to the relaxed atmosphere of the festival are the huge number of families and just about every dad was given an opportunity to rock out or sway like the old days thanks to classic bands like The Waterboys, OS Mutantes, OMD, I Am Kloot and Echo and the Bunnymen. Although one fella I saw danced less like a dad more like he was in his mid forties who still lived with his mum! He was lost in the moment which I respect but it did make me laugh.

There was a point on the Sunday where the festival felt as though it became a beard appreciation society. Every other band seemed to have at least one member sporting an impressive facial forest what with Iron & Wine floating about there was also a chap from Oh Land, Foals and The Bees didn't let the Brits down, C.W. Stoneking (the TM at least), Thea Gilmore but the absolute king of the beards goes to Eels with every band member featuring about a foot of facial hair.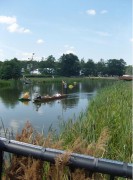 Naturally I'm only joking about Thea Gilmore having a beard, but she does deserve a special mention because when she took to the Sunrise stage after crossing the river by boat she was 38 weeks pregnant and my sources say that she performed a wonderful set. See the pic below for proof.
Latitude absolutely fulfilled its promise.  It was fun, varied, a little crazy, at times exhilarating, wet (it's a British Summer after all) and we got a mass of set lists collected for our members to benefit from.
I'm going to finish on a beautiful message from Radio 1 DJ Huw Stephens who performed on the Lake Stage Saturday night. By his own admission he had been enjoying the delights of festival life and politely declined to fill out our set list form but with two taps of his heart with his fist he exclaimed "PRS forever!"
We got his set list the next day.
Thank you Latitude!
Read more from
M
's festival series:
The Glastonbury Diaries
The Sonisphere Diaries