Amit Sharma gives the lowdown on the second day of High Voltage festival...Missed part one? Read it here

It's the second day of High Voltage Festival and Brighton newcomers
Furyon
are opening the Metal Hammer Stage with their unique blend of southern rock and hair metal. It may be quite early but that didn't not stop the massive crowd gathering to witness the masterful vocals from Matt Mitchell and guitar wizardry of Chris Green. Watch this space, these guys will go far.
Next up are
PRS for Music
members
Saint Jude
, who look more than comfortable rocking the Main Stage and deliver what could be the performance of their career so far. Vocalist Lynne Jackaman is an instant hit with the crowd and effortlessly melts every single person watching with her wonderfully enchanting voice. Drawing influences from the 60s / 70s sounds of The Rolling Stones, Aretha Franklin, Lynyrd Skynyrd and early Tina Turner – Saint Jude seem set on putting the UK back on the R&B map. By the end of the set, the London based sextet prove they more than deserve to be here again next year, and even higher up the bill.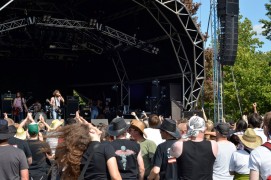 Over on the Metal Hammer Stage, Gentlemans Pistols are sporting burly beards and vintage vests, looking like they've just stepped out of a time machine. They sound like they have too, offering fuzzy slabs of garage rock to the hundreds amassed in front of them. We then head back over the Main Stage to catch Thunder, who have reunited for a one-off performance at this year's event. It's the kind of cheesy music you'd expect your Dad to put on at a family barbeque, but these 90's hits are still as resonant as ever.

By the time Black Spiders walk on to the Metal Hammer Stage, the audience are more than warmed up. Over the past few years, this band has been touring relentlessly and building up a solid following the old school way. In 2011, they are now one of the Britain's most exciting breaking acts and the crowd prove they are more than capable of singing along to anthems such as Kiss Tried To Kill Me and St. Peter.

If you ever find yourself with the opportunity to watch Jethro Tull live in concert – do it. The British rock legends are headlining the Prog Stage and stun the massive crowd gathered to hear their intricate mix of folk, electronica and blues. Frontman Ian Anderson runs around singing and playing the flute, becoming one of the most entertaining musicians to be seen all weekend. The perfect end to an all-round great lineup on this stage, curated by Classic Rock Presents Prog editor Jerry Ewing. A man who clearly knows his stuff.

Back on the Main Stage we witness one of the world's most exciting supergroups – Black Country Communion – storm on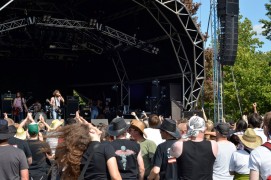 with their signature cross of blues and classic rock. Guitar god Joe Bonamassa lays down riff after riff under the powerfully emotive voice of Glenn Hughes, as Jason Bonham (son of Led Zeppelin legend John Bonham) provides the most solid of grooves underneath. Showcasing tracks off new album "2", it becomes crystal clear that the sheer talent and experience within Black Country Communion could eventually make them one of the biggest bands in the world.

Headlining this year's festival are progressive metal titans Dream Theater, and they certainly have their work cut out for them. Not only are they following a barnstorming performance by Black Country Communion, but tonight is also their first UK date with new drummer Mike Mangini. Whilst the crowd isn't quite as big as it was earlier, you can tell those that stuck around are the die-hard fans that hum every riff and sing along to every word. Despite the arduous task of replacing founding member Mike Portnoy, the new member seems unphased and plays some of the most technical pieces of music with total ease.

As this year's event draws to a close, the feeling is unanimous – High Voltage is definitely a highlight on the UK festival calendar: offering a diverse selection of great music within the realms of rock, prog and metal at an affordable price. See you there next year.