The second High Voltage music festival was held in Victoria Park last weekend featuring various strands of rock music - classic rock, progressive rock, and heavy metal.  Amit Sharma reports back

Despite the initial wet weather forecast, things look set for a dry weekend in London, with even a spot of sunshine.  Kicking things off on the Prog Stage are the Von Hertzen Brothers who manage to stun the building crowds with their blend of progressive and classic rock – sounding somewhere within the realms of Pink Floyd and Deep Purple. Off to a good start then.

By the time we reach the Main Stage, Rival Sons are providing the perfect blues rock soundtrack for the first beers of the day. Very few bands manage to capture the vintage sounds of the seventies with such authenticity, and whilst the influence of bands like Led Zeppelin and The Faces is clear – it's great to hear a band that sound relevant and fresh in today's music scene.

Next up back on the Prog Stage are PRS for Music members Anathema, who could easily end up being as big as Radiohead if they continue to perform like this. The songs off last year's We're Here Because We're Here record sound even more powerful live and their marriage of haunting melodies with uplifting progressive rock manages to mesmerise every single person gathered here. The Liverpudlian quintet end with Universal – and it becomes quite clear that this performance will certainly steal the show today, at least for the Prog Stage.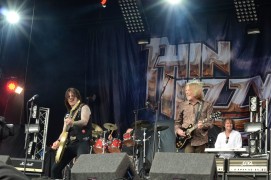 Back on the Main Stage, legends Thin Lizzy are in full swing churning out all the classics with thousands flocked to sing along to some of the greatest rock songs of all time. Obviously there is one key member in particular missing (Phil Lynott) but the songs are performed with absolute conviction and serve as a testament to his legacy. Guitarist Scott Gorham is joined by an all star cast that includes ex-members of Whitesnake and Guns N' Roses, and the crowd go wild to the sounds of Jailbreak, Dancing In The Moonlight and of course, The Boys Are Back In Town.

Over on the Metal Hammer stage, recently joined PRS for Music members Sylosis sound absolutely colossal with their progressive take on thrash metal. It's amazing to see such precision and technicality coming from young British musicians, and given how well their latest release "Edge Of The Earth" is doing in the UK charts, this crowd is packed to the rafters. To make matters even more interesting, the performance is being recorded by Concert Live who offer fans the opportunity to buy a CD straight after the performance.

It's getting later in the day, and a figure emerges from the back of the Main Stage holding a Gibson Les Paul and wearing a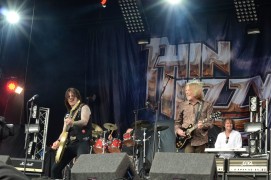 top hat. It can only be
Slash
– arguably the world's most iconic guitarist – who rose to fame in the nineties with Guns N' Roses and is now touring the world with his solo band, featuring Myles Kennedy of Alter Bridge fame on lead vocals. We are treated to a career spanning greatest hits set, from his earlier days to Slash's Snakepit and his more recent work with Velvet Revolver. Songs like
Sweet Child O'
Mine
and
Paradise City
have stood the tests of time and are sung back word for word. After playing a blistering set on his 46
th
birthday, the rock n roll legend is later presented with a birthday cake backstage.
Tonight's Main Stage headliners are
Judas Priest
– one of the most successful metal bands of all time, and actually inspired the New Wave Of British Heavy Metal movement in the seventies. This evening we see the first ever show with new guitarist Richie Faulkner in his home turf and the pressure is on. Any doubts over original guitarist K.K. Downing's replacement are answered instantly by Richie's powerful stage presence and jaw dropping lead guitar skills. It is obvious having such fresh talent in the band has inspired them to get over a difficult chapter in their history and move forwards with a new found sense of hunger and ferocity. Frontman Rob Halford is up to his usual tricks, riding his Harley Davidson motorbike on stage whilst thrilling the massive crowd with his high pitched, operatic vocals. The Priest bring the massive stage show we all expected: with pyro, lasers and everything else to make for a gripping headline performance. But more importantly, classic songs such as
Breaking The Law
and
You've Got Another Thing
Coming
unite the entire crowd to celebrate the return of our beloved Metal Gods.
And that was just Saturday! 
See what Sunday had to offer - read part two