Tom Pearmain had never been to the Big Chill before, despite it being around for the last 17 years, so he was grateful to finally get his chance as part of the PRS for Music set collecting team. So on 4 August he set off from a very wet London joined by a band of merry folk - Naomi, Rob and Tayo. Destination – Eastnor Castle Deer Park.

Big Chill has had a few changes in recent years. The organisers have changed hands and with Festival Republic pulling the strings for a second year on the trot, they endeavour to continue "to reflect the rich history and feel of the festival whilst taking it confidently into the future."

Critics and fans alike have said that the new owners have lost the essence of what Big Chill was about, however with the original owners having to pull out for financial reasons, is it not better that the Big Chill is able to continue? Eh? Think about it.

Festival Republic also organise Latitude Festival, and upon arrival at the Malvern Hills site you can why the Big Chill would have caught Festival Director Melvin Benn's eye. The setting is as beautiful and serene as Latitude and we pitched our tents on top of "the hill" where we were treated to a fantastic view each morning.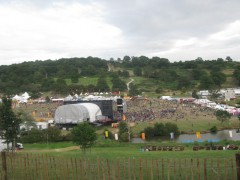 Not too mention delicious toasties from the nearby toastie tent! I can't remember the actual name of the place so I've christened it "the toastie tent." It's a winner.

At the major festivals nowadays you expect at least two, three maybe even four dedicated music stages and then a plethora of tents or arenas that may delivery other activities such as arts, crafts, movies or poetry. At Big Chill, they do away with about 90% of other activities and instead offer up to ten stages, I reckon it was even more than that, of pure music and they don't waste time in getting started!

At 5pm on the Thursday the Global Local arena came to life and it wasn't long until the Bacardi Bar, Drambuie tent, Mr Scruff's tea tent & the Big Chill Radio stage filled the air with a multitude of diverse sounds.

I'm sure for many it was James Blake's guest appearance on the Deer Park Stage Thursday night that helped kick start their festival but for me it was a wonderfully enthusiastic Italian band called The Sweet Life Society. The energy they displayed on stage was infectious and although only a small audience could fill the Global Local tent The Sweet Life Society had them jumping and grooving Italian style.

On the Friday a certain Aloe Blacc song seemed to dominate the speakers with at least three or four DJs giving us their take on I Need A Dollar all of which helped to build the tension before his appearance on the Revellers stage. At times the Big Chill felt a bit empty with some areas never short on space. I don't recall ever seeing a single queue, not even for the ladies! Rumours suggested this was down to poor ticket sales while some said it was all planned, but by the time Aloe Blacc took to the stage there was barely space to breathe in the Revellers arena.

Aloe is no fool; he knew what the audience wanted and he teased them with a few bars of that "Dollar" song before swaying effortlessly into an equally funky track. For the remainder of his set he worked the crowd expertly, he was soothing, grooving, swooning, enrapturing and tantalising the audience toward the song of the day. When he finally played I Need a Dollar the crowd released their happiness and at that moment the revellers stage felt like the best place to be in the world! Well Herefordshire at least. Rob and Tayo had similar feelings:

Rob – "Aloe Blacc in fine style and proving just what it takes to move the crowd and yes sing the songs that make a hit."

Tayo – "outstanding, real class and kept the crowd on their toes"

And for those of you who forgot to look up while in the revellers tent here's a picture of the ceiling: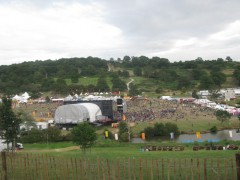 Other Friday highlights included Horace 'Sleepy' Andy to which Rob felt he "melted down the revellers' field like only he can with that unique sublime vocal." Empire of the Sun dazzled the audience with a fantastic number of costume changes, dancers and glam rock 80's style show. At various points it was like Billy Idol had become Flash Gordon!

And then finishing the main stage was the ever faithful and reliable Chemical Brothers. I didn't catch the whole set but if the last 25 minutes were anything to go by then every minute must have been as electric as the next. If only they had played Galvanize in its full glory they may have bettered their 2005 V Festival performance.

On the Saturday Big Chill was graced with Hollywood stars, Idris Elba and Lucy Liu as part of The Bullitts, and a whole load of funk!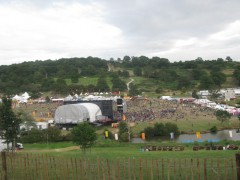 Leading from the front was Craig Charles (yep that bloke from the telly) on the Starburst stage playing classic funk & soul tunes as well as a few rare gems and he was backed up superbly by the Jalapeno Sound System and Kraak & Smack.

Janelle Monae claimed to have the power to make it rain which it did during her set but that didn't affect her fantastic voice or performance.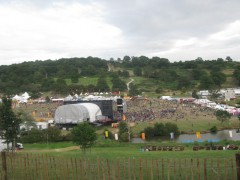 And despite the issue with the timetable Katy B impressed by getting the crowd going and into a bit of a frenzy over on the People's Ear Stage. Arguably however the performance of the day went to Dionne Bromfield and Tayo was lucky enough to see her – "Little girl with a big voice and very professional considering the death of her late godmum Amy Winehouse, she filled the whole tent and peeps were moved to tears."

Unfortunately on the Sunday I was in a bad mood but that's another story! There was still plenty of musical goodness about with one of Naomi's picks, She Keeps Bees performing on the Global Local stage. The band is from Brooklyn and worth catching for the lead singer's voice alone.

Rob was loving this lot: "Vid Warren beatboxing, flute boxing and what shall we say even juggle boxing! Alexia Coley BBC 6 talent winner and no wonder why as she filled the revellers with a wonderful blues soul vocal and a sure fire talent to be. DJ Derek as could be expected spinning records representing the reggae sound from back then and now. Femi Kuti & The Positive Force afro beat and time to dance as the legacy continues to live strong. Sharon Jones & The Dap-Kings gospel, soul, and funk with such amazing feeling and iconic sound that it's truly heartfelt for SJ. Jamie XX a late night fitting tribute set to the late Gil Scott Heron."

Tayo echoes Rob's views on Sharon Jones, saying "EPIC real old school soul gave a real show complete with historical roots of soul music and left the crowd almost screaming for more!" I wonder if the advice Sharon gave to one lucky punter really worked, I'm sure he's never had a dancing experience like it before.

The main stage closed with Rodrigo y Gabriela, two unbelievably talented musicians and it is difficult to take your eyes off them while they are playing, but I'm not convinced their sound was able to fill such a large stage. I think a closed arena would have made for a better atmosphere.

So there you have it, Big Chill 2011 from the perspective of four intrepid set list collectors.

Oh wait hang on... Kanye West was there wasn't he! Well judging by his performance he likes to read a lot of his own press therefore the less said about him the better I think. Instead I'll finish on something strange: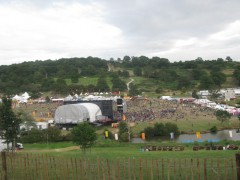 There's always something odd going on at a festival.

See you next year!