In which Chris and Glenn rabbit with Paul Sexton about Deptford friendships, cheese on toast and winning the PRS for Music Outstanding Contribution to British Music Award at The Ivors – June 2008.

December 2007 in Hammersmith, we all rejoined the singles scene.

The occasion was a gig at the Apollo, at the culmination of the first British tour in nine years by Squeeze. Founder members Chris Difford and Glenn Tilbrook, reunited with early bassist John Bentley amid a sturdy new line-up,  were greeted like heroes just back from the front. The singles game was the one that the much-loved Londoners played to such great effect for more than 20 years, first time around; creating and delivering one killer track after another.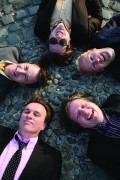 Almost every song in the set that night was a hit on the personal playlists we carried in our heads before iPods did it for us. It featured not just the vivid top tenners: Cool For Cats, Up The Junction and Labelled With Love, but a stellar supporting cast, from Another Nail In My Heart to Is That Love, Take Me I'm Yours to Tempted and Slap & Tickle to Some Fantastic Place.

Every one of those songs was the joint creation of the winners of the PRS for Music Oustanding Contribution to British Music Ivor. Difford & Tilbrook. One of the most distinguished songwriting teams the UK has ever produced thus join a roll of honour that includes the Clash, Kate Bush, Elvis Costello, Chrissie Hynde and the Small Faces, and Glenn was more than pleased.

'I didn't have a single award, so it's really nice to get one at this time, it's lovely,' he says. 'I didn't realise it meant anything at all to me until they said I'd got one. It's probably a self-protective measure, I've never really missed having an award but I know how nice it feels to get one, especially as it's peer recognition.'

Difford has been expanding the audience of admirers for his individual work with a UK tour in support of his new album on the revived Stiff label, the sublimely-titled The Last Temptation Of Chris. Tilbrook, meanwhile, continues work at his home studio on his next solo record, the follow-up to 2004's Transatlantic Ping Pong, with his band the Fluffers, for release later in the year.

The great news is that Chris and Glenn are both now excited about the possibilities of combining those current solo endeavours with new work under the Squeeze banner. There's even the strong possibility of a West End musical featuring their songs. But for now, a moment to look back is not just allowable, it's enjoyable.

'I'm really excited about my new record,' says Tilbrook, 'but I'm also really excited about me and Chris, and John Bentley, us all working together again. It's been great.'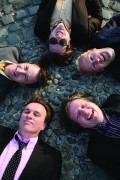 Many will say the Ivors recognition is hugely overdue. But the presentation at the 2008 ceremony on May 22 fell on an appropriate anniversary. It was 30 years, within a few days, of the first time a Difford & Tilbrook song ventured into the top 20, when Take Me I'm Yours took the band from the back streets of Deptford to the centre of a pop universe that had been recently starved of adhesive pop melodies and pithy, English lyric-writing.
Fast-forward to the summer of 2007, as the retooled Squeeze played some shows in America, where the band have always enjoyed a committed following. When they took to that Hammersmith stage a few months later, it was as if we all had a moment of overwhelming collective recall. Not just the audience, but the band too.
'We just wanted to play as many of our hits as we could within that time,' says Difford. 'If we were going to go on a Squeeze tour, it was going to be for mainly musical reasons. It's nice to attack those younger, juvenile songs in a grown-up fashion. Hopefully playing them right for once.'
Tilbrook has a similar view. 'It felt absolutely right and proper,' he says. 'By the time the American tour was over last summer, I think we all knew we wanted to carry on in some form or another. We decided: no new stuff, we're just going to re-learn everything we know and do it properly. It felt really good."



We were good friends before we started making records.



The generator powering the new momentum is the relationship between Chris and Glenn. Both have worked hard to restore a mutual respect sorely tested by the pressures of working together from their teens, almost non-stop, for 25 years.
'We were good friends before we started making records,' says Tilbrook, who met his future collaborator in 1974, when Difford placed an ad in a shop window for a musician to bring his lyrics to life. A young pianist called Julian Holland would join them soon afterwards.
'It was our most intensely productive time,' recalls Glenn. 'That's when our songwriting relationship was born and defined. From the first song, we established that we worked separately. He was doing lyrics, I was doing music.
'I just stopped writing lyrics, and I never felt like I'd been robbed or anything, Chris' lyrics are so amazing, I felt like I was being "expressed" as well and I felt very comfortable and happy to be in that role.'
Tilbrook's superb melodic ear and pitch-perfect vocals have sometimes overshadowed his mellifluous guitar-playing. But when all of those attributes were combined with one of the most expressive wordsmiths of the new wave era, the result was a joyous noise indeed.
Difford is unrivalled in his ability to animate the peculiar minutiae of British life. Has anyone else ever written quite so colourfully about lino, cheese on toast or catflaps? Or indeed about his boyhood memories of the contents of his mother's handbag, as he does on his current album?
'The best thing about making a record is that you can wear your heart on your sleeve and talk about your life,' he says. 'There are a lot of people out there who can see some kind of relevance in the lyrics, and a reflection of their own lives.
'If you go back through the Squeeze albums you'll see the same kind of thing. It was a reflection of where we were. If I go back to the
Cool For Cats
album, some of the juvenile lyrics on there very much sum up the kind of life I was living. If you head forward to the
East Side Stor
y stuff, you've got reflections on an early marriage. Now if you look at my solo albums, they're reflecting where I am now.'
'The earlier stuff we did now sounds sort of contemporary in a way the later stuff doesn't," observes Glenn. 'The more mature we got as a band, we got somehow safer. That's not always a criticism, some of the writing's great — Some Fantastic Place I love — but on some of the earlier stuff we didn't have as clearly defined an idea of what we were, so we could experiment more and feel comfortable with it. I love that spirit that comes across.'
As he explains, the joyless final days that Squeeze spent together up until 1998 meant that he and Difford didn't speak for a few years afterwards. But when they met again to collaborate on a book about the band's songs: 'It enabled me to understand Chris more, and perhaps him me too, and it took us back to a position where we're friends.'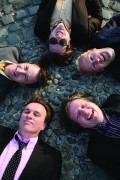 Chris also came to some belated self-realisation. 'For some years, even during Squeeze, Glenn wanted to go off and do his own solo project,' he says, 'and I had this stubborn attitude of "No, you're in a band," which was stupid of me at the time.'
Seeing his pal at a recent solo performance, Glenn observed close up how far Chris has come, and how much more he seems to be enjoying himself. 'He was great on stage, really relaxed and talkative, all the things I've learned to be by myself,' says Tilbrook. 'It was like the guy who disappeared in 1976 is back. He's singing in the melodic voice he's always had, and very rarely used that voice in Squeeze.'



It's really exciting getting to know each other as writers again.



The duo will give proper room to their respective solo projects this year and alternate that with a few more Squeeze shows, and then turn their attention next year to a new album by the band, which Glenn thinks could show itself in perhaps 18 months.
'We've got a good Squeeze line-up now, and I'm really looking forward to working creatively with it. I know that Chris has a great sense of melody and I'd love to use that in Squeeze, he's got a lot to bring to the table. I think it's a really exciting time for us to get to know each other as writers again, because we have a whole different set of skills to use as well as the ones we always had.'
To close with, Tilbrook has a typically dry take on how the media perception of their previous work together changed during their time apart. 'In that time we've become legendary,' he smiles. 'We certainly weren't legendary when we split up, or when we were playing to four people on that horrible tour we did in '98.
'But in the generation that's come up since we were last around, there's a lot of respect for what we did. We're in an entirely different place, through doing nothing. Genius.'