Continuing our look back at iconic Ivor winners we revisit 2009 and Smokey Robinson.



Taking 48 hours out from his recording schedule in May 2009, King of Motown Smokey Robinson flew into London from LA to collect his Ivor. Proving that the age of Miracles is not past, he caught up with Paul Sexton…

The only surprise about Smokey Robinson receiving the Special International Award at the 54th Ivor Novello Awards was that he stood still long enough to receive it.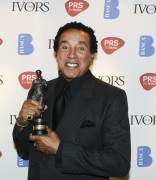 The Motown legend continues to pour so many creative juices into every aspect of his life that it was unusual to see him pause long enough for the transatlantic trip. 'I've been busy with a lot of stuff, it's just been crazy, man,' he says with some understatement.
From writing, to producing, speaking in schools, mentoring and advocacy campaigns, to his weighty presence on
American Idol
, to releasing a brand new studio album. Find someone who can do all that? It's going to take a Miracle, or a former one, anyway.



I live a life I absolutely love and I'm extremely flattered by this Ivor



It must surely be some administrative error, or a nasty timeslip, that the passport of William 'Smokey' Robinson, Jr claims that he's going to be 70 years old next February. He is looking and sounding great on it, and even in a lifetime of awards, that Ivors accolade meant a great deal.
'I'm extremely flattered by this. I live a life I absolutely love, and to be getting awards for something I do all the time, for nothing, it amazes me.
'This is very prestigious, and I never expect to get awards, so it's a very nice surprise. When you're honoured by your peers, it's extra special. Fans are there for you, no matter what you're doing, your true fans are going to stick by you and be there. But your peers are far more critical of what you're doing because they're doing the same thing.'
Smokey is filling the last year of his seventh decade with repeated appearances on American Idol, by presenting the American launch of superstar Australian group Human Nature, and by releasing his own new album, the first to feature new material in a decade. But overriding all that activity is the instinct that has governed his life since he started writing songs with the Five Chimes in pre-Motown 1955: that the song remains sacrosanct.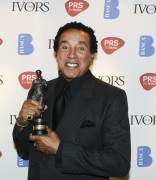 'My inspiration has always been life. Just look around, see what's going on and work from that, because it has more longevity when you do. When I write a song, I try to write a song that would have meant something 50 years ago, and 50 years from now.'

The Five Chimes, formed by Robinson with school friends in Detroit, turned into the Matadors and eventually the Miracles. As music legend reminds us, they would deliver the first R&B No. 1 (for eight weeks, no less) to the fledgling Motown empire in 1960, by which time fellow Miracle Claudette Rogers was Smokey's first wife.

By 1962, not only was the label's sound beginning to make an amazing aural imprint on America, but Smokey's songwriting was coming to the attention of the world. That was the year they recorded one of his earliest classics You've Really Got A Hold On Me another soul chart-topper and US pop tenner that, across the pond, would attract the attention of four trainee moptops.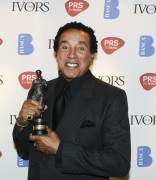 The Beatles' cover, released on their second album late the following year, was an early indication that Smokey's unmatched mixture of unforgettable melodies and smart, literate lyrics had crossed the Atlantic and was here to stay. It's another compliment he never forgot.
'That song was really a big hit in the States before they ever recorded it, so it had already crossed the racial lines and all those barriers that were there. That was two or three years down the line with Motown music, which had already broken those barriers. That's how the Beatles heard the song in the first place, I'm sure.






I loved the Beatles for being the first white act to say they adored black music



'But I loved the Beatles and I loved their declaration, because they were the first white act to come along who were that big in the record market and in the entertainment world, who said "We were heavily influenced by Motown music, and by black music, and we love it." They came right out with that, and I always loved them for that, because I thought it was a wonderful statement to make, especially at a time like that.'
John Lennon would go on to put another timeless Robinson copyright,
My Girl
, on his jukebox; George Harrison would write a song about him in the mid-1970s called
Pure Smokey
('anyone who hears that voice so free, he really got a hold on me').
They weren't alone in their admiration, of course. That same song also attracted '60s covers by the Zombies, the Small Faces and others, and Robinson's growing catalogue would spread far, wide and repeatedly throughout the British artist community.
From Petula Clark's
My Guy
to Westlife's
My Girl
, from the Hollies'
Mickey's Monkey
to Bryan Ferry's
The Tracks Of My Tears
, Smokey's songbook has been repeatedly re-opened by UK and Irish acts for more than 45 years. As the success of the original Motown recordings was augmented by the approval of international artists, so Smokey won the freedom to gain his own inspiration from foreign covers and cultures.
'I'm not an isolation songwriter,' he says. 'I don't have to separate myself from the world, or go to the mountains to write. It just happens, all the time. Travelling helps a great deal. I'm so fortunate, I get a chance to go all over the world and see all sorts of different cultures, and people, and to see all sorts of different things going on in the world and sure, as a writer, that's inspirational.'
In 2006, when Smokey released his own album of covers,
Timeless Love
, we found out just how much he loved the torch songs of his pre-rock-and-soul era youth. He included such standards as
Fly Me To The Moon
and
I've Got You Under My Skin
, which he described to me at the time as 'the first songs I heard in my life. I had two older sisters and they played everything, blues, jazz, classical and gospel.'
But talking to him again on his Ivors visit, it was revealing to discover the extent of Robinson's inspiration from a much earlier epoch. 'I'm a huge fan of classical music,' he told me. 'I listen to some of that music and I wonder, what was the musical atmosphere at that time? Because some of those guys, when they were composing, were in their teens, and they were writing all this elaborate music, with all these intricate string parts and horn parts, and piano concertos.



They tried to ban Beethoven's music for being too sexy.



'It amazes me when I listen to it. Classical music is a bunch of movements, there are 20 different movements going on that all coincide with each other. I just wonder what the musical climate was like to inspire these guys to write this music, that's still popular today. I wonder if any of it was the street music, you know what I mean?
'I know they were playing in the parlours and for aristocrats in the concert halls, but I wonder what was going on in the streets, in the boroughs, what kind of music were they listening to? I read a thing one time which really trips me out, in today's world especially, with the promiscuity of music now. There was a point in Beethoven's life when they were trying to ban his music because they said it was too sexy. It flustered the young women. Maybe Beethoven was the street guy I'm looking for!'
At least Robinson only had to wait until he was about 19 before he achieved national recognition as a songwriter. 'Some of [the classical writers] were like artists, never really famous until they were dead, which is a shame. You very seldom find an exception to that rule. Picasso was famous during his lifetime, but most of them, they have to die first for their
works
to become famous. It's horrible.'
Smokey's own new album,
Time Flies When You're Having Fun
, is a record he was making concurrently with
Timeless Love
, and was still tinkering with even as he left town to fly to London for the Ivors ceremony. It features collaborations with India Arie, Carlos Santana and Joss Stone.
'I'm very excited about it, and it was all recorded live, which I really love,' he says. 'I love the fact that I had the musicians in the studio playing while I was singing, and we had a great time, because that's the old way, it's not done like that anymore.'
The duet with Stone,
You're The One For Me
, is, as he puts it, 'kinda sorta' an old song brought back to life. It's adapted from a 1968 album track he wrote for the Marvelettes,
You're The One For Me, Bobby
. 'Not quite the same title, but the same idea flows through it.'
Is that a tactic he's been able to employ occasionally, with a lesser-known composition? 'Yeah, because when it was the old idea, nothing ever happened, it was not utilised. So many times,
I go back and take an idea or a melody and revamp it, and do something updated with it. If, originally, it's not used, or widely known, and it's a good idea, why not?'
So what's next for Smokey? Well, nearly 70 earth years, perhaps, but that's 70 years young. 'I'm actually 30,' he beams. 'I mean that, I feel better than I did when I was 30, I think I'm in better shape and I wish I'd known then what I know now.'