Alex Rusted meets Pale Waves, one of the UK's most hotly tipped new bands, to learn how they went from zero to hero in less than two years.

'Going from no one caring to a lot of people caring is a big step. We're still trying to understand how to cope with it - it's strange and it takes some adjusting.' Pale Waves' frontwoman Heather Baron-Gracie is in high spirits when we talk on the phone from London to LA, but she's audibly exhausted by the US tour they've just wrapped up.

Getting exactly what you've always wanted is something you can never really prepare yourself for, and despite the fact that the Manchester goth/pop darlings' recent rise is a long-held ambition for Heather, it's been explosive enough to knock back even the most tenacious musician.

Since the opening shimmer of debut single There's a Honey back in 2016, Pale Waves rocketed to the forefront of new British music; something about the glistening juxtaposition between sugary sweet pop ballads and brooding goth aesthetic has struck a chord with listeners and pushed the band further and further into the limelight.

So how have they done it? What is it about Pale Waves that has fans and naysayers alike so riled up? Perhaps it's their evocative lyricism, glittery pop production or inescapable closeness to The 1975's enigmatic figurehead, Matt Healy. Whatever it is, it's working. And Heather has some theories of her own.


Piling on the pressure

'When we released There's a Honey, everything kicked off and everything changed for us,' Heather recalls. 'It was really different because everyone started listening to us and watching what we say and do, and we've never had anything like that before.'

Since the earliest iterations of the band, Heather has had lofty ambitions for the project's potential. Herself and Pale Waves' drummer/songwriter/producer Ciara Doran are perhaps two of the most driven individuals in pop – as slated by Heather herself.

'We're very ambitious people and we've always hoped for this, and now it's coming true,' Heather says, not really surprised at all. 'I always knew from an early part of my life that I was going to do this.'

You would assume that the pressures of being one of the most hotly-tipped new bands in the world would begin to weigh heavy on them as they settle into the task of crafting a debut album. But in this case pressure is a boon, something to keep the band sharp and on the path towards their larger goals.

'The excitement has put a lot of pressure on us, it has. But I think the pressure has worked in my corner. I wrote four or five songs under a lot of pressure that are on the album now – it helped me write,' explains Heather. 'It makes you focus, you think about that one things and that's it. You can't really think about anything else.'


Basic beginnings

You'd be forgiven for believing the Mancunian quartet entered the world as pop-star perfect as they stand before us today, but no matter how far they've come, the first rung on the ladder for any band will always be the same.

'Our first gigs were a shamble. Literally just our family were there, the sound was always awful, and no one would ever turn up. They were always the typical first gigs.' But the opportunity to play to empty rooms through shit PAs is something Heather relishes.

'I think it's important for every band – you've got to experience playing to no one to be a big band. You learn a lot about yourself on those stages; as a performer it influences you at a later date when there's actually loads of people in front of you.'

It's something that certainly seems to have done the trick for Heather and the band. As we spoke, Pale Waves' debut album My Mind Makes Noises had already been signed off, pressed and was awaiting release - which couldn't happen soon enough for Heather.

'I can't really wait, I just want it to be out now.' she says excitedly, 'I hate waiting for things. There's just so many tracks on there that I want everybody to hear!'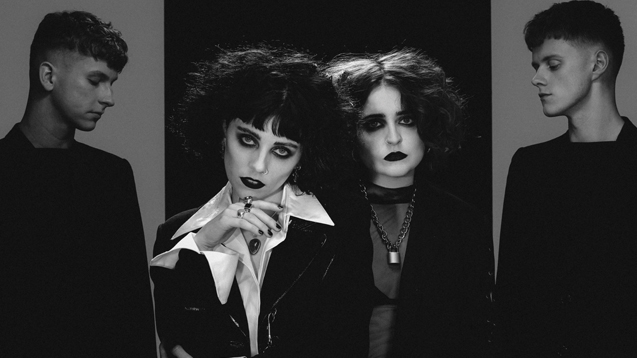 The big reveal

Over the last few months the band have come under criticism for a number of similarities in their music, the first being a supposed similarity between themselves and label-mates The 1975, the second being a similarity to themselves, with the harsher critics saying the band lack sonic variety from song to song.

That's perhaps why Heather is so excited for the album to be released, she's confident the diversity on the album will showcase their eclectic potential and quell any dissidences that the band are a one-trick pony.

'I'm really excited for everyone to hear Karl. That's my favourite track on the album,' she urges. 'I feel like people haven't heard us that way before, it's just me and an acoustic guitar – it's as real and as raw as it gets. People will be shocked when they hear it.'

And sonic diversity is something that seems core to Heather's motivation in the band right now. Even as they prepare to release the album, she thinks they haven't really found the 'Pale Waves' sound.

'I think we're still developing right now. It's going to take time to figure out what we want to be like and we're still exploring some things that I think are really important for our sound.'

Through this exploration though, Heather has clearly established a platform that allows her to craft something deeply personal, introspective and cathartic. 'It's about my brain, my experience, my people and my friends and family,' she says about the album, giving a simple explanation to its title: 'It's just my world. I prefer writing about things than speaking about them, so I found it easier – I had a lot to talk about. The album came at the right time because I could just write and write. I just write real, honest lyrics.'

And honesty is something Heather believes is important in music today, but feels she rarely sees enough of. 'People aren't honest in pop music, so it's good to be one of those that are. There's a lot of dishonesty in music and I hate it.

'It's not even just pop music, it's people that are just trying to start a band for the image. They're not doing it because they're passionate or because they have to, they're doing it because they think it makes them look cool. It's vapid, not cool. You can see right through those people.'


Standing out
When we spoke, Pale Waves had just finished a hefty slog through the States, six dates coast-to-coast.
Now, smashing through a US tour before the release of their debut album isn't really the norm for a new indie band from the North of England. But very little of the Pale Waves' story so far is.
Through impeccable imagery, poignant relatability and a series of inexorable, dazzling indie-pop nuggets, Pale Waves have subverted expectations and used their particular quirkiness to their advantage.
'I feel like we're different, you know,' Heather muses. 'People identify with us for that and internalise it, I think that's why our fans connect with us so much. We have a young fanbase and when you're growing up you try to figure yourself out and you look up to people, I think that's why we connect to our fans – we're different.'
Love them or loath them, Pale Waves certainly are connecting with audiences in a huge way, and Heather believes the time was just right for something different to come along and grab people's attention.
'There's four guys in an indie band pretty much everywhere you go, in every city, playing Arctic Monkeys covers or something,' she explains. 'I think there needs to be more people who are a bit more diverse these days, instead of trying to copy what's already happened.'
Looking like more than just another indie band has had a huge part to play in the essence of making the band stand out - something that Heather knows all too well. 'I guess we appeal to people because we have good fashion sense,' she says, with only the slightest hint of irony.
She knows it's difficult to discuss Pale Waves without acknowledging the striking image the band cuts. Draped in monochromatic goth trappings, each member pays homage to a particularly mopey Robert Smith phase in their own way.
'Visuals are just as important as everything else these days,' she insists. 'It's always been about visuals in music, but recently it's developed, and people have become obsessed with the visual side of things – but that's just the way the world's going.'
It's refreshingly honest and shows an acute awareness of the industry – a certain amount of savvy that's all too essential an ingredient in success. But despite her awareness of the importance of a great look, Heather splits responsibility of the band's success firmly in three camps. The image, the music, and most importantly – the internet.
'I've not really seen a band like us, a pop band like this. We have an intense fashion sense - we have the music and the look. The internet has helped us a lot too, in releasing music and forming a fanbase through social media.'
Viral potential is not to be ignored in giving rise to a band like this. Heather herself acknowledges the age of her fanbase, she knows where they are and exactly how to reach them through omnipresent digital exposure, or as she puts it: 'We're just keeping people interested by being there, and by being present.' Sounds simple enough.
Importantly, Pale Waves have succeeded thus far because they know how to play the game. They understand that great music only gets you so far, and they're willing to strike a pose and run a killer Instagram account to move some records.
By the time this is published the band will have released their debut album; their very first statement of intent. And come what may, the only dead certainty is that Pale Waves will keep pushing on with integrity because, since they formed in the shadow of Mancunian goth royalty, that's all they've ever really done.
My Mind Makes Noises by Pale Waves is out now via Dirty Hit Records. Pale Waves are published by Kobalt Music.Upcoming UK live dates
28 September - o2 Ritz, Manchester
2 October - Guildhall, Southampton
3 October - 02 Academy, Bristol
5 October - Elmwood Hall, Belfast
This feature appears in the current edition of M magazine.